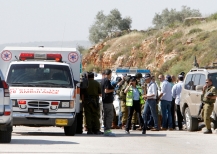 B'Tselem strongly condemns the stabbing attack at Tapuah Junction this morning, in which a Palestinian stabbed an Israeli civilian to death. The casualty is Evyatar Borovsky, aged approximately thirty, father of five children and resident of the settlement of Yizhar near Nablus. Media reports state that Borovsky was waiting for a lift at a hitchhiking station when the Palestinian attacked him, stabbed him several times in the chest, grabbed his gun and used it to fire at Border Police officers nearby. The officers fired back and apprehended the stabber.
Borovsky is the first Israeli civilian to be killed by Palestinians in the West Bank in approximately 18 months. Since 2009, Palestinians have killed 20 Israeli civilians in the West Bank and Israel. There is absolutely no moral or legal justification for attacks that deliberately target civilians. Civilians must be kept separate from the fighting. This applies to countries, organizations and individuals.
Contrary to certain Palestinian claims, attacks against civilians within Israel's borders are no different from attacks against settlers living in the West Bank. In both cases, the targets are civilians who must not be attacked and who must be protected from attacks. The fact that the settlements are illegal is entirely irrelevant to the status of their residents – settlers are civilians – and to the unequivocal prohibition of attacks that target them. Similarly, the argument that there is justification for killing settlers as part of the struggle against Israeli occupation is both legally and morally groundless.