B'Tselem condemns the recent rocket fire by Palestinian organizations in the Gaza Strip at civilian areas in Israel. Today, the rocket fire killed three civilians and injured others, including a child and two babies.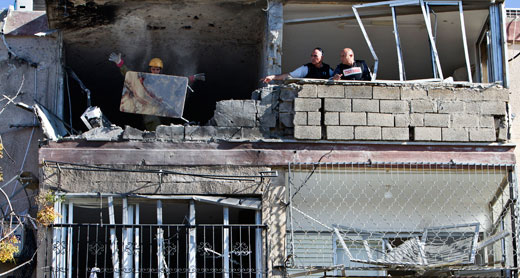 The house in Kiryat Malachi where the civilians were killed and injured by a direct hit of a Palestinian rocket. Photo by Nir Elias, Reuters, 15.11.12
The Palestinian organizations that fire the rockets and mortar shells into Israel openly declare that their objective is to kill civilians. As B'Tselem has repeatedly noted, aiming an attack at civilians is immoral and constitutes a war crime.
The Hamas government in Gaza must take all lawful means at its disposal to stop the rocket and mortar fire. The Palestinian organizations must stop aiming attacks at civilians. The persons who carried out these attacks, were involved in their planning and commission, or whose position obligates them to prevent such attacks, bear individual criminal responsibility for the rocket fire.