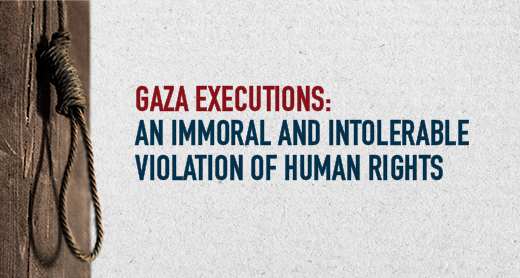 According to media reports, the Hamas authorities in the Gaza Strip today executed three people convicted by a "revolutionary court" in a rushed trial, without legal representation or an appeals instance. The three were convicted of assassinating Mazen al-Fuqaha, a senior member of the military wing of Hamas.
Since Hamas took control of Gaza, its courts have imposed 90 death sentence and 25 people have been executed in formal proceedings. The military wing of Hamas has summarily executed at least 31 others, including against whom legal proceedings were still underway. Some of the people who were executed (either officially or by the military wing) were sentenced to death before Hamas took over Gaza. In the West Bank, 72 people have been sentenced to death since the Palestinian Authority was established in 1995. According to Palestinian law, a death sentence can be carried out only with the approval of the president of the Palestinian Authority. Since taking office in January 2005, Mahmoud Abbas has refused to approve executions and no one has been executed in the West Bank since then. Until he took office, 13 people had been executed. West Bank courts continue to sentence defendants to death – most recently in 2015.
The Hamas regime in Gaza renewed executions in 2010, claiming that Abbas' term in office had ended and that his approval was no longer required. There are currently at least 57 death row inmates in the West Bank and Gaza living with uncertainty as to their fate. Nine more people were sentenced to death in absentia in Gaza (one of them an Israeli citizen).
Executions – whether they follow a real trial, a show trial or no trial at all – are prohibited. A regime that takes lives as a punitive or deterrent measure is committing an immoral act that constitutes an intolerable violation of human rights. No argument by the authorities that executions are essential to law enforcement, and no trial, regardless of whether or not it adheres to the norms of due process, can justify killing a person. Whatever the circumstances, taking a human life should not be part of the law, nor should it be part of what the authorities do.