At around 2:00 A.M. on 3 November 2016, Israeli soldiers raided two adjacent home s of the Salems, a Palestinian family who lives on the outskirts of al-Am'ari Refugee Camp in the Ramallah District. The soldiers detained eight family members, including a minor: Jihad and Zuhdi Salem, both 49, and six of their children - Dib, 28; Muhammad, 26; Mahran, 24; Fadi, 23; Ihab, 22; and Baha', 15.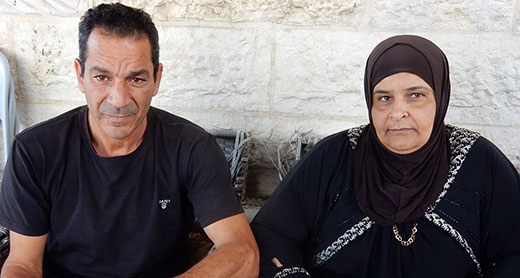 Jihad and Zuhdi Salem. Photo by Iyad Hadad, B'Tselem, 14 Nov. 2016
B'Tselem's inquiry found that on 3 November, at around 2:00 A.M., two groups of seven to ten soldiers each raided two adjacent two-story buildings where the Salem family lives. Some of the soldiers were masked. Du'aa Salem, 25, who lives on the second floor of one of the buildings with her husband Dib and their four children – Adam, 8, Malak, 5, Nur, 3 and Jihan 2 – heard people walking on the roof of her home and told her husband, who went to open the door. In her testimony, given to B'Tselem field-researcher Iyad Hadad later that day, Du'aa described what happened next:
We saw soldiers standing by the door, and other soldiers who were positioned along the stairs leading to our apartment and to the roof. As soon as they saw my husband, they jumped him and tried to handcuff him in our doorway. He protested. They were seven armed soldiers and they pushed him, forced him to lie on the ground, cuffed his hands behind his back, and took him outside.
About an hour later, the group of soldiers returned to the home with Dib Salem blindfolded and handcuffed. They had an Arabic-speaking officer with them. They went into the kitchen with Dib and, from her room, Du'aa Salem could hear the officer questioning her husband about his work for Palestinian Authority intelligence and about his brothers who live in the adjacent building. Meanwhile, the soldiers searched the apartment, took things out of cupboards, and left the place in shambles. The couple's children woke up during the search.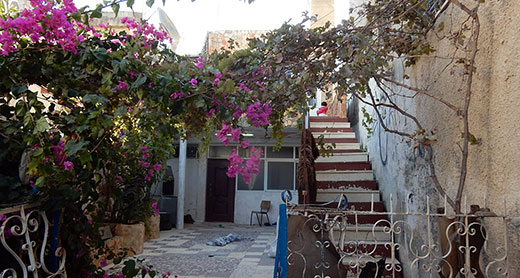 Home of Du'aa and Dib Salem, al-Am'ari R.C. Photo by Iyad Hadad, B'Tselem, 3 Nov. 2016
About half an hour later, the soldiers again took Dib out of the house. They ordered Du'aa Salem and the children to go into the living room and searched the bedroom and the children's room. Some ten minutes later, the soldiers left the house, detaining Dib's brother Muhammad Salem, who lives on the first floor, on their way. One of the officers remained in the house for about half an hour. Du'aa Salem related:
One officer, who didn't speak Arabic, was watching my movements and where I was looking, as if he was trying to see whether I was hiding something or knew something. He didn't ask me anything. He stayed in the house for about half an hour. The children were scared and cried. He started playing with them so they would stop crying.
At the same time, another group of about ten soldiers, some of them masked, surrounded the house next door, which also belongs to the Salem family. One of the sons, Ihab, woke his parents up and told them that soldiers were surrounding the house. The parents, Zuhdi and Jihad Salem, went out to the balcony, where they could see the soldiers tying the hands of two residents of the camp behind their backs and blindfolding them.
A few minutes later, the soldiers entered the Salem house with a muzzled dog. The soldiers led Zuhdi outside and handcuffed and blindfolded him. Jihad Salem asked an Arabic-speaking officer, "What have we done? What do you want?" She was told the soldiers were looking for weapons. The soldiers returned to the house with Zuhdi. They then ordered Jihad and her daughters – Warud, 17, Kholud, 14 and 'Uhud, 11 – to go into the living room. They took her husband and four sons to the balcony. The soldiers then searched all the rooms, tearing apart cushions, opening drawers and cupboards, and confiscating footage from the security cameras installed at the front of the house. Kholud Salem, 14, told B'Tselem researcher Iyad Hadad about the search in a testimony given on 3 November 2016:
A female soldier led the dog into the rooms, with two male soldiers following. The dog started sniffing our things and the furniture. My sisters, my mother, and I stayed in the living room, guarded by the soldiers. We were very scared. My little sister, 'Uhud, who's eleven, was especially scared, and couldn't stop crying. My mother tried to calm her down.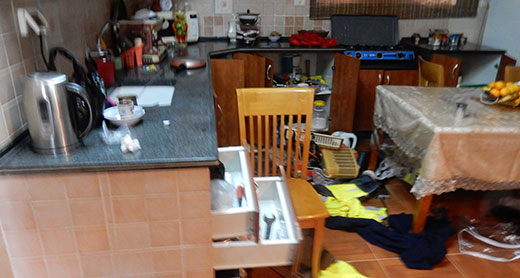 Du'aa and Dib Salem's kitchen after their home was searched. Photo by Iyad Hadad, B'Tselem, 3 Nov. 2016
When the search ended, the female soldier took Jihad aside, frisked her, and sent her back to her daughters. Jihad's husband and the four sons who live with them were taken outside by the soldiers. Between 3:00 and 4:00 A.M., the remaining soldiers left the house. However, according to Jihad Salem, the officer returned a few minutes later and demanded that she send her daughters outside, threatening to arrest them, too. Jihad refused and the soldiers arrested her but not her daughters, taking her away in her nightclothes without allowing her to change or say goodbye to her daughters. On her way out, Jihad managed to tell her daughters to call a neighbor to come stay with them. She was taken to the detention vehicle where her husband and six sons were waiting, blindfolded and handcuffed. Her husband was having trouble breathing because of a piece of cloth covering his mouth. The vehicle drove off, with seven soldiers and a dog also inside. At that point clashes erupted in the camp, with youths throwing stones at soldiers and the latter responding with tear-gas grenades, stun grenades, rubber-coated metal bullets and live rounds. Two camp residents were hit by rubber-coated bullets in the clashes, which lasted about an hour.
The soldiers took the family members to Ofer Prison. They were transferred about an hour later to Ramla Prison. After being kept outside in the yard for about an hour, they were required to sign consent forms in Hebrew agreeing to be interrogated without a lawyer present, but they refused to do so. The couple and their six sons were interrogated over the course of the day. Jihad was interrogated for some three hours, without being allowed to consult with a lawyer. The interrogator asked her about her sons' work and about their lives, but did not disclose the allegations against her or her family. At around 5:00 P.M., the interrogator demanded that she sign her statement, which was taken down in Hebrew, but she refused. Jihad was taken to Ofer Prison and released at 8:00 P.M. Her husband and five of her sons were held and interrogated for a week in Ramla Prison and in the Russian Compound police station in West Jerusalem, and then released. Her son Mahran is still in custody at Ofer Prison. In the testimony she gave to B'Tselem researcher Iyad Hadad on 14 November 2016, Jihad described what happened when she returned home:
I came back to find the girls scared and shattered as if they'd lost a family member. Of course they would be! The whole family was arrested, including their mother and father. I had never heard of anything like this – to arrest an entire family, including the parents, just because my son Mahran is suspected of possessing weapons or having a connection to weapons. Even if it's true, which I don't believe, why punish an entire family? What have I done? Or my husband, or his sisters and brothers? What have the residents of the neighborhood done to have the entire army scare them out of their wits in the middle of the night, when people are sleeping? These are cruel, despicable actions.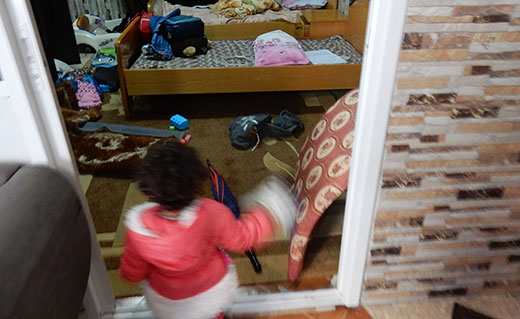 One of Du'aa and Dib Salem's daughters, after their home was searched. Photo by Iyad Hadad, B'Tselem, 3 Nov. 2016
The unbearable ease with which the daily routine of Palestinians, precarious to begin with, is disrupted is blatantly clear in this case. An entire family, including young, sleeping children, are intimidated when soldiers raid their home, conduct a belligerent search and leave the house in shambles. Eight family members are arrested, with the mother released that evening and the rest, except one who is still in custody, released a week later – including a 15-year-old minor.
The military law that applies in the West Bank allows soldiers and officers to enter any Palestinian home at any time without being required to present an order or provide justification for their actions. The security forces make extensive use of this power, relying on flimsy security concerns. Nightly raids of homes, during which residents are bullied and frightened, their dignity violated and their property destroyed, occur every night in the West Bank, and have long since become an integral part of daily life under the occupation.