On 27 July 2016 Israeli security forces killed Muhammad al-Faqih in the village of Surif, south of Bethlehem. According to the Israel Security Agency (ISA), Al-Faqih fired at the troops from the house in which he was hiding. The Israeli security forces suspected Al-Faqih of carrying out the shooting attack on Route 60 on 1 July 2016, in which Rabbi Michael Mark was killed and his wife and two of their children injured. After the attack, and until Al-Faqih was killed, the military entered over a hundred homes in the town of Dura, where he was born and which is his family still resides. The military also imposed sweeping travel restrictions throughout the Hebron District.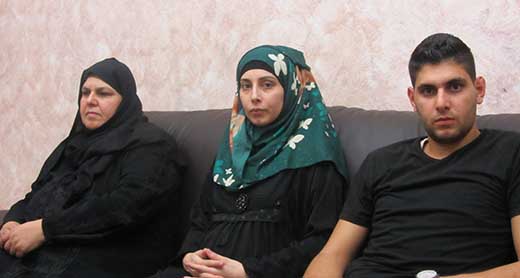 From left to right: Khadijeh 'Odeh, her daughter Hadil al-Faqih, and son Ashraf 'Odeh. Photo by Abdulkarim Sadi, B'Tselem, 8 August 2016
After Muhammad al-Faqih fled from the security forces and they mounted a search for him, Hadil Zuheir al-Faqih, his 26-year-old pregnant wife, their home in Hebron to stay with her parents in Kafr Thulth, near Qalqiliya. On 6 July and 10 July 2016, a military detail came to the family home at night and interrogated her as to her husband's whereabouts.
On 3 August 2016, a week after Al-Faqih was killed, a large group of soldiers came once again to his widow's home. The troops, most of whom were masked, stormed in late at night. Hadil was home at the time with her mother and her seven brothers and sisters, three of whom are minors. The soldiers ordered the family to come down from the upper floor and to go out into the yard, taking their identity cards with them. Many soldiers were waiting on the ground floor. The soldiers took Hadil, her mother, and her two sisters into a room on the ground floor where they underwent a body search by a female soldier.
Ashraf Zuheir 'Odeh spoke with B'Tselem field researcher 'Abdulkarim Sadi on 4 August 2016, and recounted the soldiers' entry to the family home:
On 3 August 2016, at about 1:30 A.M., a large Israeli military force raided our home. The soldiers were masked. There were about 20 of them and they entered very aggressively. They took us down from the first floor of the house, where the living rooms are, to the courtyard, except for my sister Hadil, who they kept on the ground floor. They assembled us outside in one corner of the yard, told us to sit down on the ground, and forbade us to talk to each other. A few minutes later they brought Hadil out too. I saw the female soldier who brought her pulling at her and leading her aggressively and violently.
At the time, Zuheir 'Odeh, the head of the family, was visiting a neighbor's home a few dozen meters away. The neighbors said that when he heard the military vehicles approaching the neighborhood he went outside in order to go back home. However, Zuheir 'Odeh never made it there. During the course of the incident Hadil al-Faqih found him lying unconscious on the ground not far from their home. He was taken by ambulance to hospital in Qalqiliya and later transferred for medical treatment in Israel, where he remains hospitalized and unconscious following a stroke.
Hadil Zuheir al-Faqih, who was five months pregnant at the time, spoke with B'Tselem field researcher Salma a-Deb'i on 11 August 2016 and told of the body search she underwent at the hands of a female soldier, her fear that her baby would be harmed, and about finding her father outside:
The soldier pulled me roughly toward her by the shoulder and forcibly pushed my head down. She began to feel my body using force. When she reached my stomach she pressed hard and pushed in, making circular motions as if she was kneading dough. She repeated this several times and then moved on to other parts of my body before again pressing on my stomach. She behaved brutally.
The other members of the family were already outside in the yard. The soldier seized me by the back of my neck and pushed me out. She led me toward the road where the military jeeps were parked. She walked very quickly, as if she wanted me to run or to fall down. Just then I saw someone lying on the road surrounded by soldiers. I realized that it was my father and started to scream and cry. I couldn't control myself. I screamed at them to get away from him. The soldier pushed me toward my mother and sisters, shouting at me, and hit me on my back. I couldn't take it any more. I felt a very sharp pain in my back and stomach and I felt weak, and then I fainted. When I came to, I saw the soldier shaking my head violently. I was worried about my father and couldn't think about anything else. I tried to stand up and walk over to him, but the soldier grabbed me hard and pulled me toward the wall. When my brothers realized that my father was lying on the ground they got up and wanted to go to him, but the soldiers cocked their weapons and pointed them at them. It was then that a soldier who had been by my father came over to us. He was holding my father's telephone and he asked my brother Ashraf to call for an ambulance.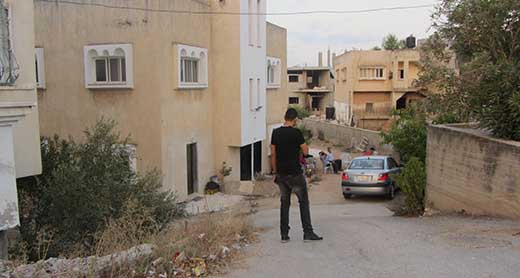 The 'Odeh family home in Kafr Thulth. During the incident, Ashraf 'Odeh's father was found unconscious just behind the spot where Ashraf is seen in the photo. Photo by 'Abd Abdulkarim Sadi, B'Tselem, 8 August 2016
Meanwhile, other soldiers searched the house and then they took us back inside. My father was left outside. A few minutes later, we saw them leaving the house and the area. The ambulance arrived and took my father to the hospital in Qalqiliya. He was still unconscious. None of the neighbors had seen what happened. No one knows what happened apart from my father and God. I hope he wakes up from the coma and tells us what happened there.
We're paying a price for something that we had no part in. My husband didn't ask any us for permission before he went and committed that act. So why are they punishing us, and after he's been killed, no less? Isn't it enough that we lost him, that I've become a pregnant widow less than a year after my wedding? We aren't to blame, and what's happening to me and my family is a terrible injustice.
It is unclear why the military decided to come to the home of Hadil al-Faqih's family in the middle of the night, about a week after her husband was killed. However, there is grave room for suspicion that the purpose was to harass and terrorize his widow and her family. The members of the family are not suspected of any offense and were not interrogated when the soldiers entered their home. The violence Hadil al-Faqih reportedly experienced by, despite her advanced pregnancy and that none of the members of the family acted violently, reinforces this impression. There is no possible justification for such conduct.