In late October, B'Tselem published the testimonies of dozens of Palestinians from the Gaza Strip whose loved ones were killed in the most recent round of fighting last May. In that round, Israel killed 232 Palestinians, including 54 minors and 38 women. At least 137 of those whose lives were lost did not take part in the fighting. Thousands were injured and thousands more lost their homes and possessions. According to the Ministry of Labor and Housing in Gaza, about 2,200 housing units sustained heavy damage as a result of Israeli attacks and have been deemed uninhabitable. Roughly 50,000 additional units sustained partial damage.
During the fighting, Israel bombed four high-rise towers, three of them in the a-Rimal neighborhood in central Gaza City and a fourth west of the city. Three of the towers collapsed, and the fourth became uninhabitable and unusable. The bombings also damaged nearby buildings and businesses. The total damage is estimated at millions of dollars: dozens of family homes and dozens of offices and businesses destroyed, including the offices of international and Palestinian media outlets. 
While Israel did notify the owners of the towers of its intent to bomb, it did not give residential and commercial occupants enough time to remove their belongings from the premises. Condo owners lost not only the homes they had purchased with their hard-earned money, but almost everything they owned – from furniture and appliances to pictures and documents; business owners lost their source of income, along with merchandise purchased and paid for. Media outlets lost expensive equipment and materials gathered over many years.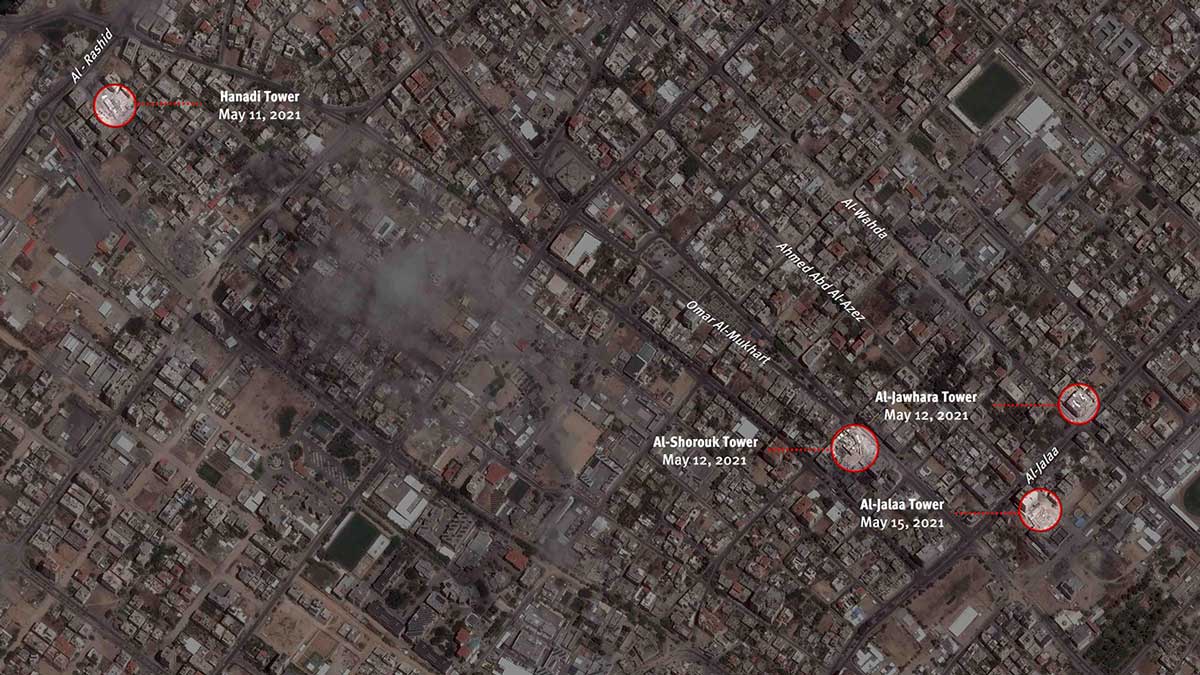 Satellite image courtesy of Human Right Watch. Click to enlarge 
These are the four high-rise towers Israel attacked:
In the evening hours of 11 May 2021, the owner of Hanadi Tower received a phone call from a man who introduced himself as an Israel Security Agency agent and instructed him to have the building evacuated. At around 7:00 P.M., aircrafts fired missiles at the building, reducing it to rubble. The 14-story high-rise housed government offices and businesses. 
 
About two hours later, at around 9:00 P.M., Israeli Air Force aircrafts bombed al-Jawharah Tower. The missile assault continued for several hours, and while the building remained standing, its interior was completely destroyed and its foundations sustained heavy damage. The 11-story high-rise had six residential units that housed 30 people, including 17 minors; 58 offices occupied by media outlets (including television stations); medical, legal and engineering offices; and stores  located on the ground floor.
 
The next day, on 12 May 2021, at around 6:00 P.M., aircrafts fired missiles at a-Shorouq Tower. The 14-story high-rise contained press offices, advertising agencies, a restaurant, a coffee shop, a clothing store, a jewelry store and offices of the Popular Front for the Liberation of Palestine and of Islamic Jihad. 
 
On Saturday, 15 May 2021, at around 3:00 P.M., Israeli aircrafts fired missiles at al-Jalaa Tower. The 13-story high-rise contained 30 residential units, of which 25 were occupied, housing 116 people, including 62 minors. The tower also housed international media outlet offices, including the Associated Press and Al-Jazeera, as well as law offices, advertising agencies and others. 
As in many other cases, Israel has attempted to justify the assault on the four towers – which constitutes a war crime – by citing various security pretexts and making claims it does not even try to prove. However, there is no justification for leaving scores of people homeless and others jobless. Israel's excuses hinge on an extreme, unfounded interpretation of international law which defies the objectives of this body of law and has been repeatedly rejected by legal scholars.
Bombarding buildings, sometimes while the occupants are still inside, is not a new policy: Israel has used it before. This was, in fact, one of the more horrifying hallmarks of the fighting during Operation Protective Edge in the summer of 2014, and it resulted in hundreds of deaths. Israel has refused to back down from this policy despite the lethal outcome, and applied it again in the last round of fighting. Reality, however, has changed since 2014. The International Criminal Court in The Hague is conducting an investigation against Israel and is looking, among other things, into the policy of bombing residential towers. The investigation is expected to result in steps taken against the persons responsible for this policy. 
B'Tselem's field researchers in Gaza collected testimonies from several people who lived in two of these towers, who lost their homes, possessions and livelihoods. 
The bombing of al-Jawharah Tower, 11 May 2021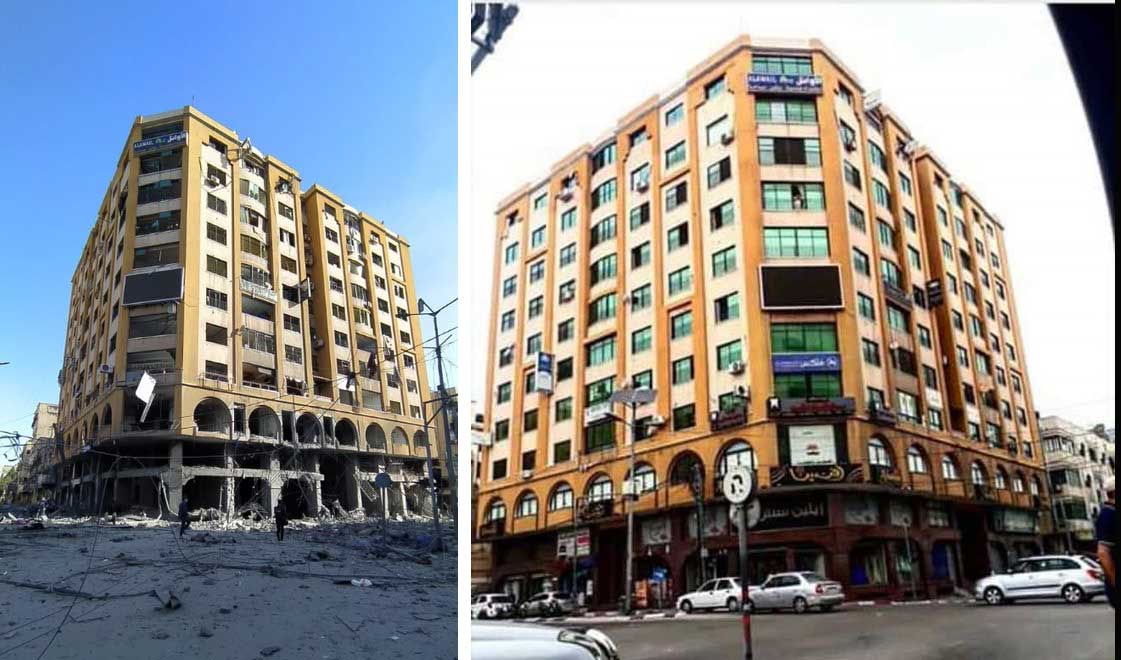 On 11 May 2021, at around 9:00 P.M., the military notified the owners of al-Jawharah Tower on the corner of al-Wihada and al-Jalaa Streets that it was going to bomb the building and instructed them to evacuate immediately. The tower's 11 stories housed 30 people in six residential units, including 17 minors. They also housed 58 businesses including offices, media outlets, medical clinics and stores, among them an optician's, a bridal gown store, two restaurants, a web company, a real estate office and two print shops. 
About an hour later, at around 10:00 P.M., after all residential and commercial tenants had vacated the building but were given no time to take anything with them, Israeli Air Force drones fired several warning missiles at the roof of the building and nearby. About four hours later, at around 2:00 A.M., Israeli warplanes fired several missiles at the building, causing severe damage. While the tower remained standing, it is no longer inhabitable. The businesses located on the first floor were completely destroyed.
B'Tselem's field researchers collected testimonies from people who lived or owned businesses in the tower:
| | | |
| --- | --- | --- |
| | | |
| To read the testimony of Muhammad a-Za'im, who owned a bridal gown store in the tower, click here | To read the testimony of M.M., who owneded a restaurant in the tower, click here | To readthe testimony of Ahmad a-Za'im, who lived with his family in the tower, click here |
The bombing of al-Jalaa Tower, 15 May 2021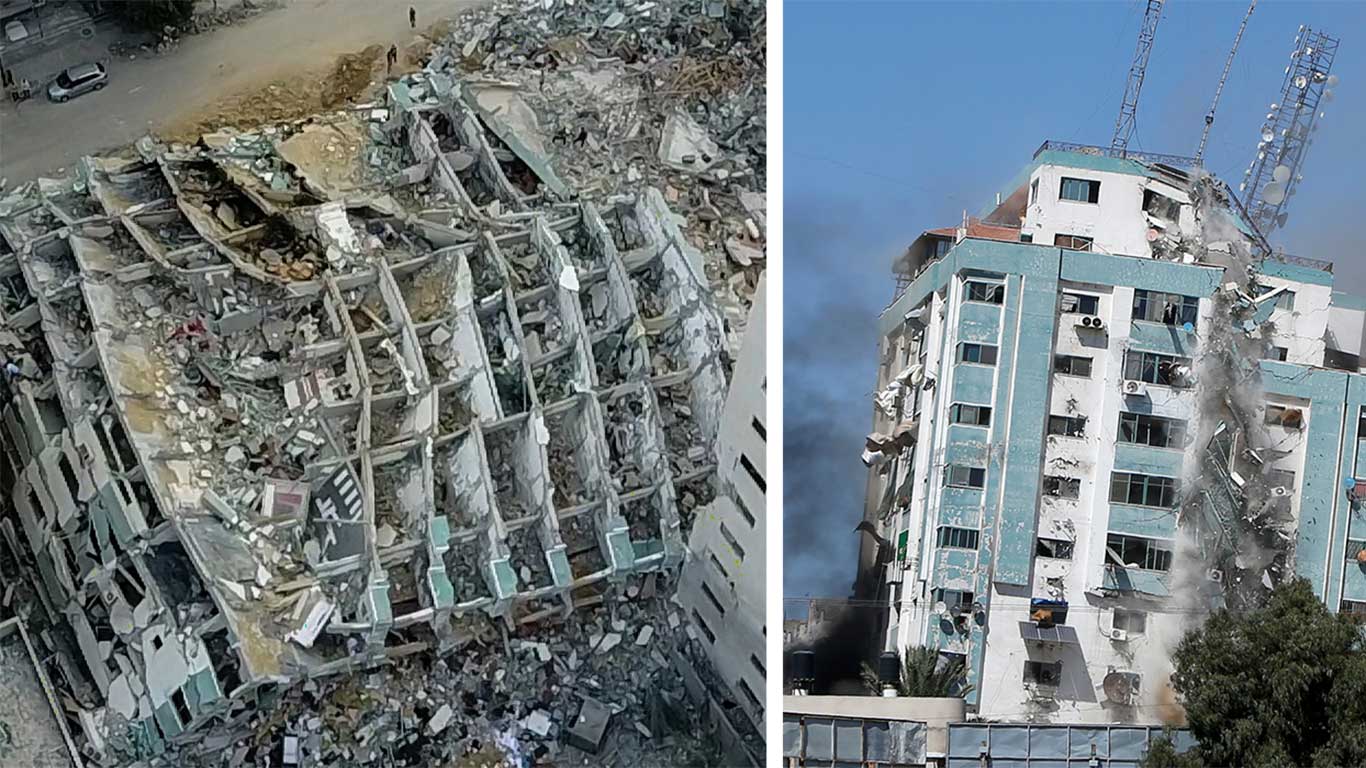 On 15 May 2021, at around 2:00 P.M., the military informed the owner of al-Jalaa Tower in the a-Rimal neighborhood that the building would be bombed and the tenants must evacuate immediately. The high-rise, built in 1995, had 13 stories and housed 116 people, including 62 minors, in 25 apartments. Five other units were vacant. The building also housed about 40 businesses, including the offices of the Associated Press new agency and the al-Jazeera media network. 
At around 3:00 P.M., after all occupants had left the tower, although without enough time to remove their belongings, an Israeli Air Force drone fired a warning missile at it. About five minutes later, an Israeli warplane fired several missiles at the tower, and it collapsed. The bombing caused damage to nearby structures and businesses.
B'Tselem's field researchers in the Gaza Strip collected testimonies from residents of the tower:
| | | |
| --- | --- | --- |
| | | |
| To read the testimony of Husam Mahdi, click here | To read the testimony of Rima Judah, click here | To read the testimony of Suzan al-Jarusha, click here |