From 3 to 6 May 2019, another round of hostilities took place between Israel and militant organizations in the Gaza Strip. During this time, the military branches of Hamas and Islamic Jihad fired some 700 rockets at Israel, killing three Israelis and wounding 123. Another Israeli civilian was killed by an anti-tank missile fired by these groups. This targeting of the civilian population in Israel is unlawful and immoral.
Israel launched airstrikes and fired shells at more than 350 targets in Gaza, injuring 153 people and killing 25 – including 13 people who were uninvolved in the hostilities and were unaffiliated with the militant groups. Of the latter casualties, two were minors – a three-month-old baby girl and an 11-year-old boy – and three were women, one of them heavily pregnant.
A pregnant woman and her one-year-old niece were killed when a rocket fired by Islamic Jihad operatives struck their home in Gaza City.
As it did in previous military campaigns in Gaza, Israel once again targeted residential and office buildings. According to UN figures, 100 units – 33 of them residential units – were destroyed; another 30 – including 19 residential units – were badly damaged. In total, 52 residential units sustained major damage, leaving 52 families homeless: 327 people, 65 of them under the age of five. Another approximately 700 residential units were left partially damaged.
In four of the strikes on buildings, people were killed inside or nearby. In total, 14 Palestinians were killed in these four strikes, 13 of whom were not participating in the hostilities, including two minors. B'Tselem's investigation found that none of the strikes on building were preceded by any suitable warnings that might have given the inhabitants the opportunity to seek shelter or save their belongings.
Firing missiles and bombs at residential buildings in densely populated areas such as the Gaza Strip inevitably involves serious risk of harm to civilians. The danger is not hypothetical: in recent years Israel has already killed thousands of civilians, including hundreds of children, in airstrikes on their homes. In Operation Protective Edge alone, waged in the summer of 2014, at least 1,055 Palestinians who were not participating in the hostilities – almost half of the Palestinian casualties in the campaign – including 405 children and 229 women, were killed this way. Israel kept up this policy for several weeks, striking home after home, family after family, despite the foreseeable, horrifying consequences.
These strikes are part of a policy formulated by government officials and the senior military command. They were not carried out in contravention of orders by individual soldiers or pilots. The attacks carried out followed orders, and had the support of the MAG Corps, which issued legal opinions backing the policy. As a result, the military continued in the same vein in the recent hostilities. Moreover, as these actions are framed within the military as simply following orders, no one has ever been held accountable for them.
Nevertheless, this policy has a black flag of illegality flying over it. Common sense and previous experience have proven, time and time again, that Israel is unable to unleash military power in Gaza without unbearable, lethal consequences for civilians there – including the killing of women and children. As in countless other instances, Israel has tried to justify this grave violation of human rights – in the incidents described here, the killing and wounding of civilians – by arguing that the attacks conform to international humanitarian law (IHL). Yet this interpretation is unreasonable, legally flawed, and based on a morally warped worldview. It must be rejected out of hand.
Bombing of the al-Madhun family's home, Beit Lahiya, 5 May 2019
On Sunday, 5 May 2019, at approximately 5:30 P.M., an Israeli aircraft fired a guided missile at the home of the extended al-Madhun family in the al-'Atatrah neighborhood of western Beit Lahiya. The one-story house comprised three residential units and a grocery store. Four people, three members of the al-Madhun family and a neighbor, were killed in the strike: 'Abd a-Rahim al-Madhun, 60, who was in his grocery store in the southern part of the house; his son, 'Abdallah al-Madhun, 21, an Islamic Jihad military branch operative; his daughter-in-law, Amani al-Madhun, 36, a mother of four who was nine months pregnant; and their neighbor, Fadi Badran, 33. Six minors were injured in the attack – five members of the al-Madhun family and Fadi Badran's daughter. The family home was heavily damaged, with two of the three residential units destroyed. The Badran home was also damaged.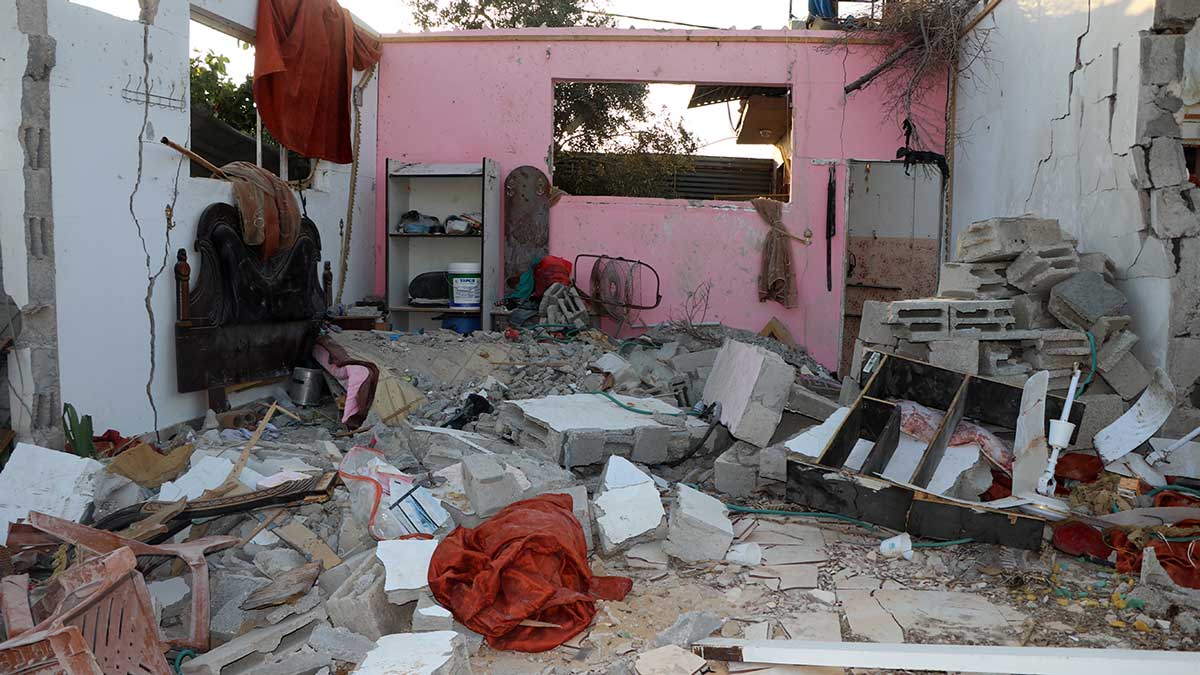 Muhammad al-Madhun, 33, 'Abd a-Rahim's son, was at home when the bombing began. He lost his pregnant wife, his brother and his father in the strike, and two of his young children were injured. In a testimony he gave B'Tselem field researcher Muhammad Sabah on 29 May 2019, he recounted:
That day, things were tense from the morning. Israeli airplanes were flying overhead. We heard constant bombing and shelling from various directions, in northern Gaza, in Jabalya and in Beit Lahiya. Around noon, I went to pay my respects to the family of our neighbor, Khaled Abu Kalik, the security guard of a villa who had been killed in the bombings. I got home at 2:30 P.M. My wife and kids had gone to sleep, because we figured we wouldn't be able to get any sleep at night, given the escalation and the bombardments. I went to sleep next to them.

I got up at 5:00 P.M. and sat in the living room having coffee with my cousin and a neighbor. I went to the kitchen to make coffee for my neighbor and when I got back, I suddenly heard a loud explosion in the house. It was very loud, but at first I thought it was from something that had happened outside. It took me a moment to realize it was inside the house. I understood when I saw bits of glass, metal, stones, sand, and dust and smoke all around me. I stood there in shock and couldn't move. I just stood there and heard the debris and wreckage crashing down around me.

Left to right: Fadi Badran and 'Abd a-Rahim al-Madhun. Photos courtesy of the families

It was hard to see anything through all the dust and smoke. I tried to walk but couldn't. I crawled over the rubble until I got to the bedroom. The walls were gone. Then I went to my father's apartment. I found my brother 'Abdallah lying dead on the ground. I went back to my room to check on my wife and kids.

On the way, I saw my father sitting in his grocery store, trying to get up. He was injured. He was trying to move and speak, but could just barely raise his hand to signal he needed help. Because of the debris and the bits of metal, and because of the shock I was in, I couldn't get to him. I saw our neighbor Fadi Badran cradling his little daughter in his arms, walking west. I called out to him, but he looked at me and didn't respond. Then he fell down. I later learned that he'd been injured in the back and was in a serious condition. I called out to the neighbors and asked them to get the wounded people – my wife and two of my children – out from under the debris. My neighbor Muhammad al-Far came out from the wreckage and walked towards the street carrying my two-and-a-half-year-old daughter Fatimah. I heard her screaming and whimpering in pain. An ambulance arrived and I told the medics that my wife and my son Mahmoud, 4, were under the debris. They started working until they got them out. They pulled Mahmoud out, wounded and covered in dust. Then they pulled out my wife Amani, who was nine months pregnant. They took her and my father to the ambulance. I later learned she and my brother 'Abdallah were martyred. I was taken by ambulance to the Indonesian Hospital. I was examined and they found that I was okay. I went to identify the bodies. I identified the body of my wife Amani, and also saw the body of the fetus. Then I identified the bodies of Fadi Badran and of my brother 'Abdallah. I was in shock to find my wife and 'Abdallah dead. Then I went to see my children, who were injured.

I got back home and sat with the neighbors. At around midnight, I was told that my father had died of his injuries at a-Shifaa Hospital.
Bombing of the Zo'rub Building, Rafah, 5 May 2019
Later the same day, shortly before 6 P.M., Israeli aircrafts bombed a five-story offices and residential building owned by the Zo'rub family. The basement level used to house Islamic Jihad offices, but they were vacated some nine months ago and a café has operated out of the basement ever since. B'Tselem is unaware of any other Islamic Jihad offices in the building. Three guided bombs hit the second floor, the ground floor and the basement. Three people were killed in the airstrike: Musa Mu'amar, 35, a married father of four who owned the café; Hani Abu Sha'ar, 37, a married father of four who was with him in the café; and 'Ali 'Abd al-Jawad, 50, a married father of five, who was at a language study center he ran on the ground floor. The offices of a charity for disabled people, also in the building, sustained damage and nearby buildings were lightly damaged.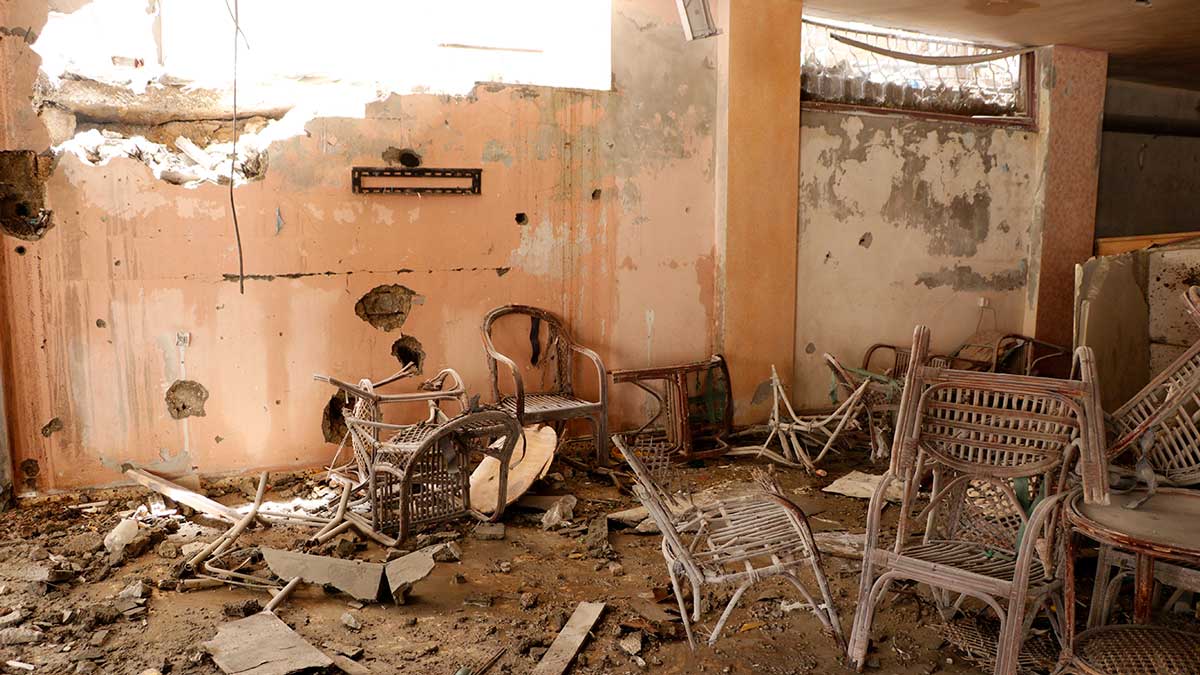 Ahmad Zo'rub, 19, is unemployed and lives in a neighboring building. At around 5:00 P.M., he went to the basement café in the Zo'rub Building to meet his friends, Musa Mu'amar and Hani Abu Sha'ar. There was no one else in the café at the time. In a testimony he gave B'Tselem field researcher Khaled al-'Azayzeh on 7 May 2019, he described what happened next:
The three of us were sitting in the café. The power was out, so we opened the back door, which faces east, to let in some light. We prayed the early evening prayers together, and then sat on the sofas and smoked. We were planning to drive to Gaza City afterwards, to collect money that some people owed Musa and Hani. While we were sitting there, without any warning, there was a sudden explosion and the place filled with dust. I felt myself being thrown up several meters into the air. It was terrifying. Then I crawled towards the staircase, but a pile of rocks was blocking the entrance to it. A few seconds later, I heard two more explosions in the café. After the first blast, the three of us were still together, and we recited the Shahada prayer. I could hear my friends but couldn't see them, because of the dust. After the third explosion, I couldn't hear Musa and Hani any more. I recited the Shahada again, because I thought the planes would keep on bombing the building.

 

From Left to right: Hani Abu Sha'ar, Ahmad Zo'rub, who survived the attack, and Musa Mu'amar. Photo courtesy of the families

Then it got quiet for about two minutes. I called out to my friends to see if they're okay. Musa answered and started reciting the Shahada out loud. When I heard him, I felt a bit better. Then I called out to Hani by his nickname: "Abu Wasim, Abu Wasim." He answered: "My friend, Ahmad." Hearing him answer relieved me a bit more. I crawled in the direction Musa's voice had come from. When I got to him, I touched his head. I looked at him and saw he was very badly injured in the stomach and legs. I couldn't bear the sight and fainted.

I came to a few minutes later. I called out to Hani again: "Abu Wasim, Abu Wasim." He answered: "My friend Ahmad. My friend Ahmad". The dust was beginning to settle and I could see him. I went over and looked at him. He was sitting on the floor with his legs stretched out in front of him. I hugged him. When I got a good look at him, I saw that the front of his left thigh had been badly hurt and that his trousers were torn. I said to him: "Stay there and rest. I'll go get help." Because I couldn't stand up, I crawled over to the back entrance to the café, the eastern one. When I got there, I yelled: "Mother! Father! Anyone!". I called out again and again, and felt my voice gradually fading. My neighbor Hamadah 'Aqel and a lot of other people from the area came. Hamadah went into shock when he saw me. He tried to pick me up but I said, "Leave me and go to Musa and Hani, they're in the café." Then I blacked out.

I woke up in hospital. They brought Musa in on a stretcher and said he'd fallen as a martyr. I saw Hani being taken into an operating room. It was near my room. When I heard Musa was dead, I went into a fit of crying. I was trembling all over. I was in shock and they injected me with sedatives. Three hours later, I was sent home. Because our home had been damaged in the bombing, I went to my sister's house. At 9:30 P.M., a friend called and told me that Hani was dead too. I was beyond shocked. I said nothing. I just wanted to sleep. I was lightly injured. I have pain in my left ear and scratches on my legs.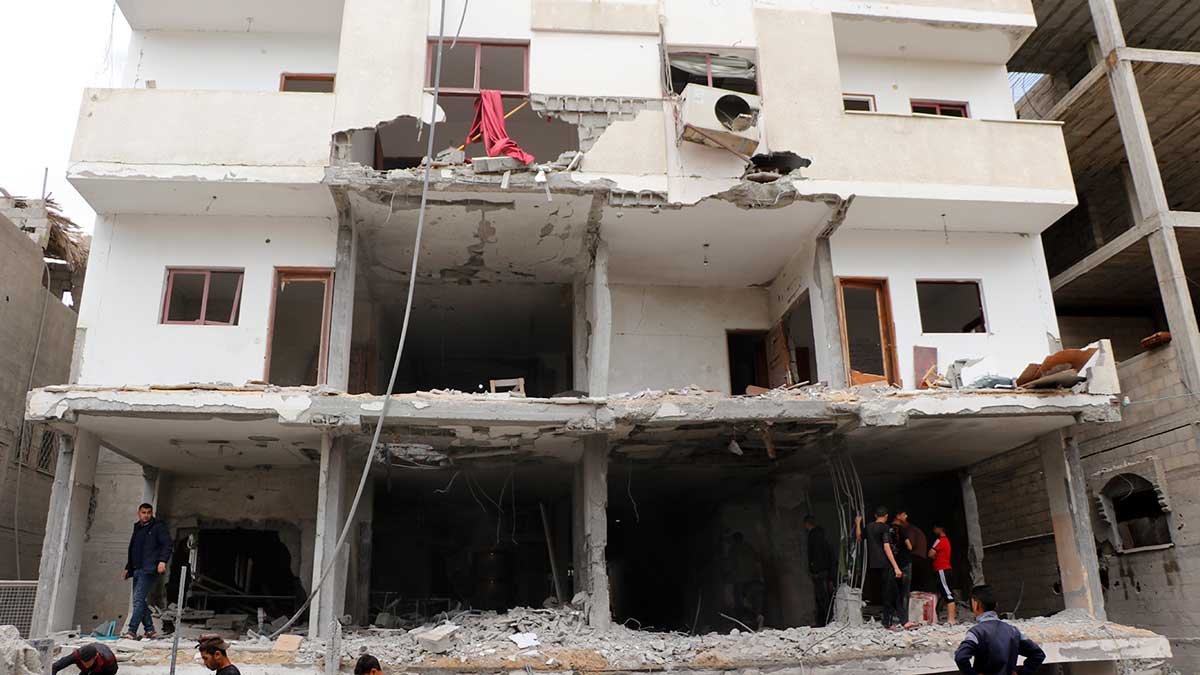 Hamadah 'Aqel, 29, a married father of one, sells bicycles at a shop near the Zo'rub Building. At around 6:00 P.M., he was in a neighboring shop when he heard three explosions nearby. In a testimony he gave B'Tselem field researcher Khaled al-'Azayzeh, he related:
Hamadah 'Aqel (eyewitness). Photo by Khaled al-'Azayzeh, B'Tselem, 7 May 2019

I rushed home to make sure everything was okay, because the blast was close to my house. When I got there, I found my parents in a state of panic. I saw that they were all right, thank God, and that calmed me down a bit. But the building itself was damaged. Then I headed over to the Zo'rub Building, because it was in a cloud of dust and I could hear our neighbor Ahmad Zo'rub calling my name. It was very hard to get close because of the dust and smoke billowing out of the lower part of the building.

I found Ahmad lying on the ground. He didn't seem injured. He said that his friends Musa Mu'amar and Hani Abu Sha'ar were inside the café. I went in despite the dust and smoke, and found Hani lying on his back. He was reciting the Shahada and verses from the Quran. He was badly injured.

 

'Ali 'Abd al-Jawad, owner of the study center who was killed in the attack. Photo courtesy of the family

I dragged Hani by myself to the back entrance to the café, on the eastern side. Then I saw some other guys. I called out to them, and they came over and carried him away. I went back in to look for Musa Mu'amar. I found him lying on his stomach, barely alive. I called out to the guys and they came in with a stretcher, because ambulances had started arriving. They took Musa away in an ambulance. I was choking on the dust and was devastated by what I'd seen. I saw the guys pick up and carry away 'Ali 'Abd al-Jawad, the teacher who owned the Al-Awa'el [The First] study center above the café. He was put on a stretcher, but he was already dead.

Then I went to check on things at home, to see what the damage was. The windows were shattered, there were cracks in the walls and some of the furniture was destroyed.
Bombing the a-Sheikh Zayed No. 12 building, Beit Lahiya, 5 May 2019
At around 8:00 P.M. that evening, two missiles hit the fifth (and top) floor of the no. 12 Sheikh Zayed building in Beit Lahiya. The strike killed six people from two families who lived on that floor: Ahmad al-Ghazali, 30, Iman Asraf, police officer, 29, and their 3-month-old daughter Mariyyeh; and Talal Abu al-Jidyan, 48, Raghdah Abu al-Jidyan, 46, and their 11-year-old son 'Abd a-Rahman. Nine other people were injured.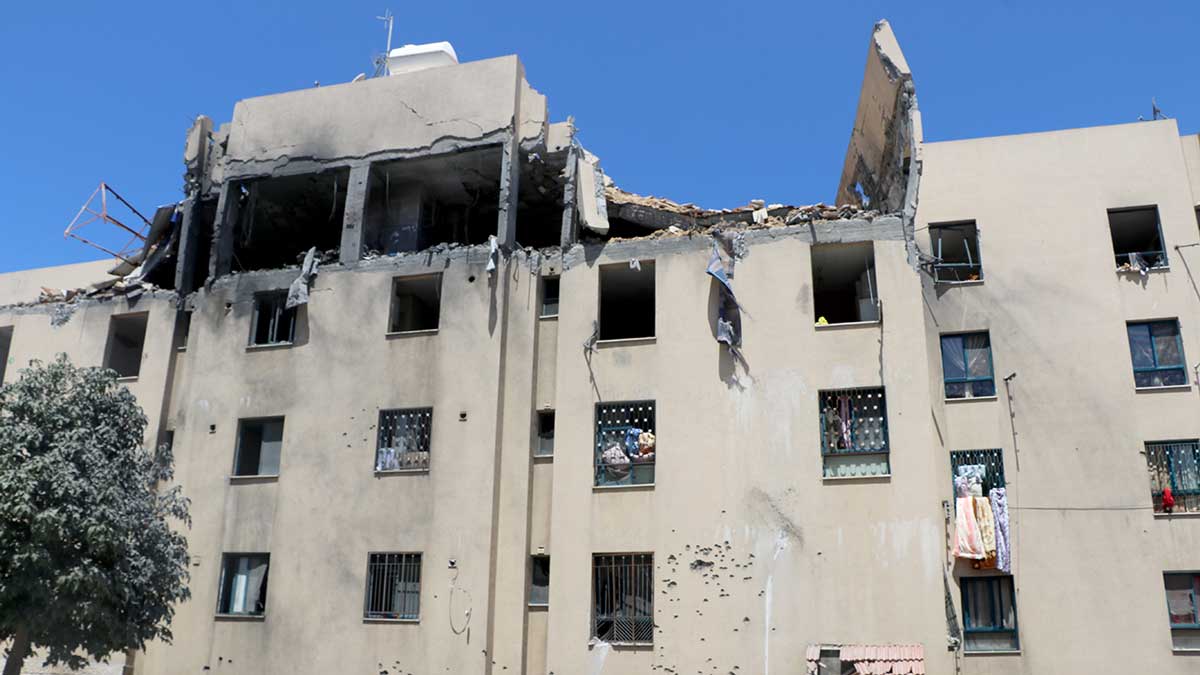 Talal and Raghdah Abu al-Jidyan's son Muhammad, 26, was on his way home from visiting relatives when his father phoned and asked that he hurry back because of the strikes launched on Gaza. In a testimony he gave B'Tselem field researcher Olfat al-Kurd on 7 May 2019, Muhammad Abu al-Jidyan related:
Muhammad Abu al-Jidyan. Photo by Olfat al-Kurd, B'Telem, 7 May 2019

About five minutes after my father called, I reached the gate and entered the building. At that very moment, the apartment I live in with my parents was bombed. I learned afterwards that it was bombed without any prior warning from the military, either by phone call or by launching a "warning missile." The missile hit the apartment straight on. I ran up the stairs to see what had happened. I saw all the neighbors running down and was afraid my family had been killed. No one heard me. There's a vacant apartment on the fourth floor. When I got there, I saw that the fifth floor, where my parents, my brother 'Abd a-Rahman and I lived, had caved in and collapsed onto the fourth. Because everything was in such a state, I was sure that my parents and my brother had fallen as martyrs.

 

The ruined staircase at the Sheikh Zayed building. Photo by Olfat al-Kurd, B'Telem, 8 May 2019

Neighbors and other people came to help. Medics and Civil Defense workers came and searched for my family. They also searched for the al-Ghazalis, whose apartment was across the hall from ours and had also toppled down onto the fourth floor. Out on the street, I saw their bodies: Ahmad al-Ghazali, his wife Iman, and his baby Mariyyeh. I went with some relatives to the Indonesian Hospital to identify the body of my brother, 'Abd a-Rahman. God gave me the strength not to break down. I couldn't believe it was him. I prayed: We are all mortal, we will all return to Allah.
Because the power was out, the search for Talal and Raghdah Abu al-Jidyan was called off at night. When the search resumed the next morning, their bodies were found among the debris. Muhammad described how he felt:
My two sisters and I lost our whole family – our father, our mother and our brother – with no warning and without a chance to say goodbye. The strike was so brutal that we didn't even find their bodies in one piece. When we buried our parents, my little brother's body was laid in the same grave with my mother. He was born after ten years of trying to conceive. He was their adored youngest. We are all mortal and will all return to Allah. May God have mercy on my mother and father and little brother. I feel alone in the world, without my parents and without our home, which was completely destroyed. I hope I find the strength to deal with what happened to us.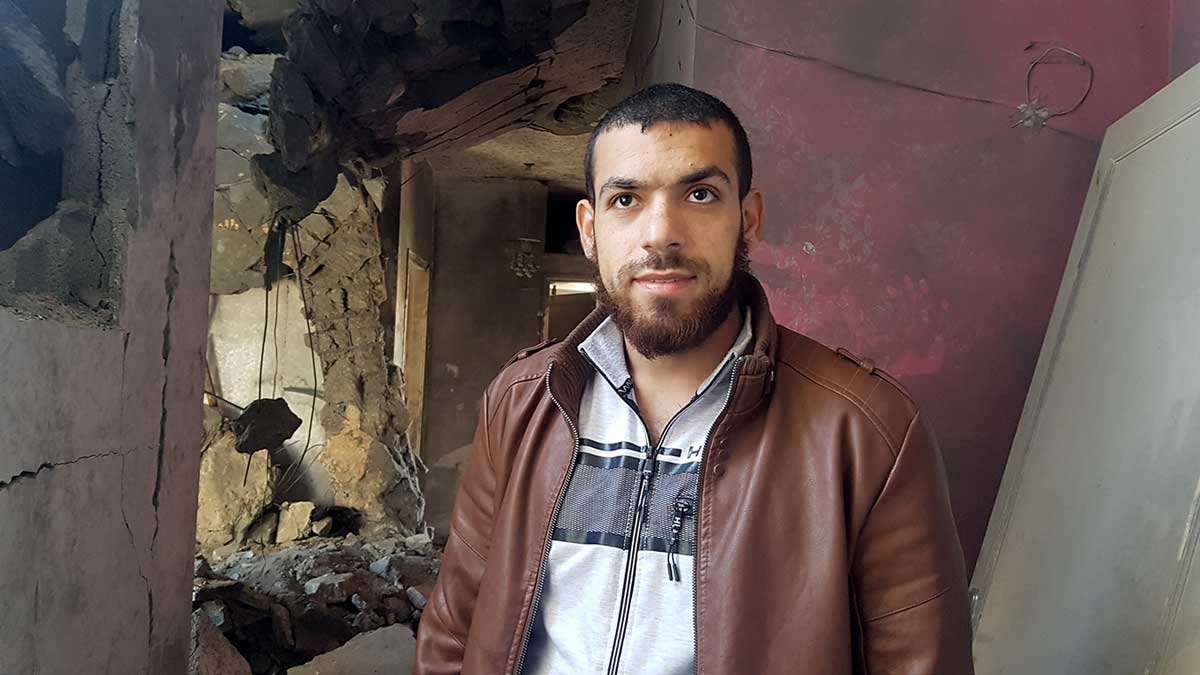 Muhammad Taha, 26, lived on the fourth floor of the building with his wife, mother, brother and sister-in-law. At around 8:00 P.M., he was coming home from prayers at the nearby mosque. He had reached the building and had started up the staircase when the airstrike hit. In a testimony he gave B'Tselem field researcher Olfat al-Kurd on 8 May 2019, he related:
There was a huge explosion. My face, and the face of Muhammad Abu al-Jidyan, who was next to me, got covered in dust and glass. I went up to our apartment but there was no power, so I couldn't see a thing. The front door was open, and there was smoke and debris all around me. I started calling my brother's name, and he shouted back that they were inside the apartment. I found my wife but didn't recognize her, because of the dust and the black smoke. The force of the blast had flung her into my brother Ahmad's room. Ahmad's wife was there too. They've been married for four months and she's two months pregnant. Thank God, she and the baby she's carrying are okay. My brother was terrified and calling out for help. I dragged my wife, my brother and his wife out and we made it down the stairs with difficulty. I found Muhammad Abu al-Jidyan, who told me that his father, mother and brother were dead. I told him to come down with me because I was afraid more missiles would be fired at the building. I went out onto the street and found the neighbors calling for help. The bodies of 'Abd a-Rahman Ghazali and his parents were out on the street. My mother was in the building when it was bombed, but neighbors from the third floor found her on the stairs and brought her downstairs. She asked after us. I took her, my wife, my brother and his wife to another, safer building.

The next morning I went back home. It was destroyed and isn't fit for living. We're homeless, and for now are staying with my sister in the a-Daraj neighborhood. I pray for my neighbors who fell as martyrs, the Abu al-Jidyans and the al-Ghazalis, and for my neighbor Muhammad, who lost his entire family. I'm in shock over what happened to us and to our neighbors. I feel like I'm living in a nightmare, especially when I look at my home and see a pile of rubble.
Bombing of villa grounds in Beit Lahiya, 4 May 2019
At about 9:00 P.M. on Saturday night, 4 May 2019, an Israeli aircraft fired a missile at a shipping container placed as a guard booth at the entrance to two adjacent villas, owned by two brothers, residents of Beit Lahiya. Two people were in the shipping container at the time: Khaled Abu Qleiq, 24, a married father of three, and his friend, 'Atallah al-'Attar, 30, a married father of two who worked as a guard at a nearby banquet hall. Immediately after the missile was fired, the two men fled from the shipping container. They ran to the entrance to one of the two villas and knocked on the door. When nobody answered, they ran over to the entrance of the other villa. Another missile was fired at them there, killing Abu Qleiq and wounding al-'Attar.
In a testimony al-'Attar gave B'Tselem field researcher Muhammad Sabah on 19 May 2019, he recalled the evening's events:
'Atallah al-'Attar in hospital. Photo by Muhammad Sabah, B'Tselem, 16 May 2019

On Saturday evening, Khaled and I had tea in the shipping container which is his booth. Later, when it was time for night prayers, Khaled went over to the nearest mosque in the neighborhood. I went back to the banquet hall and made some coffee, as Khaled asked me to. Then I went back to the shipping container, and when Khaled got back from the mosque we sat down to have the coffee. We heard, coming from the north-west, the sound of rockets being fired by Palestinians. Khaled said he felt like eating the dish of mulukhiyah his mother had cooked. I didn't want any.

It was about five minutes to 10 when I felt the ground shake, and Khaled and I tumbled off the table we had been using as a seat. Khaled said, "Let's run to the villa." We ran to the villa door. We knocked, but no one answered. So we ran to the door of the villa next door and Khaled rang the doorbell. He said "Open up!" and then knocked on the door.

Suddenly I was engulfed by a wave of heat and felt terrible pain in my body and ear. I blacked out. After I came to, I was taken to the Indonesian Hospital. I was first taken to the ER and then to the ICU. Later, I was transferred to a-Shifaa Hospital where I underwent surgery to have shrapnel removed and to have a metal plate put in my left leg. Then I was transferred back to the Indonesian Hospital and they amputated a portion of my right ankle. I'm still in hospital.

It was five days before I was told that my friend Khaled was dead, that he'd been killed by the missile.