Since the protests by the Gaza perimeter fence began on 30 March 2018, Israeli security forces have fatally shot over 180 demonstrators – including 31 minors – and injured over 5,800 demonstrators with live gunfire. The vast majority of casualties were unarmed, and were fatally shot from a distance while in the Gaza Strip itself. As a general rule, the protectively clad troops sniping at them from other side of the fence were not in any real danger. Some protesters threw stones, some damaged the fence, and a small number crossed it or threw hand grenades, IEDs and Molotov cocktails at the troops. 
According to figures by the United Nations Office for the Coordination of Humanitarian Affairs (OCHA) and the World Health Organization (WHO), over 12,700 casualties have required treatment in Gaza hospitals. This number includes the over 5,800 who suffered live gunshot wounds as well as some 1,900 who suffered teargas inhalation injuries, and some 480 who were hit by rubber-coated metal bullets. Approximately 2,300 of the casualties are minors. Doctors have had to perform amputations on 90 protesters, including 17 minors and one woman. In the majority of cases (82), the amputations were of lower limbs. 
Over the past few months, B'Tselem field researchers in the Gaza Strip have conducted an extensive survey, canvassing 406 protesters who suffered live gunshot wounds; including 63 (15%) minors under the age of 18. The survey is not a representative sample; it consists of a detailed compilation of data regarding approx. 7% of gunshot casualties. An attempt was made to incorporate various protests sites and dates in order to achieve as diverse, comprehensive and reliable a picture as possible, given the complex setting of protests that have been taking place over a long period of time and at many sites along the perimeter fence.
An analysis of the completed questionnaires found the following regarding the injuries surveyed:
85% – 348 (including 48 minors) – reported lower limbs injuries; 8% – 33 (including 10 minors) – reported upper limb injuries; and 3% – 12 (including 3 minors) – reported being hit in the head.
41% – 167 (including 29 minors) – reported being hit when they were in the immediate vicinity of the fence (up to 10 meters from it); 35% – 145 (including 24 minors) reported being hit at a spot further away from the fence, up to a distance of 150 meters from it; 22% – 92 (including 9 minors) – reported being injured at a distance greater than 150 meters from the fence. Of the 58% (237) who were not in the immediate vicinity of the fence (i.e., more than 10 meters away) when injured, 84% (200) were shot in the leg; and 13% (30) were shot in the arm or head.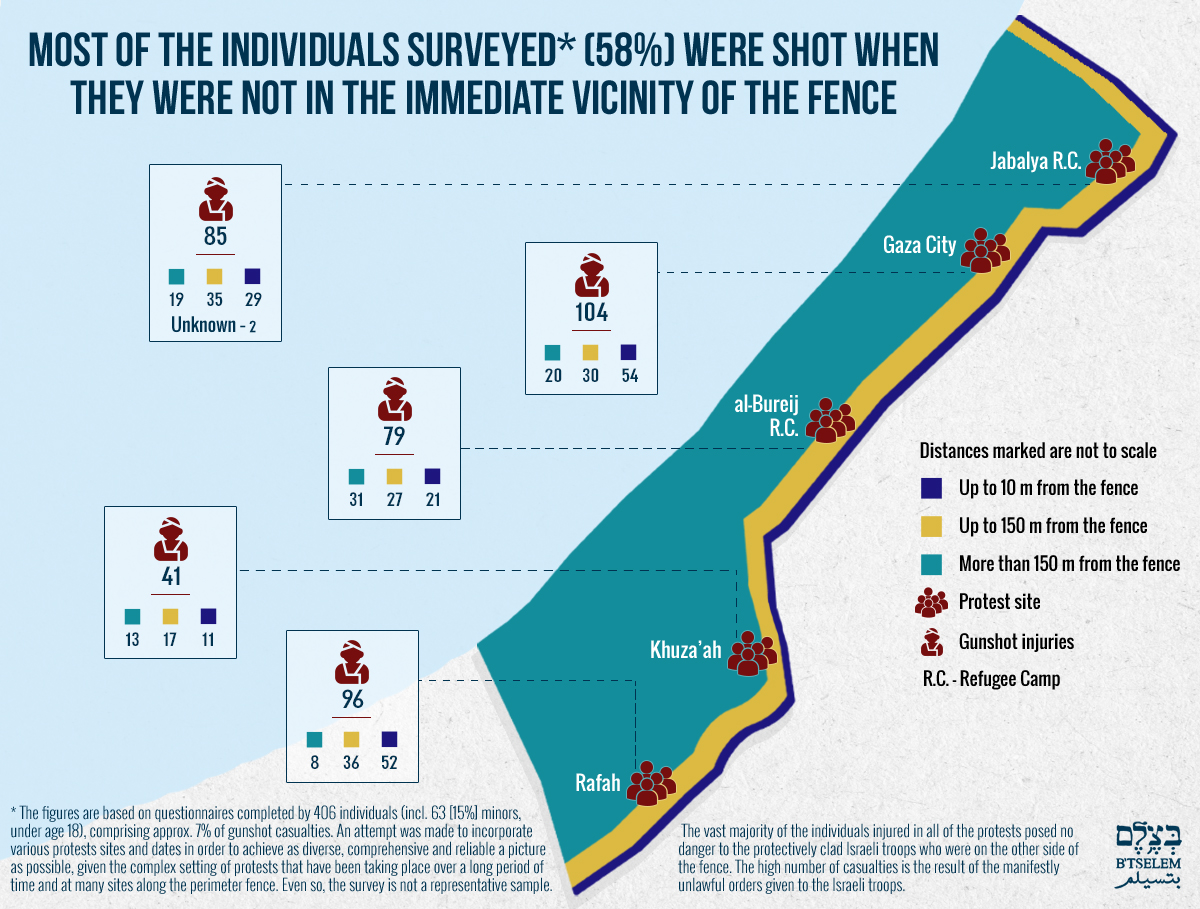 Two-thirds of the minors surveyed (41) reported being injured while they were watching the protest, waving a flag, photographing or filming the protest, moving away from the protest, or treating the wounded.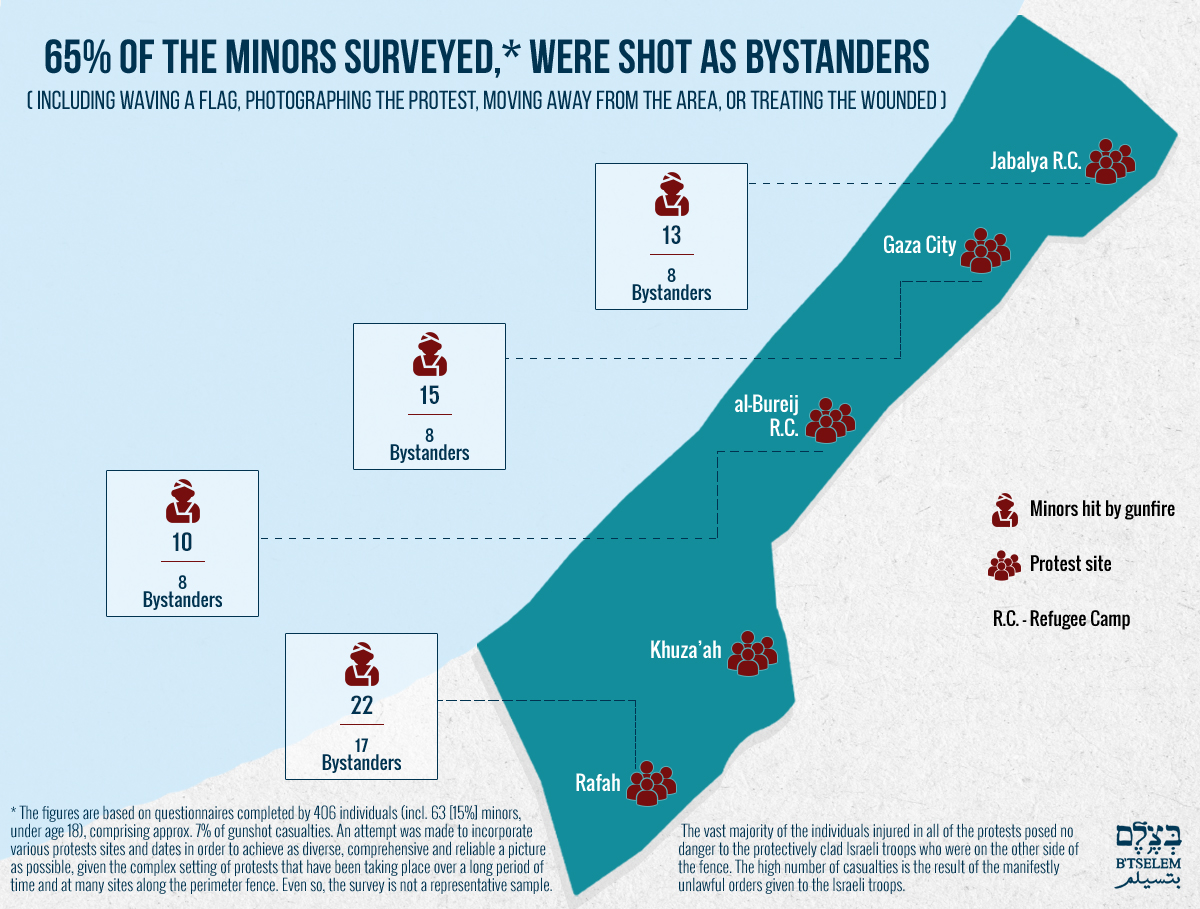 83% (339) required prolonged, ongoing medical treatment, and 57% (233) also required rehabilitation and physical therapy. 10% (42) of the individuals surveyed have become handicapped.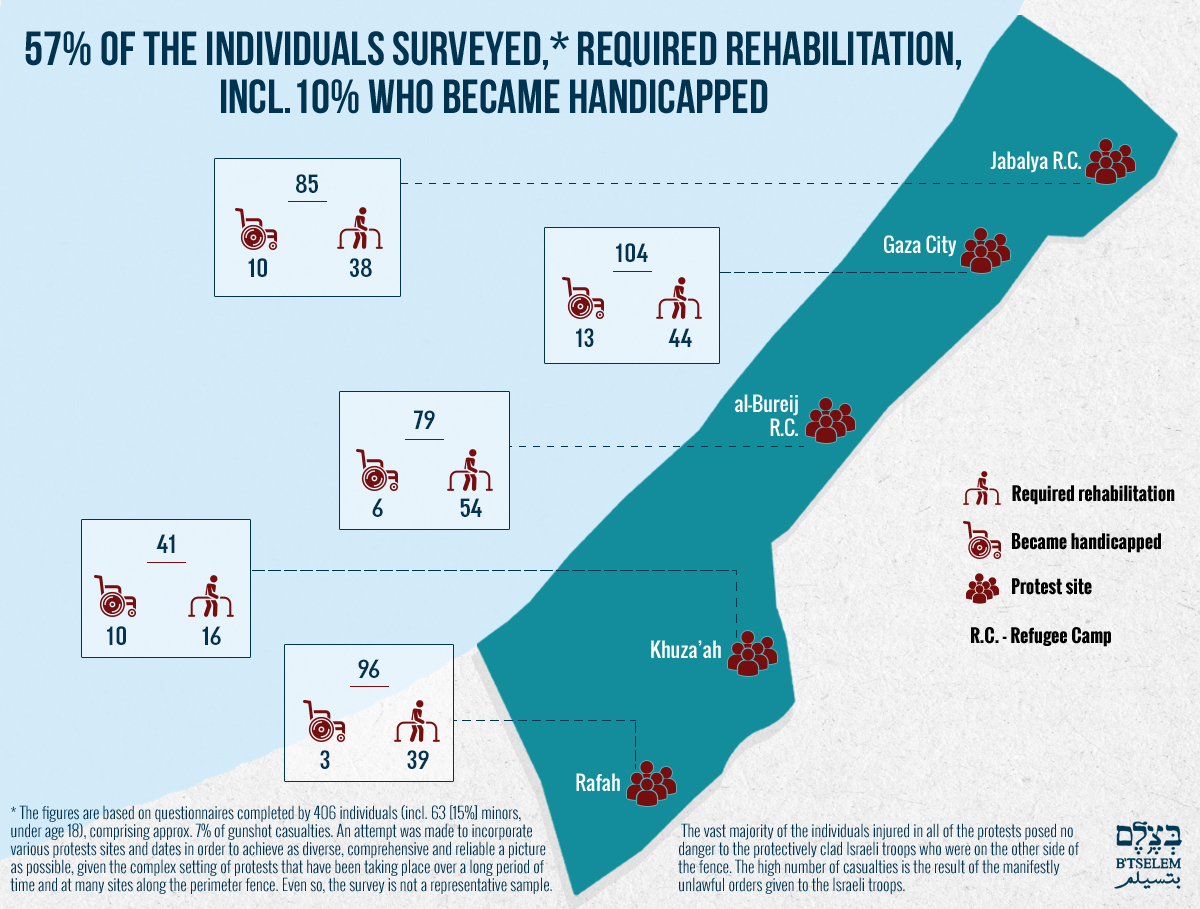 The grave injuries suffered are merely the first chapter in a prolonged ordeal. Even a superbly functioning healthcare system would be sorely tried when faced with such a large number of casualties. Yet in Gaza, even before the protests began, the healthcare system was already on the brink of collapse. As a result, many of the wounded do not receive the medical care they need. According to WHO figures published 3 November 2018, Gaza's Central Drugstore ¬– which supplies the vast majority of medical equipment to hospitals – was completely out of 226 essential drugs, and had only a one-month supply left of another 241. In addition, as for medical disposables, 257 types had been completely depleted. The poor condition of Gaza's health care system is largely the result of the Israeli-imposed blockade on Gaza. The blockade places restrictions on replacing worn-out, broken medical equipment, on importing advanced medical equipment and drugs, and on travel by physicians for professional training outside Gaza. In addition, Gaza's intermittent power supply, again largely Israel's doing, also disrupts hospital functions.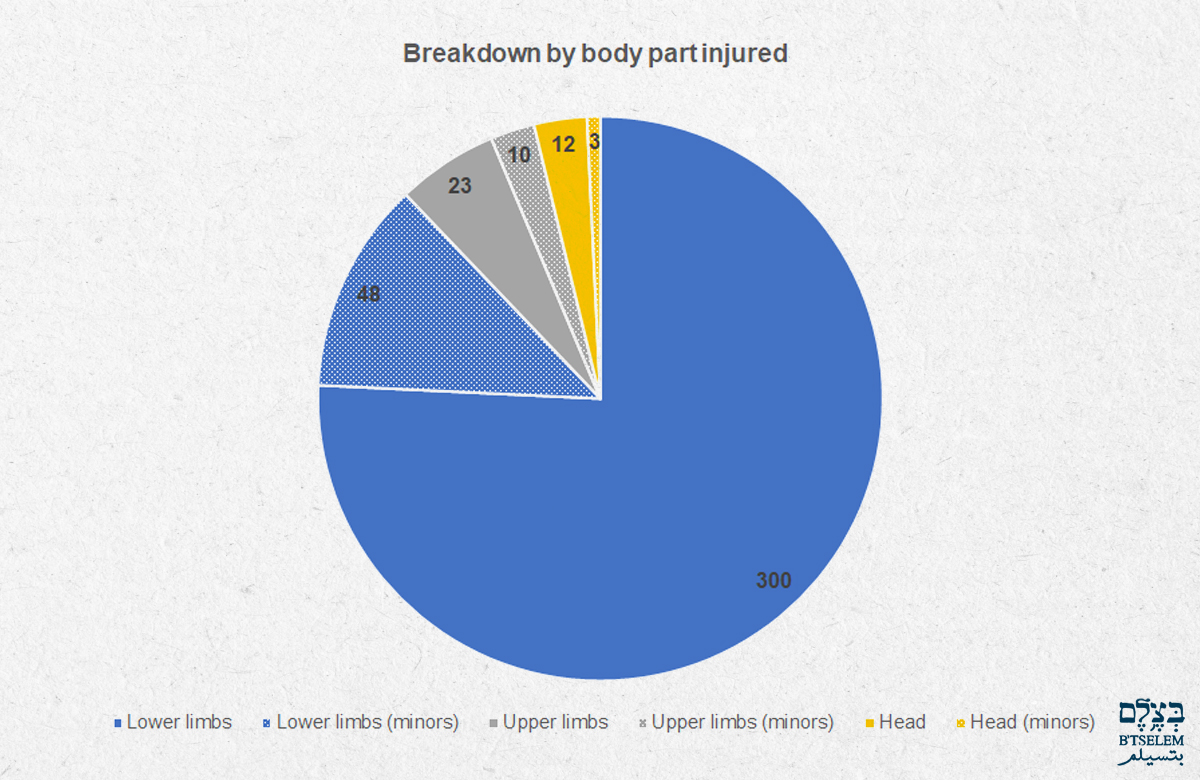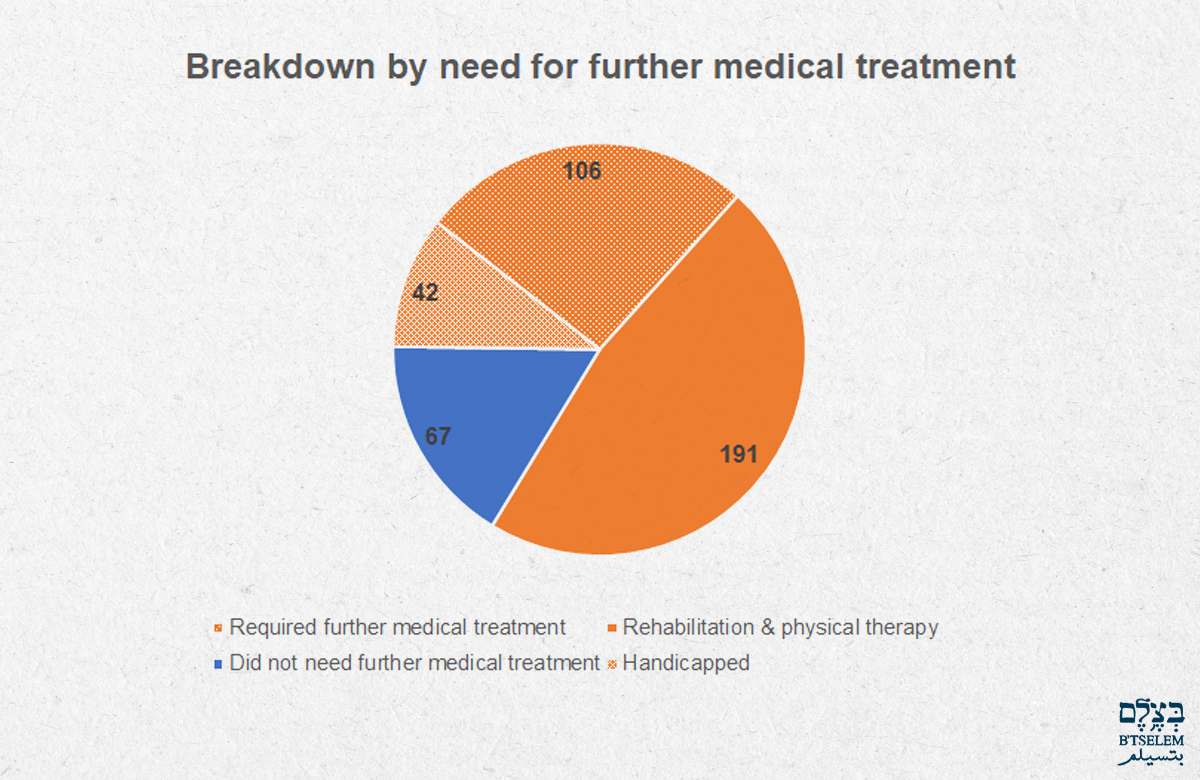 Israel's unlawful open-fire policy has caused these injuries. The prolonged Israeli-imposed blockade denies hospitals in Gaza the facility to provide proper care to the wounded. On top of this, Israel refuses, as a general rule, to allow the wounded to travel just a few dozen kilometers through its territory so as to reach hospitals in the West Bank, where at least some of them would be able to receive the care they need. According to WHO figures valid for 7 October 2018, 283 injured protesters had filed for exit permits to leave Gaza via Erez Crossing for the purpose of medical care. Only 66 (23%) applications were granted. More than three quarters of the applications were denied to all in intents and purposes: either being denied outright (107 applications, 38%) or else a response was not given by the time of the scheduled appointment (110 applications, 39%).
The high number of casualties at the protests is not an unavoidable fact of life. It is the result of a deliberate policy by the Israeli security establishment. As early 30 March 2018, the very first day of the Return Protests, then Defense Minister Avigdor Liberman threatened the residents of Gaza that "anyone who will come near the fence today is endangering themselves. I suggest that you carry on with your lives, and take no part in the provocation." As B'Tselem has already written, the staggering number of casualties – at protests that have been taking place for over seven months – is virtually unprecedented and is the result of the manifestly unlawful orders given to security forces. The orders permit the use of live fire against unarmed protestors who pose no danger to anyone and are on the other side of the fence, inside the Gaza Strip. Coming near the perimeter fence, damaging it or crossing over it are not capital offenses. However, statements made in the media indicate that the military permits opening fire at Palestinians not only if they pose a mortal threat to troops, but also in cases of individuals it vaguely and unlawfully defines as "key agitators," stone-throwers, protesters who damage the fence, protesters who try to cross over the fence, and protesters who simply come near the fence, still on its Gazan side. For example, in an 11 October 2018 television interview on Channel 20, Minister of Public Security Gilad Erdan said, "It's no coincidence that hundreds of Hamas operatives have been killed in recent months […] Over 5,000 Palestinians in Gaza were shot, that is – were hit by gunfire or were injured in recent months, as part of a policy of not allowing coming close to the fence or planting explosives." In practice, however, Israeli security forces go beyond the unlawful gunfire at individuals who get close to the fence, they also shoot at protesters who are hundreds of meters away from it and are doing nothing to jeopardize the troops.
All relevant Israeli officials refuse to change these orders, even in the face of their predictable outcome. They continue to argue that the orders are legal and even defend them before the Supreme Court, whose justices have given this reality their seal of approval.
B'Tselem field researcher Olfat al-Kurd gathered testimonies from some of the wounded, their families and eyewitnesses.
Muhammad Abu 'Aker (26) injured north of the town of Khuza'ah, 6 April 2018
On Friday, 6 April 2018, at around 3:30 P.M., two 26-year-old cousins from Khan Yunis, Muhammad and Faiz Abu 'Aker, met at a protest held north of the town of Khuza'ah. At around 3:00 P.M., Muhammad Abu 'Aker approached the fence, set tires on fire and threw stones at Israeli security forces stationed on the other side of the fence.
In a testimony he gave on 17 September 2018, Faiz Abu 'Aker described what he saw:
Faiz Abu 'Aker. Photo by Olfat al-Kurd, B'Tselem, 17 Sept. 2018

The situation that day, which was dubbed Tire Friday, was hard. There were a lot of protestors and burning tires and smoke, and many casualties. I was near the fence, helping set tires on fire. At around 3:30 I ran into my cousin, Muhammad Abu 'Aker. He was standing about 10 meters away from me and about 30 meters from the fence. There was massive fire at the protestors. Most of the injured people I saw were hit in the leg. 

Later, I tried to draw back because things were so bad. Muhammad was behind me. I heard shots and turned around to Muhammad. I saw him on the ground, waving to the protestors. Because of the massive fire, I couldn't get to him for about 10 minutes after he was wounded. Then I crawled over to him quickly with some other guys. He was lying on the ground bleeding from a large wound in his back. I bandaged it with a kaffiyah and picked him up. I asked him to recite "there is no God but Allah, there is no God but Allah", because I was sure he was about to die. I tried to get an ambulance but I couldn't, because they don't go near the fence. We took him to the medical tents. Later, my brothers told me that he was in very bad shape. 
In a testimony he gave on 17 September 2018, Muhammad Abu 'Aker described what happened that day::
Muhammad Abu 'Aker. Photo by Olfat al-Kurd, B'Tselem, 17 Sept. 2018

Several people were wounded and there was massive fire by the Israeli army. The soldiers sometimes got down from the dirt mounds and fired teargas at us. There were also drones, which sprayed teargas at us. A lot of the protestors fainted. Later, I started setting tires on fire and then I started throwing stones at the Israeli army, from a distance of about 30 meters from the fence. When I turned around, I was hit in the back by a bullet. I fell over and felt terrible pain in my belly. 

My cousin Faiz Abu 'Aker was about 10-15 meters away from me. After about 10 minutes, he came with some other guys to give me first aid. They couldn't make it earlier because of the massive fire and teargas. They carried me to the tent area and kept saying "martyr, martyr". When I got to the medical tent, they gave me first aid. The doctor said: "Try to stay awake." Then I was taken to Nasser Hospital in Khan Yunis. I was very badly injured. I heard people saying "martyr, martyr". I was bleeding heavily and then I blacked out. 

I came to seven days later and discovered I was hooked up to a lot of tubes from my stomach, nose and mouth. I was in ICU and couldn't move or talk to my family when they came to visit me. When I saw them, all I did was cry. I stayed that way for about a week. Then the doctors started taking some of the tubes out of my mouth and nose and I was able to talk. I asked the doctors how I was doing and they said they'd operated on me for three hours, stopped the bleeding and repaired ruptures in my intestines. I also had shrapnel in my pelvis. It was hard to walk and I could only swallow liquid. 

I stayed at Nasser Hospital for about a month, until 14 May 2018. Now I have a colostomy bag and infections in the wound and in my stomach stitches. I live on painkillers and have a hard time sitting or walking. I got a referral for treatment in Egypt, but I didn't go for financial reasons. I pray to get well and hope I can get a referral for treatment so I can get rid of this colostomy bag, which I loathe.
'Abdallah Qassem (16) injured east of Gaza City, 14 May 2018:
On Monday, 14 May 2018, at around 9:30 A.M., 'Abdallah Qassem (16) and his friend 'Umran Zaghrah (18), both from Gaza City, went to the protest area east of the city. Thousands of Palestinians were there, demonstrating against the transfer of the American embassy to Jerusalem. At around noon, the two friends drew back and sat down on a dirt mound about 100 meters from the fence.
In a testimony he gave on 6 August 2018, Zaghrah described what happened next:
'Umran Zaghrah. Photo by Olfat al-Kurd, B'Tselem, 6 Aug. 2018

At around noon, 'Abdallah and I moved back because there was lots of teargas and we felt like we were choking. We climbed a small dirt mound about 100 meters from the fence and sat there, looking down at the protestors. I told 'Abdallah we had to say noon prayers and he said: "Wait. Let's see what happens to the protestors near the fence first." A few minutes later, while we were still sitting on the mound, we were fired at. I didn't hear the shots. At first, I thought I'd been hurt because I saw blood on my legs, but then 'Abdallah started screaming. I looked at him and saw he was holding his legs, which were bleeding heavily. I tried to lift him up but I couldn't. I yelled to the medics and they came and took him away.
In a testimony he gave on 5 August 2018, 'Abdallah Qassem related:
'Abdallah Qassem. Photo by Olfat al-Kurd, B'Tselem, 5 Aug. 2018

There were a lot of people at the march. Near the fence there were protestors throwing stones at the Israeli army and a lot of burning tires. I saw about 30 soldiers stationed on the dirt mounds and behind them, several army vehicles and jeeps that were firing teargas canisters at the protestors, and drones that dropped teargas canisters on them. A lot of people got hurt - some were injured and many choked or fainted because of the gas. Several people were killed. Most of the hits I saw were to the lower limbs. 

At noon, while I was sitting next to my friend 'Umran on a small dirt mound about 100 meters from the fence, the Israeli army fired at us. I was hit by a bullet that entered my right leg, exited and hit my left leg. I tried to stand up but couldn't. I fell over. My friend tried to help me, but he couldn't. He asked the medics for help. 

I was immediately taken to an ambulance that was in the tent area. I stayed in the field clinic for about an hour and was given first aid. They bandaged my legs. Then they transferred me to a-Shifaa Hospital in Gaza. There were a lot of injured people at the hospital. Because it was so busy they transferred me to al-Quds Hospital, which is also in Gaza, after four hours. 
Qassem underwent surgery at al-Quds Hospital, but the doctors were not able to save his legs. He was sent back to a-Shifaa Hospital, where doctors had to amputate his legs after about two and a half weeks. Qassem's right leg was amputated below the knee and his left leg above the knee.
In his testimony, he related: 
On Tuesday, 22 May 2018, before they took me into surgery, my father told me the doctors were going to amputate both my legs, because I was getting worse. I was very sad to lose parts of my body, but that's what fate had in store for me. I put my trust in God and went into the operating room. I was under anesthesia until 30 May 2018. When I woke up, I discovered that they'd amputated my right leg under the knee and my left leg above the knee. The pain was excruciating and I kept crying and shouting. They gave me painkillers, but it didn't help. I was hospitalized for a month and a week. I left the hospital in a wheelchair. I can't walk anymore. 

I used to really love swimming and playing soccer, but I can't do that any more. The school year is about to begin. I'll have to go to school in a wheelchair instead of on foot. I've hardly moved since the amputation. No walking, no playing. I'm even thinking about quitting school soon, because I can't see myself going there in a wheelchair. It makes me very sad. I'm still in shock. 

What crime did I commit going to the March of Return? I was just sitting watching the protestors. I went there on my feet and came home without them. The Israeli army shot me for no reason. It cost me my legs. Now I'm waiting to have prosthetics fitted so I can walk, go back to school and live like other kids my age. They took away my ability to hang out with my friends on the street. I can't use the stairs. When I have to go somewhere, my brothers help me and carry me. 
Qassem gave another testimony on 1 November 2018, after he returned to school:
At first, I refused to go to school. I wanted to put it off because I couldn't go up the stairs there. My parents didn't let me and said they'd support me and help me. For the first three weeks of the school year, I didn't go to school because my class was on the third floor and I couldn't make it there. Then the school administration decided to move the class to the ground floor so I could come back.

Now I need prosthetics to walk and live normally. I asked several organizations to help me go abroad to have prosthetics fitted, so far with no success. Mentally, things are worse. I just hope I'll be able to get prosthetics, get back to normal, finish high school and fulfill my dream of becoming a journalist. 
Muhammad Abu Hussein, 13, injured east of Jabalya R.C., 29 June 2018
On Friday, 29 June 2018, at around 5:00 P.M., Muhammad Abu Hussein (13), an eighth-grader from Jabalya Refugee Camp, arrived at a demonstration held east of the camp. Abu Hussein moved towards the fence until he was about 30 meters from it. There, at approximately 6:00 P.M., he was shot in the leg.
His friend, Ahmad a-Sakhar (17), a twelfth-grader from the camp, related what he saw of the incident in a testimony he gave on 5 August 2018: 
After half past four, lots of people began arriving and the demonstration picked up. A lot of protesters moved towards the fence. Some of them threw stones at the Israeli army, and there were a few burning tires. I got up to about 10 meters from the fence. On the other side of it there were several soldiers on sand mounds. They were shooting at the protesters. There were also several jeeps there, firing teargas canisters. Some protesters were hit by the fire, but a lot choked on the teargas.

I stayed put and later met my friend, Muhammad Abu Hussein, there. I was surprised to see him, because he's a little boy. I grabbed him and took him back to the tents a few hundred meters from the fence, so he wouldn't be hit by a bullet or inhale teargas. I went back towards the fence. About 15 minutes later, I suddenly saw that Muhammad was really close to the fence again. The Israeli army was firing heavily. At around six o'clock, there was heavy fire at the protesters and Muhammad was several meters away from me. I decided to move back and was going to take Muhammad with me, because I was worried about him. But then the army fired and hit the leg of a guy standing next to us. The soldiers fired at us, too, and Muhammad was hit in the leg. I looked over and saw that his leg had almost come off. He was bleeding heavily. I started shouting and crying and calling for medics. They carried him to an ambulance on a stretcher. 
In a testimony he gave on 2 August 2018, Muhammad Abu Hussein described the incident:
Muhammad Abu Hussein. Photo by Olfat al-Kurd, B'Tselem, 2 Aug. 2018

At six o'clock, I was standing with my friend Ahmad a-Sakhar. The Israeli army fired at us when I was just standing and watching what was going on by the fence. The bullet hit me in the right leg and I fell down. My leg was almost completely crushed and I was bleeding a lot. I cried and shouted, it was so painful. Ahmad called the medics, who carried me to an ambulance and bandaged my leg. I was taken to the Indonesian hospital. About an hour later, I was transferred to a-Shifaa Hospital in Gaza, because I was seriously wounded. I was still bleeding a lot, and then I blacked out. Because my leg was so badly injured, the doctors at a-Shifaa decided to amputate it. I was taken into an operating room and amputated above the knee. 

When I woke up from the anesthetic, at four in the morning, I asked my brother 'Abd a-Rahman whether they'd cut off my leg. He told me they hadn't. After that, every time I tried to stand up, my brother would say "keep still". That's how I understood they'd cut off my leg. I was very sad. I asked my brother to have my leg buried in a grave near my dad, who died about two years ago. I was in a lot of mental and physical pain, and also suffered from the medication. After about three weeks, I was released.

Now I need crutches to walk. Sometimes I get very tired from walking with the crutches, because I'm not used to them yet. Obviously, I'll never be able to ride my bike again or play with my friends the way I used to. I love soccer, and I won't ever be able to play again. Sometimes I try to play, but it doesn't work. When I see my friends playing and I can't join them, it breaks my heart and makes me very sad. 

School is starting again soon, and I don't know whether I'll be able to go back. How will I get there with the crutches? How will I play with my friends? I really hope I get a prosthetic leg - so I can play again, ride my bike, go back to school and play soccer again. They shot me for no reason. I was just standing there and didn't do anything. Because of them, I lost my leg and became crippled. 
Muhammad's mother, Amneh Abu Hussein (44), described that day in a testimony she gave on 28 October 2018: 
When Muhammad's leg was amputated, that was the worst day of my life. The news hit me like a bolt of thunder. I went to the hospital thinking he'd been lightly injured. When I saw his leg and learned they were going to cut it off, I burst out crying and screaming. He's only thirteen. I was afraid his entire future would be ruined and his studies and dreams come to nothing. What can a little boy do when he finds out he's missing a leg? What did my little Muhammad even do wrong? He wasn't carrying any weapon! And even if he had been holding a rock, that doesn't really affect the Israeli army. 

Now I'm very sad. Muhammad is no longer independent. I dress and bathe him. I worry about him and am afraid to leave him alone for a second. When I see that he can't play or go to school, it breaks my heart, because all his friends walk normally and he can't. 

Muhammad is being treated by Doctors without Borders. He's doing exercises to prepare for having a prosthetic leg put in. This week he's going to travel to the United States thanks to the Palestine Children's Relief Fund to have a prosthetic installed. He'll be away for several months. I wanted to go along and be with him during the treatments, but the organization can't arrange it. It will be a difficult time both for me and for Muhammad, who needs me with him. It will be his first time away from me. He very much wanted me there with him during the treatments, but it isn't possible. I hope he recovers and comes back to me walking on two legs, without the crutches. 
Yusef a-Dush, 18, injured near Erez Crossing on 4 September 2018
On Tuesday, 4 September 2018, during a demonstration near Erez Crossing east of Beit Hanoun, some of the protesters broke through the checkpoint gate. At around 3:30 P.M., Yusef a-Dush (18) from Beit Lahiya and his cousin 'Abdallah Salman (16) from Jabalya Refugee Camp joined the demonstration. The two teens approached the checkpoint, throwing stones at Israeli security forces who were stationed on the other side of the fence and the wall behind it. At around 5:20 P.M., after a-Dush had crossed through the checkpoint gate and thrown stones at security forces from about 15 meters way, soldiers shot him in the leg.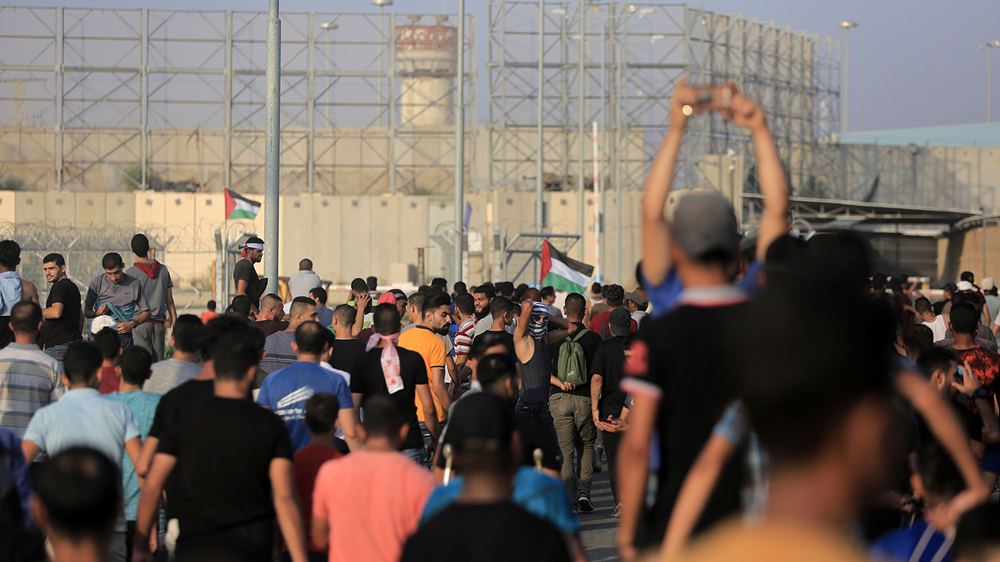 In a testimony he gave on 12 September 2018, 'Abdallah Salman described how his cousin was shot:
'Abdallah Salman. Photo by Olfat al-Kurd, B'Tselem, 12 Sept. 2018

When we got there, at around three-thirty, there were a lot of protesters. They were throwing stones at the Israeli army at Erez crossing. We went forward and crossed through the checkpoint gate. We made our way towards the Israeli soldiers, who were behind the concrete wall. The army fired a massive amount of teargas canisters at the demonstrators, as well as live bullets. Some people were hit. 

Yusef and I threw stones. Yusef went towards the soldiers and I stayed behind him, about 15 meters away. We continued to throw stones. I looked over at Yusef and he said to me: "Come on, 'Abdallah". Then they opened live fire at us and hit Yusef in the leg. I tried to go over and help him, but I couldn't get close because of the massive shooting of teargas canisters in our direction. He was bleeding and tried to draw back. When he got close to us, some medics came, bandaged his leg and put him in an ambulance. I got in with him. His right leg had been hit by live fire and was bleeding heavily. He shouted in pain while the medics tended to him. By the time we got to al-'Awdah Hospital, he was in a terrible state.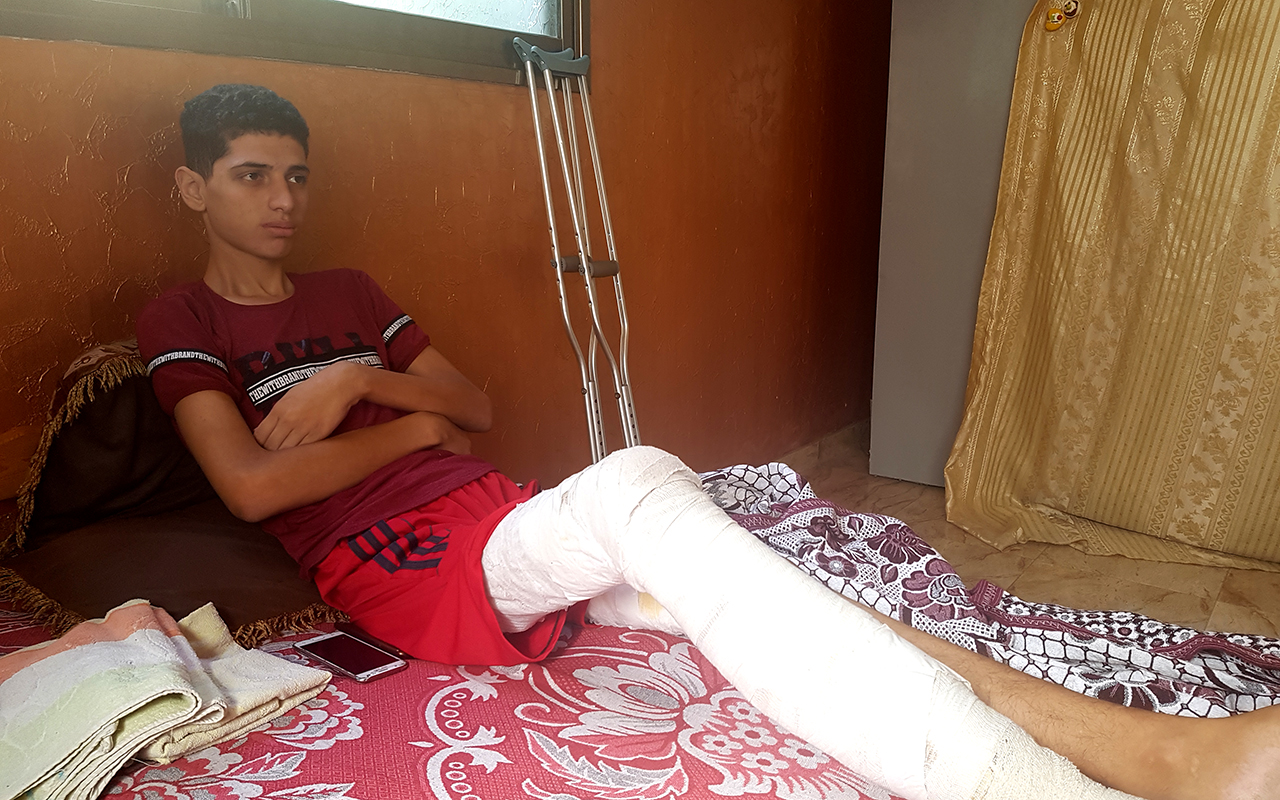 In a testimony he gave on 12 September 2018, a-Dush recounted that day: 
I threw stones at the Israeli army along with other protesters, while getting closer to the soldiers. There were soldiers on top of the concrete wall, as well as jeeps and massive tear gas fire. People passed out from the gas. A few people were hit by the live fire, and most of them were badly injured. I went through the checkpoint gate and got closer to the Israeli army and the inspection point. I got up to about 15 meters from the army and threw stones. 

At about 5:20, I felt something in my right leg. I looked down and saw a spurt of blood. I tried to go back, but there was so much teargas that no one helped me. I kept drawing back until I met some medics who bandaged my leg and put me in an ambulance. My cousin 'Abdallah was with me. The medics took me to al-'Awdah Hospital in Jabalya, while I kept bleeding. Because I was so badly injured, they transferred me to a-Shifaa Hospital in Gaza and took me into surgery immediately. During the operation I was given a lot of blood units because the bullet penetrated my right knee, destroyed tissue and cut the main artery. The surgery lasted three and a half hours. I woke up in the ICU and spent about two days there. I'm still hospitalized at a-Shifaa. The doctors told me that I'm in good shape and that there's been an improvement, but I still need to stay in hospital. I'll have to undergo plastic surgery, too, because I lost some of the tissue in my right leg. 
A-Dush was released after about three weeks in hospital, but his leg grew steadily worse. When he returned for a checkup, doctors told him an amputation could not be avoided. His father refused to give his consent and tried to arrange for his son to receive treatment abroad.
In another testimony he gave on 29 October 2018, Yusef a-Dush discussed his condition: 
My father got in touch with a private doctor, who examined me. He said my leg was in a terrible state. A CT scan showed severe blockage of the arteries. I got shots and treatments, and then a relative of mine who is a doctor with the Ministry of Health took me to his home in a-Nuseirat Refugee Camp. I've been living with him for two weeks, while he treats my leg. He changes my bandages every day and cleans the wound. Right now, the leg is doing better.  

The injury has caused me a lot of suffering. I can't walk on my leg and have to use crutches. I lie in bed all the time, day and night. I'm in very intense pain and my leg feels like it's burning. Sometimes it hurts so bad that I hit myself in the head. My father is a simple public employee and can't pay for the care I need. I have no appetite and have lost weight. It's very hard to even make it to the bathroom, and I have headaches all the time. Because of the injury, I lost my job at a baking goods factory. I can't play soccer any more at the club I used to belong to, or race my friends along the beach the way I loved to do. I lost all that. I'm physically and mentally exhausted and never leave the house. I pray to God to get better and be able to walk again.