In the two weeks from 17 February to 3 March 2018, Israeli soldiers killed four Palestinians near the boundaries within which the Gaza Strip has been sealed: two teens who tried to cross into Israel near Rafah; a fisherman whose boat was swept outside the zone in which the military permits Palestinian fishing while he and his friends slept; and a farmer working his land close to the perimeter fence. None of the four were endangering the soldiers' lives; in all cases, the soldiers opened lethal fire without warning.
These killings did not occur in a vacuum. They are part of Israel's open-fire policy in the Gaza Strip, which includes soldiers opening lethal fire at Palestinians on the other side of the border, sometimes to suppress demonstrations, although there is no danger to themselves or to other persons. Despite the lethal outcomes of this policy, which were predictable from the outset and are certainly well known now, the military has not changed it.
From the beginning of 2017 through 3 March 2018, 19 Palestinians were killed near the boundaries of the Gaza Strip, including two fishermen who were sailing in the permitted fishing zone, 13 demonstrators at protests near the perimeter fence (two of whom were teens), a farmer working his land, and three teens who tried to enter Israel without permits.
According to media reports, the Military Police Investigations Unit (MPIU) launched an investigation into one of these incidents: the killing of Ibrahim Abu Thuraya during a demonstration near the perimeter fence. Given past experience, the investigation is very unlikely to result in prosecution of those responsible, certainly not on senior levels. As these investigations invariably serve whitewashing rather than justice, B'Tselem decided in 2016 to stop demanding them. Even if a particular incident is investigated, the lethal open-fire policy remains unchanged.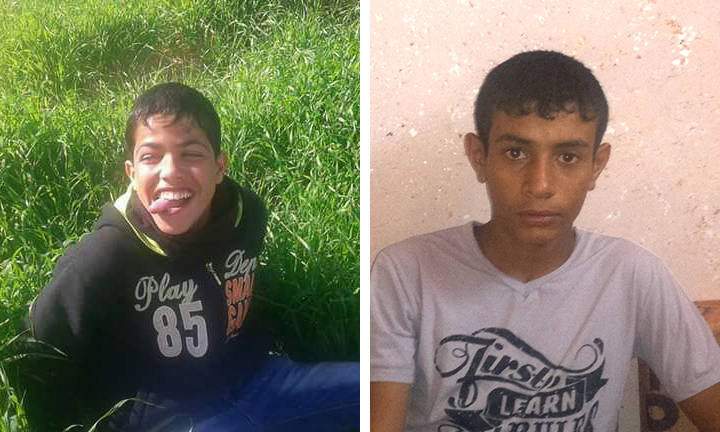 17 February 2018: The killing of 'Abdallah Ermelat, 14, and Salem Sabah, 16
On 17 February, at midday, four soldiers were injured by the explosion of an IED placed by Palestinians close to the perimeter fence near Khan Yunis. In response, the military bombed and shelled Hamas locations throughout the Gaza Strip. Later that day, around 8:00 P.M., five teens between the ages of 14 and 17 set out from Rafah to cross the perimeter fence and search for work in Israel.
The five reached land belonging to the family of one of them – 'Abdallah Ermelat – about 300 meters west of the fence. They lit a fire and made tea, and after about an hour, 'A.K., 17, decided to go home. The other four approached the fence to try and cross it. When they were about 15 meters from the fence, live fire was opened at them. They started to flee and came under more live fire, as well as mortar shelling.
Two of the youths – 'Abdallah Ermelat, 14, and Salem Sabah, 16 – were killed. The two others were injured by shrapnel and hospitalized for several days at the European Hospital south of Khan Yunis.
In a testimony he gave to B'Tselem field researcher Muhammad Sabah on 19 February 2018 while still in hospital, S.S., 17, related:
After 'A.K. left, we walked towards the border. Before we even got to it, we came under live fire. A.H. and I immediately started running away. I didn't see Salem or 'Abdallah. As we ran, a tank fired mortar shells at us. I felt that I'd been hit but kept on running until we got to the Jakar road. We saw a shack made out of nylon and sat in it, and then a jeep from the Hamas ground control unit arrived and picked us up. On the way, we met a Red Crescent ambulance on the airport road. The paramedics checked us and saw that I'd been injured in my right hand, back and both legs. They took us to Abu Yusuf a-Najah Hospital in Rafah. From there I was transferred here, to the European Hospital. I only found out the next day that Salem and 'Abdallah had been killed by the shooting.
After the injured youths were taken to hospital, the paramedics returned to look for Ermelat and Sabah, but due to the military bombardment they could not approach the area. .
In a testimony he gave B'Tselem field researcher Muhammad Sabah on 22 February 2018, paramedic Musa 'Obeid described what happened the following day:
In the morning, someone called us and said they'd found two bodies. I went to the area with a first aid officer and another ambulance. We got out of the ambulance and immediately saw two bodies some 200 meters from the border. There were some teenagers and young guys there who told us that the bodies had been found about 30 meters from the border.

We put one body in each ambulance. They were already rigid and showed serious injuries and bullet entry marks. My team took the 'Abdallah Ermelat. We usually receive notification from the Red Cross, but this time we didn't receive any notification from them or from anyone else that the bodies were there, and they stayed there all night.
25 February 2018: The killing of fisherman Isma'il Abu Ryalah, 18
On the morning of 25 February 2018, at about 6:00 A.M., an Israeli naval vessel approached a fishing boat containing three fishermen from a-Shati Refugee Camp, which is located west of Jabalya. The boat was standing still about five nautical miles offshore, within the limited zone in which Israel permits Palestinian fishing. When the vessel approached, the fishermen began to sail east towards the shore. The vessel accompanied them for about two nautical miles and then turned and headed north.
The fishermen stopped the boat, spread their nets, ate breakfast and went to sleep. While they were sleeping, the boat was swept north to the a-Sudaniyeh area, where fishing is prohibited. At about 3:30 P.M., the three men awoke to the sound of an approaching motor.
In a testimony he gave B'Tselem field researcher Muhammad Sabah on 26 February 2018, one of the fishermen, Mahmoud Abu Ryalah, 19, described what happened next:
Mahmoud Abu Riala. Photo by Muhammad Sabah, B'Tslem, 26 Feb. 2018

I heard the sound of a motor. At first we thought it was a fishing boat coming to work with us. We climbed up from the sleeping berth and saw two rubber dinghies and an Israeli vessel a few meters away from us. When the soldiers saw us, they fired live bullets and "rubber" bullets at us, and sprayed us with water from a hose on their ship. I was hit in the chest and legs by the "rubber" bullets. We immediately began to move towards the port. They chased us and fired at us. Isma'il told me that the soldiers were making hand gestures to show that they were about to shoot at my head and gave me a slight push. Then I heard a shot and Isma'il was hit in the head and fell to the floor. His head was bleeding. The soldiers fired at the diesel tank and our boat stopped completely. 

The soldiers ordered us in Hebrew and in Arabic to take our clothes off and get into the water. While I climbed down and swam toward the dinghy, they fired live bullets into the water around me. I got to the dinghy and they tied my hands and blindfolded me. Then they fired near my friend, 'Ahed Abu 'Ali, while he was swimming towards them. The dinghy took us both to the ship. 
 
Isma'il Abu Ryalah was taken by one of naval boats to Israel, where he died of his injuries. Israel held his body until 14 March 2018, and only then returned it to his family.
The soldiers brought the other two fishermen, who were injured by "rubber" bullets during the arrest, onto the ship, removed their blindfolds and cable ties and gave them clothes. After they put the clothes on, they were again blindfolded and cuffed. They were taken to Ashdod Port, where they received medical treatment. The soldiers then removed the cable ties from their hands and handcuffed their hands and feet with metal cuffs. The two fishermen were taken to Erez Crossing, where they were interrogated in Arabic. At about 10:00 P.M. they were released and then interrogated by the Hamas internal security force for about two hours. They returned home at about 1:00 A.M.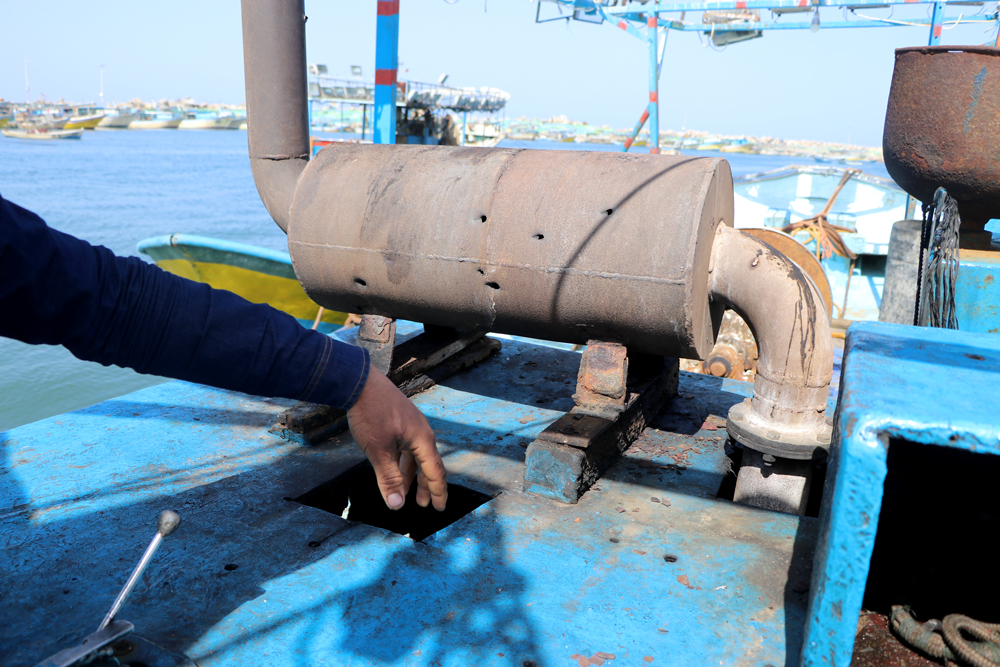 3 March 2018: The killing of farmer Muhammad Abu Jame', 58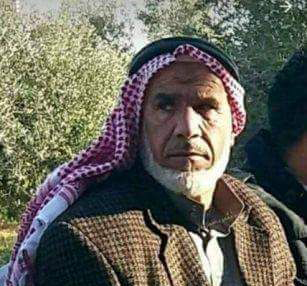 On 3 March 2018, Muhammad Abu Jame', a married father of seven from Bani Suheila, which lies east of Khan Yunis, worked his family land from the morning. The land is located east of Khuza'ah, approximately 250 meters from the perimeter fence. His aunt, 'Aishah Abu Jame', 81, worked with him in the fields. At about 12:30 P.M., soldiers fired two shots from the other side of the fence, hitting Muhammad Abu Jame' in the buttocks.
In a testimony she gave B'Tselem field researcher Khaled al-'Azayzeh on 4 March 2018, 'Aishah Abu Jame' related:
'Aishah Abu Jame'. Photo by Khaled al-'Azayzeh, B'Tselem, 4 March 2018

During noon prayers, at about 12:30 P.M., Haj Muhammad and I were still weeding the soil. He was standing about 10 meters away from me, and we were both about 200 meters from the fence. Haj Muhammad bent down – I don't know whether to pray or to uproot weeds at that moment.

Suddenly, I heard two shots. I shouted to Muhammad, "Let's move away, to the west," but he fell to the ground and called out to me, "Get an ambulance, Umm Muhammad." I realized he'd been hit. I couldn't see any soldiers. I ran towards the Hamas border control unit post, which is on our land along the Jakar road, and asked them to call for an ambulance. I stayed near the post. Four people from the unit went to get Abu Muhammad and carried him to the post. He was talking with us. They checked his wound and saw that the bullet had entered his body from behind. They asked us whether we had a cell phone to call for an ambulance, and I said that Haj Muhammad had one. The Haj himself took out his phone and gave it to them. They called for an ambulance, which arrived a few minutes later.
Muhammad Abu Jame' was taken in a Red Crescent ambulance to the European Hospital south of Khan Yunis. He underwent surgery on his stomach but died of his wounds the same evening. 
In a testimony she gave to B'Tselem field researcher Olfat al-Kurd on 12 March 2018, his wife, Sanaa Abu Jame', 54, stated:
When my son told me that Muhammad had been injured, I immediately went to the European Hospital. I got there just as they were taking him for an X-ray. He held my hand and told me not to be afraid, that everything would be alright. The doctors took him into the operating room at about 2:00 P.M. and he was there until 6:00 P.M. We waited outside. I was very worried and felt a weight on my chest. The whole time I prayed for him, just to have him come home safe and sound. After the operation ended, one of the doctors asked that only two members of the family go in to see him. Five minutes later they came out and told us he had died. I started crying and shouting. Those were very hard and painful moments for me, and I pray to God to give me strength.

Muhammad left me just when I need him most. I really miss him and pray all the time for his soul. He was our sole provider and left me with a big responsibility that I can't handle. Four of my children aren't married yet and he didn't get to rejoice at their weddings. We hoped to marry at least one of them this summer, but death took away my husband and my joy for life. We really feel his absence at home. He was a very caring and compassionate man and always made sure that we had everything we needed. My life with him was full of happiness. Now that he's dead we have only sorrow, sadness and tears. Our home has gone dark and I'm alone. Everything that was good in our lives belongs in the past. My children and I remember him every day.