Imagine paying a visit to relatives in another country and getting stuck there, away from your partner or children, for months and even years. Far from your home and life, without knowing how long it will be until you can go back. That is the daily reality of hundreds of women who are trapped in the Gaza Strip. Their lives are on hold and they have no idea when, if at all, they can be reunited with their loved ones.
Israel controls all access routes out of Gaza, with the exception of Rafah Crossing between Gaza and Egypt. It does not allow Gazans to maintain an airport or a sea port and does not permit them to travel abroad by entering Israel through Erez Crossing and flying out from there. Gaza has been under an Israeli blockade since the summer of 2007, and while over time, Israel has changed its rules regarding import and export, it remains steadfast in barring Palestinians and foreign nationals from traveling to and from Gaza. Consequently, with the exception of cases that Israel defines as "humanitarian" – usually urgent medical cases – and a small number of merchants, Palestinians cannot leave Gaza.
As stated above, Rafah Crossing is the only point of exit from Gaza that Israel does not control. However, in recent years, Egypt – which does control the crossing – has kept it closed almost year-round. The few who are fortunate enough exit via the crossing on the rare days it opens have to travel along a lengthy, dangerous route through the Sinai. Also, in 2017, Palestinians and Egyptians at Rafah Crossing started demanding a bribe of some 3,000 USD to let people through.
With the crossing so rarely open, and such a high sum extorted from travelers when it is, most Gazans simply have no possibility of going abroad. The unemployment rate in Gaza is one of the highest in the world, and some 80% of residents rely on humanitarian aid. One group that suffers especially from these circumstances is women who remain trapped in Gaza, away from their partners and sometimes without their children as well. These women, who are not residents of Gaza, have no work and no source of income. They have no choice but to stay with relatives, most of whom live in poverty themselves.
Rafah Crossing has been closed almost continuously since 'Abd a-Fatah a-Sisi came into power in Egypt. On the few days it is opened, only several hundred people manage to get through at a time, and it is impossible to know in advance who will be among the lucky ones. According to OCHA, in 2017 the crossing was open for a mere 29 days – only 21 of them in both directions. During that year, only 16,723 people managed to get out of Gaza. In comparison, in 2012 the crossing was open for 312 days, and some 211,000 people passed through it. In 2018, the crossing was closed for all of January; in February, it was open in both directions for four days, and another three days only for returning to Gaza.
Nevertheless, Rafah Crossing remains virtually the only way out of Gaza. Thousands of people have registered with the Palestinian Authority (PA) to leave, including students, persons in need of medical care, and people with foreign passports who came to visit relatives – as well as hundreds of married women who live with their families outside Gaza and came to visit relatives.
Last year marked a decade since Israel began its cruel blockade on Gaza without taking responsibility for the extreme impact on the lives of Palestinians there. Israel, which controls all passage in and out of Gaza except through Rafah Crossing, must respect the right of all Palestinians from Gaza to freedom of movement. It must also respect the right of the women trapped there to family life by ending their suffering and allowing them to reunite with their loved ones. The fact that Rafah Crossing is closed almost all year is the result of Palestinian and Egyptian decisions. The fact that it is the only way out of Gaza is entirely the result of Israeli policy, which has barred all other forms of access – by air, by sea, or by land to Jordan via Israel, except in rare instances. Moreover, Israel is well aware of the situation at Rafah Crossing. In this state of affairs, Israel bears the primary responsibility for the fact that almost two million Palestinians – including the trapped women described here – are imprisoned in the Gaza Strip.
B'Tselem field researcher Olfat al-Kurd collected testimonies from women trapped in Gaza: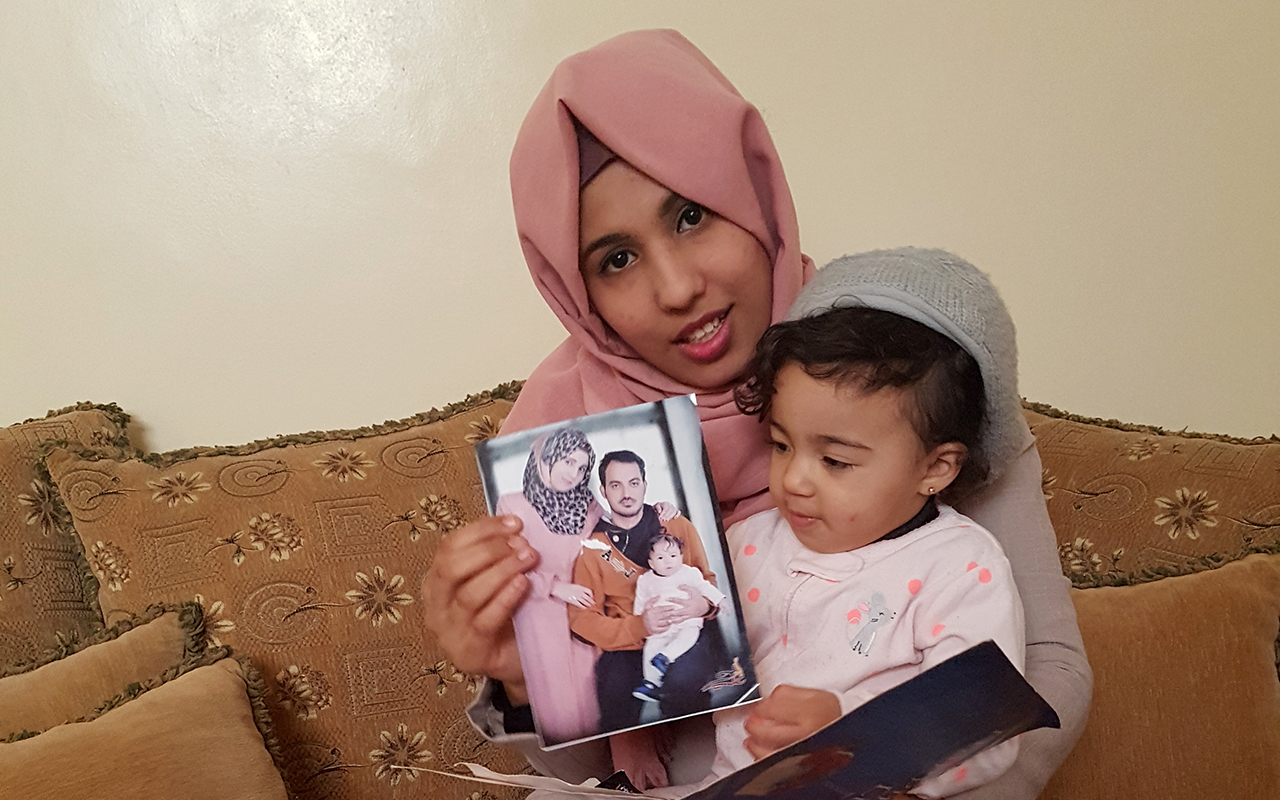 Hanin al-Jakhbir, 26, married and mother of a two-year-old girl: 
Al-Jakhbir was born in Rafah and in 2015 married an Egyptian national she had met through relatives. On 28 January 2017, two years after she got married and moved to Egypt, she returned to Gaza with her then nine-month-old daughter Lana to visit her parents, whom she hadn't seen since the wedding, and to get a Palestinian birth certificate issued for Lana. Al-Jakhbir intended stay in Gaza for a month, but has been unable to leave for more than a year now. In a testimony she gave on 23 January 2018, she related the following: 
A few days after we got to Gaza, I registered to leave via Rafah Crossing with the Ministry of the Interior. I was planning to go back to Egypt once Lana's birth certificate came through. We got the certificate in mid-February 2017 and wanted to go home. I have residency status in Egypt that is valid for five years, and Lana has an Egyptian passport. 

In February and March, Rafah Crossing opened for only three or four days at a time, and that wasn't enough for all the people who registered to leave. At the crossing, I was told that our names weren't on the travellers' list. Then the crossing stayed closed for three months straight, and being far from my husband really began to take a toll on me mentally. My daughter also suffered without her father. He kept in touch with us regularly, asked how we were and told me how hard it was for him to be alone. Now, Lana has started calling her grandfather "Baba" because she doesn't know her father any more. Her grandfather and uncles hug here, but she doesn't really know what it's like to have her father's embrace. I don't know what my daughter and I did wrong, and what will happen to us if the crossing doesn't open.

We've been stuck in Rafah for a year and my husband is trying to get help from the Egyptian embassy in Gaza and from the Palestinian embassy in Egypt to solve our problem. 

In 2017, Rafah Crossing opened several times, each time for a few days in a row, lastly in November, but mostly for students who are also stuck here. I decided to go to the crossing and try my luck, maybe I'd get through. I went alone, just to see if there was any chance. I got to the waiting lounge and a Palestinian officer promised me we would be able to get us through. I called my mother and asked her to bring my daughter and the luggage. When they got there, the officer said I had to choose between my daughter and the luggage, because things were tight and the buses were completely packed. I gave up the suitcases and we waited in the lounge for another hour or so, and then another two hours in the bus. Then one of the Egyptian officers announced that the crossing was closed and that all the buses waiting there could not go through. I became hysterical, I went crazy. I wait all day and suddenly the officer declares it's closed until further notice. 

My husband, who had already set out to meet us at the other end, had to turn around and go home after traveling for four hours – about half the way. We had both been physically and mentally exhausted for nothing. It was very frustrating and we felt it was an injustice. On top of my tension and exhaustion from that whole day, my husband who traveled half the way to the crossing felt very frustrated and that an injustice had been done to us. 
'Abir 'Aruq, 47, married and a mother of nine
'Aruq was born in Gaza. In 1994 she married Baker 'Aruq, a Sudanese national, and went to live in Sudan with him. In April 2017, she came to Gaza with five of her children to celebrate her daughter Hanaa's marriage to a cousin in Gaza. Since then, she and the children have been unable to go home. In a testimony she gave on 24 January 2018, she related the following: 
In early March 2017, we traveled to Egypt from Sudan and waited for Rafah Crossing to open. On 11 April 2017, we finally got into Gaza. Three days later, the wedding was held, and the next day I registered with the travel registration office to go back to Sudan. I had planned to stay in Gaza for a month and then go home to my husband and to my daughter Iman, who was seven months pregnant. But because we'd already waited in Egypt for a month, I wanted to go home immediately after the wedding. 
We've now been waiting ten months for an opportunity to leave. My son Osama, a graduate student in Sudan, couldn't hand his dissertation in on time and has lost his opportunity to hand it in. My son Mahmoud enrolled for university in Sudan and lost the registration fees as well as a year of studies. My sons who are still in school – 'Abd a-Rahim, who is in 11th grade, and Nur a-Din, in 2nd grade – have missed the entire school year.

Meanwhile, back in Sudan, my daughter Iman gave birth to her first child without me. She had a C-section and I couldn't be with her. She lives far from our home in Sudan, and my husband couldn't spend a lot of time with her either. It was a rough time. I was sad, hopeless, worried and frustrated because my daughter was going through that alone. Since we got to Gaza, Rafah Crossing has opened several times for a few days every time, but we didn't make it through. My husband keeps calling to see how we are. In the meantime, my two eldest sons married women in Gaza and now they want to go back to Sudan with them. 
The greatest obstacle to our leaving Gaza is the cost of coordination at Rafah Crossing. You have to pay 3,000 dollars a head and we're seven people. I can't afford that. Every time the crossing opens, we go there but always in vain – we never make it out. I slept at the crossing several times, in the cold and wind, in the hope that I'd get ahead of the line and we could get out and suffered backaches and leg pain because of that. 

I went to all the protest rallies of the committee of people trapped in Gaza to pressure the Palestinian and Egyptian governments to open the crossing and my suffering and the suffering of my children whose academic education has been ruined. Nothing helped.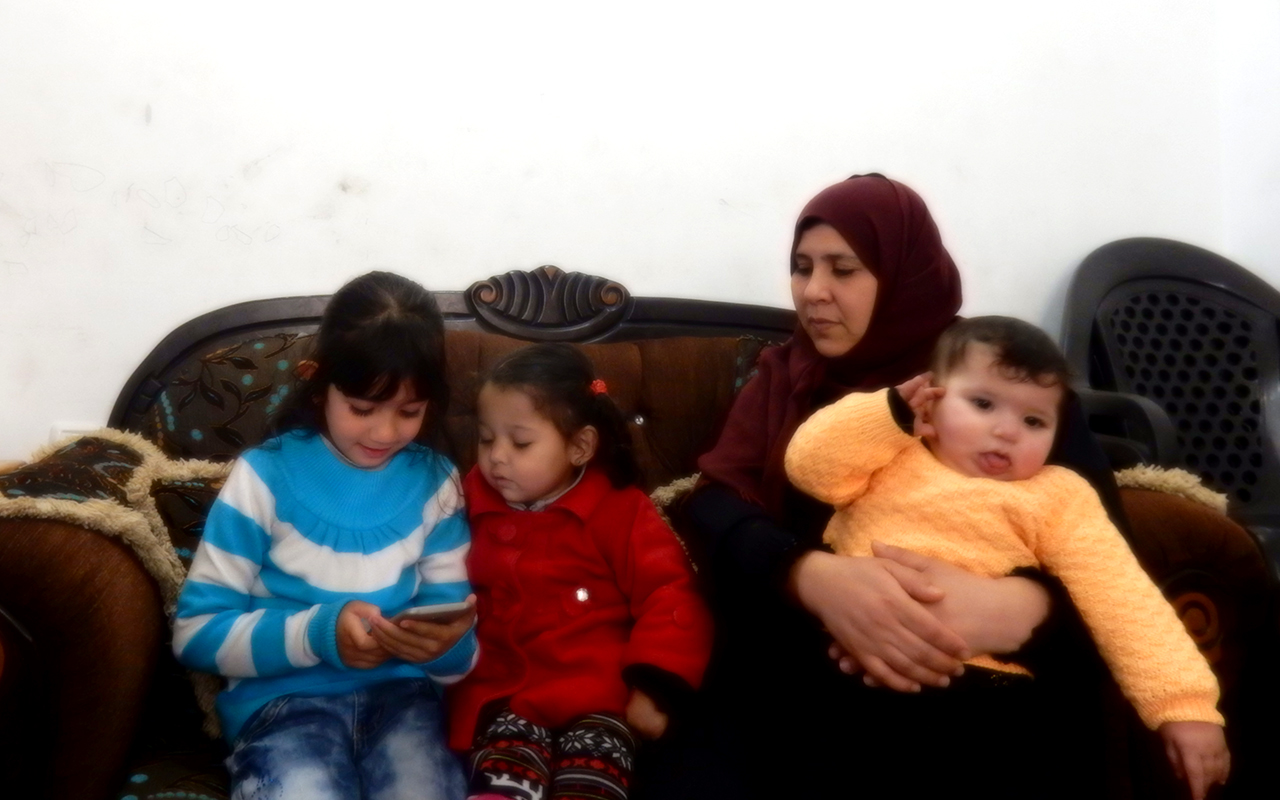 Rima Shaqfah-Muhammad, 37, married an mother of three girls aged 10 months, two and six
Shaqfah-Muhammad was born in Rafah. In 2005 she married Egyptian national Ahmad Hanafi and went to live with him in Egypt. In March 2017, when she was nine months pregnant, she came to Rafah to visit her father, who had cancer, and to give birth close to her family. In a testimony she gave on 25 January 2018, she related the following: 
I came to visit my family in Rafah when I was nine months pregnant. Ten days after I got here, I gave birth to my daughter Salma in a C-section. I was planning to stay with my parents in Rafah for a month – have my baby and then go back to Egypt. Three days after I got here, I registered with the Ministry of the Interior to leave via Rafah Crossing, but I've been stuck here with my three girls for ten months already. Since I got here, the crossing opened about five times and but I never managed to get through, although I am a resident of Egypt and my daughters have Egyptian passports. Every time the crossing opened, I went there every day. My eldest daughter, Habiba, was supposed to start school but unfortunately, that didn't happen. My husband keeps calling, asking how we are and trying to find out what's happening at Rafah Crossing, when it will open again. He tells me how much he misses the girls and me. He hasn't even met the baby, Salma. My other daughter Siniora doesn't really know him either. She's only two and a half years old, and she has spent almost a year with me here. I'm totally depressed, sad and exhausted.  It's very hard raising our daughters alone. 

Two months ago, my husband was in a car accident and the doctors had to amputate his left arm. He was in hospital in al-'Arish for a month. Now he's back home and there's no one to take care of him – his parents are dead and his siblings live far away, in Cairo. He also has diabetes and I'm worried he'll have complications because of the amputation. He really needs me and I don't know when I'll be able to go back to him. 

Sometimes I attend the rallies that women hold in Gaza and at Rafah Crossing. We raise protest signs saying "Open Rafah Crossing!" and "Our families are ruined and our children scattered", but it hasn't helped so far. 

To get through Rafah Crossing, people pay unbelievable amounts that I can't afford. Every traveler has to pay 3,000 dollars, and there are four of us. There is no way I can pay that much. We can't leave via Erez Crossing, either. The Israeli authorities forbid it. All I can do is keep hoping that they open Rafah Crossing, so we can get back safely to my husband and our home. 
Iman Abu Kneiss, 40, married and mother of a four-month-old baby
Abu Kneiss was born in Gaza. In September 2016 she married Egyptian national Walid Ibrahim and moved to live with him in Egypt. In February 2017, she went back to Gaza to visit her elderly parents for a month. Once there, she discovered she was pregnant. She was unable to go back home and gave birth in Gaza, away from her husband. In a testimony she gave on 1 February 2018, she related the following: 
On my second day in Gaza, I found out I was pregnant. My Egyptian visa was valid until September 2017. Since I got to Gaza, Rafah Crossing has opened several times. I wanted to give birth with my husband nearby, but couldn't get through the crossing because so many travelers are stuck in Gaza and have to get through within several days, and also because of the "coordination" and corruption that enable people who can pay 3,000 dollars to get through.

On 8 October 2017, I gave birth to my daughter, Carmel , in a-Shifaa Hospital in Gaza. I was thrilled, but couldn't be entirely happy without my husband. He still hasn't met her, held her or hugged her. 
I had a C-section that went wrong and caused damage to my intestines. I still suffer pain. I've since undergone more surgery and was in hospital for 18 days. 

While I was in hospital, I heard that Rafah Crossing opened. My name was on the passenger list, but I wasn't healthy enough to travel. After I got out of hospital, I went to register again but they told me I'd missed my turn and that the government had decided not to add any new names until everyone on the list had got through. 

My sister Fadwa, who also lives in Egypt, came to Gaza while I was in hospital to help with the baby, because our mother is very old. She got to Gaza in November 2017 and now she's stuck here too.