Ibrahim Abu Thuraya, a 29-year-old double amputee, was fatally shot by Israeli soldiers close to the perimeter fence in the Gaza Strip. Abu Thuraya, a resident of Deir al-Balah, had already been injured three times by the Israeli military: In 2001 he was hit in the leg by soldiers' gunfire during clashes to the east of Gaza City. About three years later, in 2004, he was hit in the stomach by soldiers' gunfire during clashes in the same area. The third time was in 2008, during Operation Cast Lead, when he was injured by a missile the military fired after entering al-Bureij Refugee Camp. Seven Palestinians, including four minors, were killed by the missile, while Abu Thuraya lost both his legs.
Abu Thuraya lived with his parents and six siblings. He was the family's sole provider, washing cars and receiving a disability allowance from a government association that supports individuals who suffered injuries.

Video: Al Mayadeen News
President Trump's "Jerusalem Declaration" on 6 December 2017 sparked a wave of protests. Abu Thuraya joined these demonstrations and threw stones at soldiers stationed on the other side of the perimeter fence. During protests, because of the lay of the land, he would get out of his wheelchair, crawl toward the fence, then crawl away and get back into his wheelchair. He became a familiar figure to the soldiers.
On the morning of Friday, 15 December 2017, at about 9:00 A.M., approximately one hundred youths gathered near the perimeter fence, by Nahal Oz Checkpoint to the east of Gaza City. After about two hours, the youths began to burn tires and throw stones at military jeeps and soldiers stationed by two towers approximately 15 meters from the fence; the soldiers were firing live ammunition and teargas at the demonstrators. When Abu Thuraya arrived, youths who were already there pushed his wheelchair nearer the fence. At about 4:30 P.M., while Abu Thuraya was on the ground some 10-20 meters from the perimeter fence, a soldier shot him in the head, killing him. Approximately half an hour earlier, at the same demonstration, soldiers fatally shot another protester in the head, 23-year-old Yasser Sukar from Gaza City.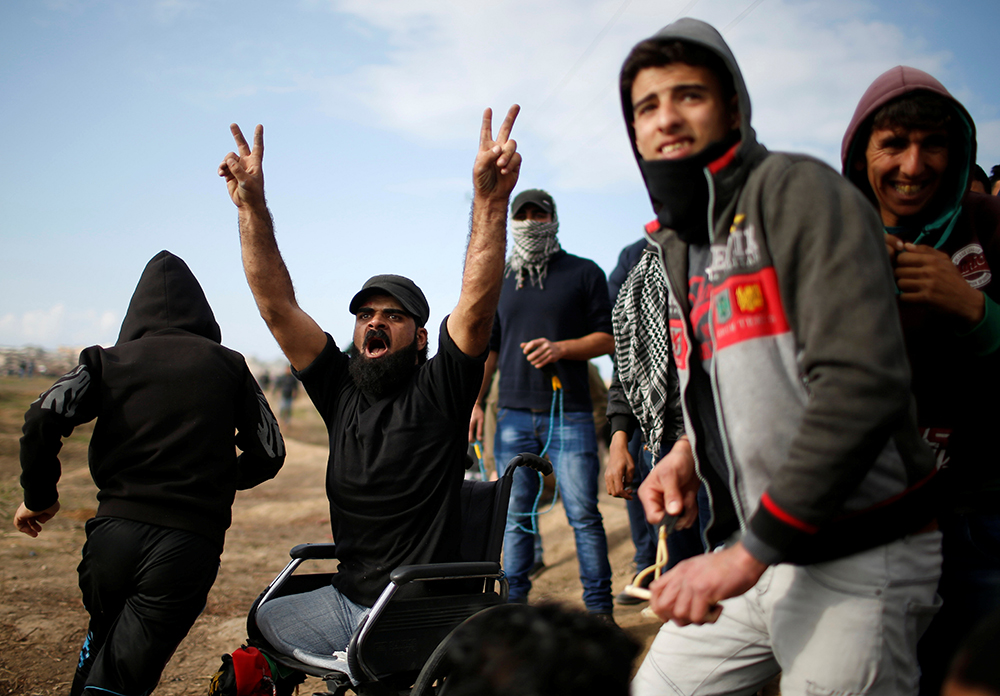 A.S., 22, from Gaza City, gave his testimony to B'Tselem field researcher Muhammad Sabah on 19 December 2017, recounting the day's events:
Over the days leading up to the incident, Ibrahim Abu Thuraya and I became friends. He'd ask me to push him toward the border while he waved a Palestinian flag. I wasn't afraid of the gunfire and I pushed him as near the border as he wanted. We'd get as close as 100 meters or so from the border. He thought that the soldiers wouldn't shoot at him. Ibrahim would approach even nearer the border without his wheelchair, shout at the soldiers and then move back. Sometimes when he got to the border he'd wave a Palestinian flag or the flag of the Popular Front. Sometimes he'd throw stones. On Wednesday, a military jeep drove up and the soldiers in the jeep started addressing him on a bullhorn. One soldier said, in Arabic, "Go away, Ibrahim." The jeep stopped there for a little while and then drove away.

On Friday, 15 December 2017, at about 9 o'clock in the morning, I walked to the Nahal Oz area. There were about a hundred teens and youths there, standing around 200 meters from the fence. Soldiers were stationed in both the military towers. No one was throwing stones because we were waiting for ambulances to arrive and for more youths to get there. After about two hours some more guys arrived. Ibrahim Abu Thuraya came too. He'd move from one place to another, sometimes approaching the border sometimes moving away again. Sometimes he'd lift up his shirt to show the soldiers that he wasn't armed and that he posed no threat to anyone. Suddenly the soldiers fired teargas canisters and the air filled with gas. We couldn't see anything in front of us. Then they fired live ammunition, and then teargas again. I saw that Ibrahim had been hit. The guys picked him up and took him toward the ambulance.
Another protester, J.H., 26, from Beit Lahiya, also described the shooting of Abu Thuraya. He gave a statement on 27 December 2017 to B'Tselem field researcher Muhammad Sabah:
The clashes that day continued until the afternoon and grew more intense because many youths came. The military fired live ammunition and teargas at us and every few minutes someone was injured either by live gunfire, by a direct hit from a gas canister, or by inhaling teargas.

At about half past four, Ibrahim approached the border. One of the guys pushed him on his wheelchair. Then he got out of the wheelchair and began to crawl toward us. We were standing a few meters from the fence. The soldiers swore at us and we swore back and threw stones at them. Ibrahim Abu Thuraya approached us, and suddenly we heard the loud sound of live fire. I saw Ibrahim collapse and fall on his back. As he fell we began to shout "Allahu akbar." Straight away we picked him up and carried him to the ambulance. 
Abu Thuraya was carried to a Red Crescent ambulance waiting about 250 meters from the fence which took him to a-Shifaa Hospital in Gaza City where he was pronounced dead.
His mother, E'tidal Abu Thuraya, 56, a resident of Deir al-Balah, a married mother of seven, related the following in the testimony she gave on 24 December 2017 to B'Tselem field researcher Olfat al-Kurd:
E'tidal Abu Thuraya

Ibrahim got an injured person's allowance from a government organization that supports people who have been injured, and we used that to pay the rent and buy groceries. My husband is already old and he can't work, and Ibrahim has a younger brother and five sisters who aren't working. The allowance wasn't enough for us, and Ibrahim also worked washing cars on the streets of Gaza City. Even though he suffered a lot because of the loss of both his legs, Ibrahim was always smiling, optimistic, and friendly. He was kind and compassionate to me and his father. He always tried to make sure I had everything I need.

When Ibrahim heard about the declaration of Jerusalem as Israel's capital he was very angry. After he heard about the clashes between the youths and the military, he decided to go to the demonstrations to the east of Gaza City. He wouldn't let anything keep him from it and I couldn't stop him. Nothing could stop him. Although he had been injured so many times, he didn't give up or get tired. On Friday, 15 December 2017, he woke up at 9 o'clock in the morning, had breakfast, and told me and his brother and sisters that he was going to the demonstrations near Nahal Oz. He told me to look after the family because that day he was going to fall as a martyr, and he said goodbye to me and to his brother and sisters. I didn't believe him because he always used to fool around and joke a lot.

He left home at 10 o'clock. We live in the Deir al-Balah area. The demonstration he wanted to go to was near Shuja'iyeh, by Nahal Oz. That's far away and it's difficult to get there. He was used to going there because until a few months ago we lived in Gaza City. Every time he went off to the demonstrations I was worried and scared, but I always expected that he'd come back home. I thought that the Israeli military wouldn't shoot him because he was a cripple and he wasn't a danger to anyone. He couldn't walk, only crawl by the fence.

At about 5 o'clock one of his cousins phoned and told me that Ibrahim had been hit in the head and had fallen as a martyr. I didn't believe him and I was sure Ibrahim would come home. I told his father and he went on his own to a-Shifaa Hospital and saw the body in the morgue to make sure it was true. He phoned and told me that Ibrahim was dead and that he had been hit in the head. I became hysterical and started screaming and crying. His sisters also completely fell apart when they heard the news that he was dead. What had he done to deserve this?! The next day we held his funeral and I said my goodbyes to him. I hugged him, wept over him, his brother and sisters and I said goodbye to him. I was sad, in shock. My heart was broken. May the Heavens comfort me. He's left such a void behind. Sometimes I imagine that I can hear him laughing at home. I pray for him every day.
During the wave of protests sparked by President Trump's declaration about Jerusalem, another seven demonstrators – apart from Abu Thuraya – were shot and killed by soldiers who were stationed on the other side of the perimeter fence. Like Abu Thuraya, none of the protesters who were killed posed mortal danger to the soldiers. According to figures from the Palestinian Ministry of Health, between 7 and 31 December 2017, a total of 322 Palestinians were injured by live ammunition fired by the military and 58 were injured by rubber-coated metal bullets. This reality is a direct result of the military's open-fire policy near the perimeter fence, which includes gunfire – also by snipers – at stone-throwers who pose no danger whatsoever.
The media reported that the Military Police Investigations Unit has launched an investigation into the shooting of Abu Thuraya. However, past experience shows the investigation is highly unlikely to lead to the prosecution of those responsible for this unlawful killing, to say nothing of the prosecution of senior figures. This experience, which shows that such investigations almost always end in a whitewash, has led B'Tselem to stop sending demands to the MAG Corps to open investigations. That said, the obligation to investigate and bring to justice those responsible remains squarely on the shoulders of the military system. Yet as long as the MAG Corps continues its policy of systematically whitewashing instances in which Israeli security forces kill or injure Palestinians, with no one being held to account for these actions, the unlawful killing will continue.
* On 4 January 2018, media reports stated that an MPIU investigation had been launched. On 15 May 2019 media reports stated that that the case had been closed since no evidence had been found that soldiers fired directly at Abu Thuraya.