June 2017 marked ten years since the Israeli-imposed blockade on the Gaza Strip began. The decade-long blockade has brought the Gazan economy to a state of collapse, drastically lowering the quality of life of residents. Even before the blockade was imposed, when the second intifada began in September 2000, Israel began severely restricting movement out of the Gaza Strip, cutting it off almost completely from the West Bank. Residents of Gaza were allowed into Israel only in exceptional instances that Israel deemed "humanitarian". Among other things, Israel cancelled the work permits of tens of thousands of Gazans who had worked in Israel up until that point, leaving them jobless.
According to the Palestinian Bureau of Statistics, 15.7% of Gaza residents who held down a job in 1999 were employed in Israel, and the unemployment rate was 16.9%. By 2001, only 1.9% of Gaza workers were employed in Israel and the unemployment rate had risen to 34%. Israel continued to cut back on the number of work permits issued to Gazans, and stopped granting them altogether in 2007.
The economic difficulty was compounded by the destruction Israel wrought in Gaza in three rounds of hostilities over the last decade. The most recent one, known as Operation Protective Edge, took place in the summer of 2014 and sent Gaza into a severe humanitarian crisis which is still ongoing. According to the World Bank, it caused USD 1.7 billion in direct losses to the Gazan economy, from which it has yet to recover.
Under the blockade, Israel prohibits almost all export from Gaza and severely restricts import of raw materials. This has greatly reduced production in the Gaza and related jobs.
All these factors have combined to generate one of the highest unemployment rates in the word. According to the Palestinian Bureau of Statistics, the unemployment rate in Gaza reached 46.6% in the third quarter of 2017. Young adults between the ages of 20 and 24 were especially hard hit, with unemployment in this age group reaching 67.8%. Among women, the rate is 71%.
These figures are the result of Israel's longstanding policy to prevent Palestinians from working outside Gaza while blocking almost any possibility of development there. The Gaza Strip is currently on the brink of a severe humanitarian crisis, as residents are hard put to find work to sustain their families and ensure their basic needs are met.
Education does not go far in raising chances of employment, as there is a dearth of jobs available due to the prolonged blockade. In the third quarter of 2017, the unemployment rate among residents with post-secondary education was 52.3%. We bring you a few personal accounts.
Personal accounts:
Wisal Abu 'Odeh, 28, from Beit Hanoun, is married and mother to a four-month-old baby. In 2011, she completed an undergraduate degree in primary school education at al-Azhar University. On 20 September 2017, she described to B'Tselem field researcher Olfat al-Kurd her difficulties in finding work after graduation:
While I was at university, from 2007 to 2011, my father was already out of work, my mother was ill and it was hard for us to make ends meet. I started tutoring children at my home to help out and pay for my studies. My annual tuition fees were 1,500 shekels, and I paid 12 shekels a day for transportation. I took out several loans from the student fund at the university and also received some scholarships. I want to finish studying as soon as possible in order to find work. Meanwhile, in 2009 I also volunteered at an organization for promoting women in Gaza.

I graduated in 2011 with a grade point average of 80. I sought work but couldn't find any, because I had no experience. I couldn't even find an unpaid internship with an organization in order to gain experience.

That year, after a lot of effort, I managed to get a temporary six-month post as a field researcher in the women's organization I'd volunteered with in 2009. The salary was 1,200 shekels and wasn't enough to support my family. When the temporary job ended, I volunteered for six months with the National Association for Rehabilitation of Disabled Persons and received only reimbursement for travel expenses.

I applied several times for teaching positions, six times to UNRWA and six to public schools. Every time, I passed the entrance exam successfully and the interview, but there were many candidates and the experienced teachers were those hired. Every time I was rejected it threw me and I felt anxious and nervous all the time. I was desperate and couldn't sleep for worrying over not being able to provide for myself and for my family. In 2015 I married Rafiq Fadel Na'im, who got a degree in public relations and communications in 2012. Unfortunately, my husband is also unemployed. He hasn't been able to find work since we got married. Four months ago, our daughter Banyas was born and we live with my husband's family. We can't pay our share of the household expenses and cover our baby's costs. My husband and I considered starting our own business but couldn't get a grant or a loan, and because of the tough economic and political situation we gave up on the idea.

I really hope my husband or I find work, so we can support ourselves. We have considered leaving Gaza because things are so bad here. I'm not thinking of having more children because I can't even support my baby.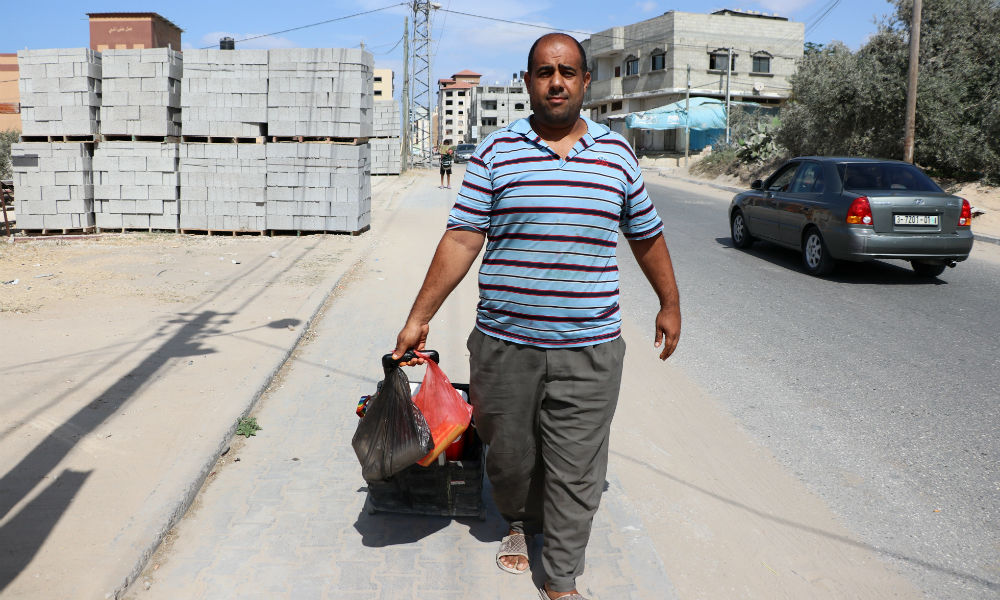 Muhammad Dahlan, 34, from a-Nuseirat Refugee Camp, has a communications and Arabic degree. On 26 September 2017 he spoke with B'Tselem field researcher Khaled al-'Azayzeh and related the difficulties he has undergone since graduating:
In 2002, I started studying for a degree in communications and Arabic at al-Azhar University in Gaza. I graduated in 2006 with a grade point average of 78.9.

Being a student was very tough financially. My father paid some of the tuition fees, and part of the time I worked as a laborer at a French-fry factory, for 15 shekels a day. We are a family of nine. Four of my siblings also went to university. That is why I was ashamed to ask my father, who works as a clerk at the Palestinian Authority, for money.

I worked ten hours a day, on and off, to cover the tuition fees, buy books and pay for transport. The tuition fees were 1,400 shekels a term, and I needed at least another 890 shekels for transport, books and printing out assignments to hand in.

I would get home from university at three o'clock, rest for about an hour and then start a ten-hour shift at the French-fry factory at a-Nuseirat. I worked from four in the afternoon and until two o'clock at night. It really got to me. I suffered from extreme lack of sleep. Sometimes, I would fall asleep at lectures. The years passed, I graduated and started the tortuous process of looking for work. I dreamed of working in my field, being independent and getting married. In 2007 I applied for a teaching position at the Ministry of Education but didn't get the job.

From 2007 to 2010 I worked on and off at several private communication companies. At one place, I worked four months for 400 shekels a month. I had to use half my wages for transport. I switched companies every few months because I could find only temporary work.

In November 2013, I started working for a communications company at al-Basha Tower in Gaza City. I made 200 US dollars a month. I was pleased with the pay, which is relatively high given the economy and the blockade. During the last war in Gaza, the tower was bombed and collapsed. The company shut down and I lost my job. Since then, I haven't found work anywhere. I can't sit at home doing nothing. I'm 34 and I'm down to selling pickles for snacks or slush puppies.

Because my parents' place is too crowded, I live in my brother Yihya's rented apartment,. Yihya is married and has a daughter. There are two rooms in our apartment: I live in one and my brother, his wife and their daughter live in the other. Rent is 400 shekels a month and we split it, half and half. I leave every morning at eight and walk around carrying a cooler with the slush puppies. I walk around the roads of the camp selling slush puppies to kids. I get home at seven in the evening. I eat nothing during the day and have dinner when I get home. I share the food expenses with my brother. I walk the streets of the camp all day and barely make 15 or 20 shekels, which is just enough to cover rent and food.

I'm 34 and feel like I have no future. I'm desperate and feel hopeless. I haven't married and have nowhere to live – the most basic things in life. At a certain point, I felt there was no way out and thought of killing myself, but held back because of my religion.

I've stopped looking for work because things in Gaza are so bad. I've given up and feel mentally drained all the time. To look for work, I'll have to get enough money for transport and miss a day's income from selling slush puppies, all in order to find nothing again. People are sorry for me because I'm an educated university graduate and I sell drinks. When I get home, I close the door and cry because of how my life looks and because my feet hurt from walking the streets of the camp all day.

I'm sorry I studied communications and Arabic at university. If I'd studied a real profession, I'd have been better off now.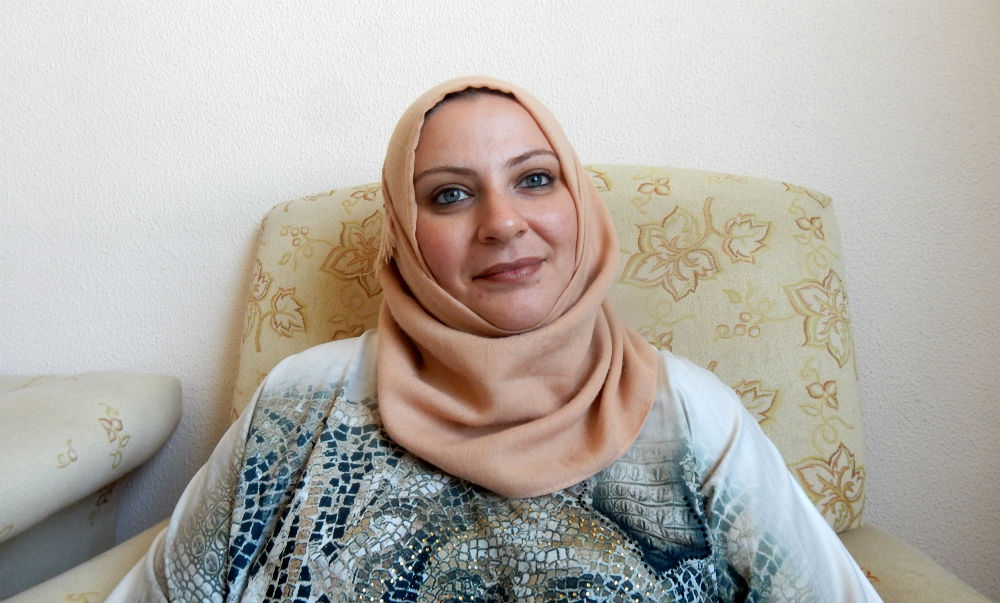 Nivin Abu Daf, 36, from the Tal al-Hawa neighborhood in Gaza City, is a single mother of five children between the ages of 4 and 17 and has a degree in social work. In an account she gave to B'Tselem field researcher Olfat al-Kurd on 21 September 2017, she related how she struggled to study in order to improve her family's lot and described how she could not find work:
In 2006, my ex-husband lost his job and we had a hard time covering costs and meeting our kids' needs. That went on until 2011, and then I decided to start studying in the hope of finding work when I graduated and supporting the family.

I signed up for social work studies in the Department for Family Development at the Open Al-Quds University. The studies took four years. When I began I had four children, and in my third year I gave birth to another. It was a very rough time financially. I could barely afford the tuition fees and the cost of travel to and from the university. My mother, who lives in Egypt, covered part of the tuition. I kept dreaming of the day I'd get a job once I graduated.

During my last term, in early 2015, my husband and I got divorced for various reasons, including financial ones. I was left alone with our five children and went through a very tough time, emotionally and financially.

I graduated two years ago with a grade point average of 85 and had hoped to find work so I could support myself and the children, but came up against a brick wall. I couldn't even find work as a secretary or volunteering with a civil society organization. I signed up with the Ministry of Labor, with private organizations and with UNRWA, but all my attempts failed. I was in a bad place emotionally and became very depressed. I don't even have my relatives around me, because they live abroad. I currently receive 750 shekels a month from my ex-husband for the children, but that doesn't cover our costs. My mother, who is very elderly, sends me money from Egypt.

I filed for financial aid with the Ministry of Welfare, but my request was denied. I'm still looking for work in any field available, but can't find anything. A lot of places want people with at least eight years of experience, which is an impossible requirement to meet, and other places prefer people under the age of 28.

In the last summer holidays I tried to find work from my son Samer, who is 15, but there was nothing. I'm so desperate, I sold most of my clothes to get some cash, but that's just a temporary solution.
Sumayah Qush, 29, from a-Nuseirat Refugee Camp, graduated from secretarial and office management studies at a-Zaitunah College in al-Maghazi Refugee Camp in 2013. In her account, which she gave B'Tselem field researcher Khaled al-'Azayzeh on 25 September 2017, she described her unsuccessful attempts to find work:
My father used to work as a laborer in Israel to support our ten-person family. But when the second intifada began, they closed the crossings and he stopped working. When I started studying at the college, in 2011, I had five siblings attending university. I decided to go for certificate rather than a university diploma because it's cheaper and I didn't want to burden my father any more.

To cover the tuition fees, I worked as a receptionist at a dental clinic for about 400 shekels a month. I would get to college at eight o'clock in the morning, study until three, rest for half an hour and then go to work at the clinic until nine o'clock at night. Sometimes I'd walk half an hour to college to save the transport expenses. At night, I'd do my homework and go to bed.

As well as working at the clinic, for one term I also worked at the al-Widad development organization, which employs students to do social projects. They paid me about 200 US dollars towards tuition. I also had an apprenticeship at the a-Nuseirat municipality in 2012, and because I excelled they gave me a small grant to help cover tuition.

I stopped looking for government work and started applying for volunteer positions at non-profits, because I didn't want to sit around at home doing nothing. I hate asking my father for money.

During the war in 2014, I volunteered for six months with Caritas, an organization that provides psychological support for children.

Because I'd been through such a hard time looking for work, I set up a team of five young men and women who have completed their higher studies, to provide psychological support for students, women, children and the elderly. Among other things, we visit a senior center, give them mental support, arrange trips and help with their food and also organize donations from tradespeople and factories. Sometimes we manage to get our travel costs covered by organizations that support us, but not always.

I had originally intended to do a few more courses so I could complete a university degree, but it costs so much and I see the frustration of people who have graduated buy cannot find work, so I gave up on the idea.