Gazans have been suffering severe power shortages for a decade, ever since Israel bombed Gaza's power plant in 2006. Since that time, Israel has prevented restoration of the plant, impeded infrastructure repairs and upgrades, and compelled Gaza authorities to purchase only Israeli fuel at a price residents are hard put to pay. As a result, power is supplied on the basis of rotation, and residents receive electricity for only four to eight hours at a time. In 2017, and especially in the cold of mid-winter, it is hard to imagine that in Gaza - not many miles away from Tel Aviv - families must lead their lives without a regular power supply. In accounts given to B'Tselem's field researchers in the Gaza Strip, local women described the hardships arising from this situation.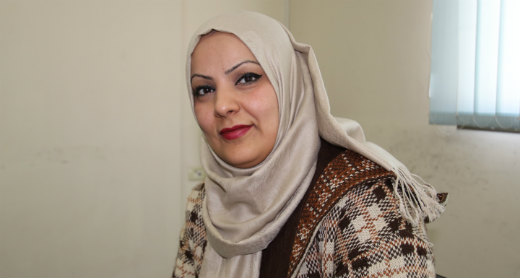 Zikra Naji 'Issa 'Ajur, 38, lives in Gaza City. A married mother of one, she is project coordinator in a local community center:
We get power in eight-hour cycles. This means that for fifteen days a month, we get electricity in the morning, when I'm at work, and for 15 days of the month, in the afternoon. I work full time so I get home to my son Naji, who's five years old, only after 3:00 P.M. During the weeks when there's no electricity in the afternoon, power is restored only at 10:00 P.M. In other words, I come home to a house without power and then it's many hours before I can do housekeeping chores like laundry, ironing or washing dishes with hot water. Because there's no hot water, we can't bathe either. I have to put all these things off until nighttime, which, in essence, is changed into day. I even have to put off Naji's bath. 
We're freezing cold, especially Naji, but we can't heat the house, because there's a gas shortage on top of the blackouts. Also, I have to cook every day because food can't be stored in the refrigerator.
I feel like our lives aren't human any more. We can't do the most basic things, like bathing, keeping warm, heating food. I waste hours just waiting for the electricity.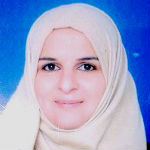 Fatimah 'Atiyyah a-Da'alseh, 28, lives in Khan Yunis. She is married and has three children:
We use electric heaters to heat our house. Now, they've become almost ornamental. We can only use them for a few hours a day. The cold affects my children's health. They're always getting colds and getting sick. A few days ago, my husband had to take my young son Saed to the hospital, because he needed inhalation. We have the device at home. We bought it because Saed has dyspnea and sometimes needs Ventolin inhalation to breathe, but we can't use it when there's no power.
Our lives have turned into a never-ending series of crises and there's no solution in sight.
We have a hard time entertaining our kids, because there aren't too many places to go to for recreation in Gaza.
'Abir Ahmad Ibrahim Barakat, 31, lives in Khan Yunis. A married mother of two, she teaches at an UNRWA school:
The worst problem is that the poor lighting has caused my son Muhammad to start suffering eye pain. We took him to the doctor. He recommended we replace the LED bulbs and get proper lighting in the house. He also recommended not to leave the children for too long in poor lighting conditions and not let them study or read when there's no electricity. It certainly interferes with their studies.
Sometimes I look at my children and get sad, when I see them shivering from the cold and I'm unable to keep them warm. Sometimes, when it's particularly cold, we huddle under my coat and I tell them stories. This way I keep them warm and help alleviate the boredom at the same time.
We hope the power crisis in Gaza gets solved and life goes back to normal. We hope the blockade gets lifted and we'll be able to exercise our rights and have access to basic things like electricity, fuel, medical care and the option to go places. In the meantime, we feel like we're living in a giant prison.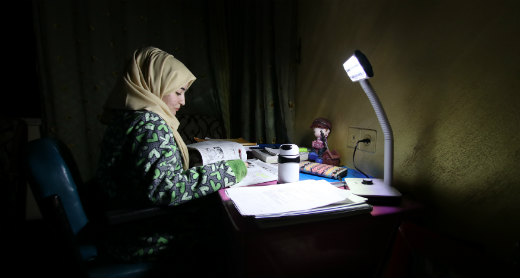 Yara Sharif Ashur, 18, lives in Gaza City. She is a first-year medical student at al-Azhar University:
We've been suffering from problems with the power for years. We get power for eight hours and then get cut off for eight. I get back from school at around 3:00 P.M., tired. I rest for two hours and then get up to study. 
Because of the power outages, my father made an arrangement with someone who has a power generator: we pay him 140 shekels [approx. USD 35] a month to get electricity when the power is out. The trouble is that he supplies electricity only for a portion of the time there's a blackout, and even then, the electric current is so weak that it's just enough for lighting.
I usually study at night, when my younger siblings are asleep and it's quiet, but the electricity from the generator goes out at 10:00 P.M., so I have to study by the light of a flashlight. It's hard for me to read like that. My eyes hurt, and my vision goes blurry, so I can't get through all the studies and I fall behind.  Medical school studies take hours of work, so it's a problem.
I also need to read studies and other material online, but I have trouble accessing the internet because of the power outages. The blackouts also mean that I can't even always listen to the university classes I taped on my laptop. Sometimes I take the laptop to university to charge the battery there.
Photocopying study materials at the library is also a problem because of the blackouts. Sometimes I have to go a library in a different part of Gaza City, where they do have electricity.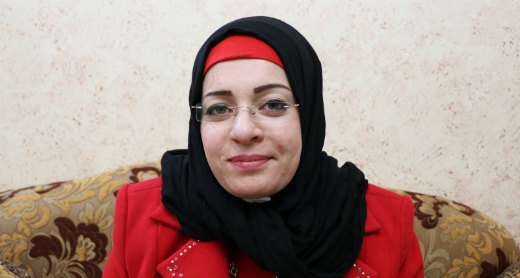 Najah Shawqi Abu Qasem, 27, lives in Deir al-Balah. She's married and has two children:
We've been suffering from power outages for years. We used to get electricity for six hours at a time, but lately, things have gotten worse and sometimes we get electricity for only four hours. I try to do all the housework like vacuuming, laundry and bread baking during the hours when the power is on.
Even when the power comes on only at midnight, I get up and run the washing machine, because otherwise, the laundry piles up, especially the children's things. I change their clothes more than once a day. I also vacuum and bake cakes for the children at night. The power supply schedule rules my life.
Over the past year, we've been using battery-powered LED bulbs for lighting. The trouble is that the battery gets weak after a while, and it takes a real toll on the eyes. My vision has deteriorated because of it, and now I need glasses. It also takes many hours to charge the battery, and sometimes we don't manage to get it fully charged.
Now, in the winter, the children complain of being cold. When the power is on, I heat their room with an electric heater for a while, and then take it into my room for a little while, before the power goes off again.
Because the electricity comes on only at night, when the children are asleep, or in the morning, when they're at school or daycare, they don't get to watch any television.
When I leave the house, the first thing I do is put the cellphone charger in my bag, to charge the phone, in case I find myself somewhere that has electricity.
When guests come and there's no electricity, I'm embarrassed, because the LED lighting is very weak, and I have to use a floodlight in the living room, but its battery runs out quickly. In the kitchen, I have to use the cellphone's flashlight, and that shortens the battery's life.
Because of the disruptions in the power supply, a few months ago there was a power surge that ruined the power converters for the television, the laptop, the refrigerator and the water tank. It cost me about 600 shekels [approx. USD 160] to fix all these appliances.
We don't have solar water heating, so in addition to heating water for all the housework, we have to heat water and bathe the kids when the power is on. I'm under a lot of pressure during the hours that we have electricity: I dash about, trying to get to all the chores that have to be completed in a short amount of time.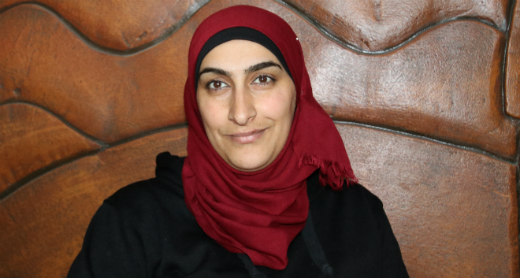 Maysaa Jaber a-Sultan, 39, lives in Jabalya. She is married and has five children:
I suffer from the power outages like everyone else in Gaza. We live on the sixth floor, so when the power is out and the elevator isn't working, I have to climb 120 stairs carrying my five-month-old baby Rayan and the groceries. 
Things were even worse in December, when we had power only three hours a day and we were very cold. We have no gas heaters, or any other means of heating the apartment without electricity. 
I have back trouble, and the cold combined with having to carry things up so many stairs makes the pain worse. The children also find it difficult to climb six floors every day with their heavy schoolbags. 
The kids also have trouble working on their school assignments at home. The cold makes it difficult to concentrate and study for exams, and our battery-run LED bulbs don't give off much light and causes eye trouble. We consulted an eye doctor and he said that trying to read with poor lighting was straining their eyes.
When power is restored it feels like an emergency. I have to rush to get everything done as long as there's still power:  laundry, ironing, cooking, and heating water for showers. Because the water takes a long time to heat up, we take turns showering, so only one person showers a day. 
When the power is out, our social life and interactions are also put on hold because no one wants to climb six flights of stairs to pay a visit.
Our lives revolve around the availability of power. I'm always exhausted. This situation, together with the cold, make tensions run high at home and at night it's hard to sleep because we're so cold. 
Fatimah Khalil Muhammad Diab, 32, lives in Khan Yunis. A married and mother of four, she holds a B.A. in Islamic Education from al-Aqsa University and is unemployed: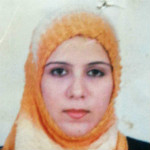 These days, when it's freezing cold, I don't even have hot water to wash the children's faces in the morning. It makes me very sad to have to wash their faces with ice-cold water. 
Other people, including our neighbors, light coal and wood burning stoves in their houses to keep warm, but I'm afraid to use them. In the last few days, we've heard of cases of fires and asphyxiation. It's very common. All the fires we've heard of were caused by using coal- and wood-burning stoves inside homes. I'd rather be terribly cold than put my life and my children's lives in danger. I hope our situation improves in the future. 
* All of the accounts were gathered by B'Tselem's field researchers in the Gaza Strip – Muhammad Sabah, Khaled al-'Azayzeh and Muhammad Sa'id – who also photographed Zikra 'Azur, Yara 'Ashur, Najah Abu Qasem and Maysaa Jaber a-Sultan.