At about 2:30 A.M. on 12 March 2016, Israeli air force planes made an air strike on the Gaza Strip. According to the IDF Spokesperson, the planes attacked a training camp belonging to the military branch of Hamas in the a-Sayfa area of Beit Lahiya, which is in the northern Gaza Strip. The attack was launched in retaliation for the firing of a rocket into Israel. No Hamas military branch operatives were injured in the attack.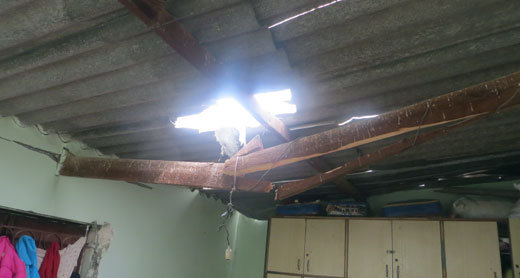 The gaping hole in the roof of the Abu Khusah family home. Photo by Muhammad Sabah, B'Tselem, 12 March 2016.
The IDF Spokesperson failed to mention that the attack also hit the home of the Abu Khusah family, which is situated about 50 meters away from the base, alongside other homes. Their home was struck by a block of stone or concrete that, propelled by the force of the blast, went through the roof. The family of eight had been living in a makeshift shack constructed partially from tin and asbestos, after their home was destroyed some 18 months ago in Operation Protective Edge. Yasin, 9, was killed on the spot; his sister Israa, 6, died of her injuries later that day. Their brother Ayub, 12, sustained a minor head wound, and their 5-year-old sister Ikram suffered very slight injuries.
Salman Abu Khusah, 45, Yasin and Israa's father, spoke with B'Tselem field researcher Muhammad Sabah and recounted the events of the night his children were killed:
On Friday, 11 March 2016, my six children were sleeping together in their room as usual. Everything was completely normal and I didn't notice any particular problems. At about 2:30 A.M. I woke up and felt as if an earthquake was shaking the house. As soon as I opened my eyes I felt the dust, and then came debris and sand and I couldn't see anything.

I heard the children shouting in the next room. I ran over immediately and saw them lying in their beds, covered in blood. I telephoned for an ambulance right away. I was in shock and couldn't look at my children injured and covered in blood. After I called for an ambulance, I just stood there unable to do anything, not even to think. Some neighbors and relatives arrived and tried to give the children first aid. One neighbor took Yasin and another took Israa. Then an ambulance came and took Ayub, who is 12, and Ikram, who is 5, who were also injured.

I went to the Indonesian Hospital in the Tel a-Za'tar neighborhood in the east of Jabalya. Yasin was in very bad shape. After a few minutes he was pronounced dead of a serious head injury. Israa was transferred to the ICU at a-Shifaa Hospital in Gaza City. She had bleeding on the brain and was in critical condition. She was pronounced dead at midday.
Israel's longstanding policy of air strikes on the Gaza Strip reflects decision makers' inconceivable disregard for the lives of the people living there. Israel is duty-bound to do everything in its power to avoid injury to civilians. Yet despite repeated civilian fatalities and casualties, Israel refuses to change its policy and continues to adopt a distorted and far-reaching interpretation of the provisions of international humanitarian law in order to justify its position. This policy is unlawful and immoral.
In this instance, the attack was carried out in circumstances that were completely under Israel's control, including the time and location of the strike. Accordingly, if there was in fact any justification for such an attack, other than its symbolic value, the military should have ensured that only the facility itself would be hit, and that civilians living in the vicinity – whose presence was or ought to have been known to those planning the strike – would come to no harm. Having failed to do so, the decision makers in both the military and political echelons bear liability for the children's death.