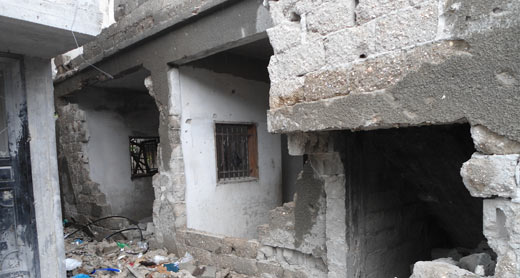 One of the houses damaged in the shelling. Photo: Muhammad Sa'id, B'Tselem, 4 Nov. 2014
On 29 July 2014, at approximately 10:15 P.M., the military heavily shelled the area of al-'Omari Mosque, which lies in the center of Jabalya in the northern Gaza Strip. Eighteen people were killed in the shelling, some in their home, others as they tried to flee. The shelling last roughly ten minutes.
The area was considered relatively calm during the fighting. Some of those killed were sheltering there with relatives, having fled homes located in areas of Gaza considered more dangerous.
Wasfi Hamuda, 47, lost six of his relatives in the shelling, all of whom were sheltering in his home. He described what happened:
Throughout the entire war, our area was relatively peaceful. The Israeli military demanded that residents of other areas evacuate their homes and move to Jabalya. We could even go to the mosque to pray and do our shopping in the neighborhood.

On Tuesday, 29 July 2014, at around 22:20 P.M., I was at home when I heard a series of explosions that made the whole area shake. The heavy bombing lasted several minutes. The more time passed, the closer I felt it was getting to my house. Everyone who was in the house crouched on the floor and we were all very afraid. Then I saw I bright light through the window that faces east, immediately followed by a huge blast. We felt stones and fragments fly into the house and I heard windows shattering. We felt things were dangerous and decided to go down to the ground floor, especially when we saw the shelling didn't stop. Every minute we heard about six explosions, one after the other.

We all ran to the stairs leading down to the ground floor, bumping into each other. We were frightened and confused and the children were screaming and crying. We got downstairs and sat there for almost ten minutes of very heavy shelling. Then we heard a massive blast and stones fell down on us. Some hit people. Part of the ground floor's western wall collapsed in the explosion. Staying inside was getting more and more dangerous, and we heard neighbors running down the street, fleeing. At the point, we decided to do the same and go outside, for fear that the house would collapse on top of us.

My brother 'Abd al-Hakim opened the door and went outside, followed by five members of my family. I was standing by the door, about to go out after them, when I head four loud explosions on the street, all close to the house. Stones and fragments flew onto us, inside the house. Then there was another explosion, very close by, and I was flung onto my back onto the floor.

* He gave his testimony to Muhammad Sa'id on 4 November 2014.
Nasra 'Asaliyah, 36, was also sheltering relatives who had fled from other areas in the Gaza Strip. The shelling killed eight of the people in her house, seven of them members of the 'Abd Rabo family. She described what happened:
At around 10:15 P.M., I was preparing dinner and setting the table. I went to the kitchen to get more plates when suddenly, stones started flying around me. I heard the noise of walls around me collapsing and glass and windows shattering. The kitchen filled with dust and I felt something warm on my legs. I looked around and saw my children and other members of my family running to the stairs that lead down to the ground floor. They were hysterical, colliding into each other. I didn't realize I was wounded and tried to walk over to flee with them, but then I felt pain in my legs. I looked down and saw blood. I tried to take a few more steps, and at the same time heard more and more explosions and the sound of things shattering in the house. Stones and gravel were flying every which way and the house filled with dust.

My husband came over and helped me down the stairs. He was terrified and confused. We felt stones and hot objects falling on us. It was very dark and I stumbled and fell a few times until we reached the door that leads out into the yard. My children and other relatives were taking cover there, under the staircase. I stood there, by the door, for a few moments. I heard several explosions a minute, one right after the other, some of them really close to us. The children were screaming and crying. We wanted to leave the house but were afraid that once outside we'd be fired on. My husband wanted to go out into the street, but I asked him to wait until the shelling stopped.

After several minutes in which the firing went on and on, some of the people decided to go outside: my aunt Barakeh 'Abd Rabo and her sons 'Alaa, Muhammad, and Ibrahim. 'Alaa was carrying his daughter Rahaf, and Muhammad was holding his son Jamal. They started crossing the yard to reach the street, but when they were just a few meters away from us, there was a huge blast in the yard and they were all killed. I saw a bright flash that lit up the whole area for a split second and felt a blast of hot air push me forcefully. Stones and sand were flying around us. A few moments later, I found myself lying on the floor. I was in great pain. I couldn't hear or see my children or my relatives moving around me.

I started calling out to my husband and children, but at first no one answered. Then I heard my cousin, Alaa Jamal 'Abd Rabo, sobbing and saying "Auntie, they're all dead." The smell of blood was everywhere. I touched the floor and it was full of blood. A few seconds later, I touched the body of one them, lying next to me. I felt the body was moving, the person was breathing, but they didn't answer when I called out and I didn't know who it was. Then my husband's phone rang; it had fallen on the floor next to me. I picked it up and answered. I didn't know who was on the other end of line. I said everyone around me had been killed and begged that he send help.
About an hour later, an ambulance arrived and the wounded were taken to hospital. Nasra 'Asaliya described what happened next:
All that time, until the ambulance arrived, I thought all my children were dead because I couldn't hear them and hadn't seen any of them except Ahmad. I didn't know where my husband was, either. An ambulance came after about an hour and took me to al-'Awda Hospital. All the way, I kept saying, "I wish I'd been killed with them." The paramedics tried to calm me down. I was so worried about my children that I didn't feel any pain, I just kept thinking what I would do if my husband and children were dead. What sort of life would I have? When I got to hospital, the doctors tried to convince me that my children were all right but I didn't believe them and refused even first aid. I wouldn't let any of them touch me until I saw my family. The doctors kept trying to pacify me and time went by.

Later, my son Ahmad came and told me that my husband had been taken to hospital with several wounds. He comforted me and said that the rest of my children were okay and had only been injuries. I was transferred to their hospital room and saw all my sons, who were wounded, except 15-year-old Mahmoud. I was afraid he'd been killed in the shelling or that the ambulance had missed him when they took us, but after an hour of searching all the wards and various hospitals, we learned that Mahmoud had been taken to Kamal 'Udwan Hospital and that he was okay.

* She gave her testimony to Muhammad Sa'id on 4 November 2014.
The people killed in the incident:
Barakeh Ibrahim Hassan 'Abd Rabo, 50
Her sons: 'Alaa Jamal 'Ali 'Abd Rabo, 29
His daughter: Rahaf 'Alaa Jamal 'Abd Rabo, 3
Muhammad Jamal 'Ali 'Abd Rabo, 24
His son: Jamal Muhammad Jamal 'Abd Rabo, 1
'Abdallah Jamal 'Ali 'Abd Rabo, 23
Ibrahim Jamal 'Ali 'Abd Rabo, 20
Halimah Mahmoud Muhammad al-Batsh, 77
Aya Isma'il Muhammad al-Batsh, 11
Muhammad Khader 'Atiyyah Msallam, 26
Nihad Khalil Sa'id Suliman
Her son: Baraa Muhammad Husseini Suliman, 6
Her daughter: Halimah Muhammad Husseini Suliman, 1
Majedah Jamal Hassan Hamuda, 50
Kaenat 'Adel Ahmad Hamuda, 39
Hanin Husam a-Din Khalil Hamuda, 13
Ibrahim 'Adli Hassan 'Asaliyah, 20
'Izat Khamis Yusef Jneid, 17