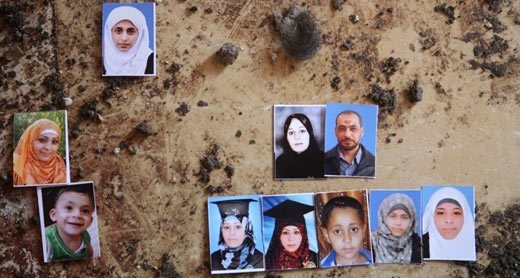 Photos of Ten of people killed in the bombing: from the top left, Hadil Balata, Wafa Balata and her baby 'Abd al-Karim Balata. On the right, Na'im Balata, his wife Sahar and five of their children. Photo: Anne Paq, 14 Sept. 14
On 29 July 2014, at approximately 3:00 P.M., the military attacked the home of the Balata family in the heart of Jabalya Refugee Camp, in the northern Gaza Strip. Eleven members of the family were killed.
Eight people lived in the three-room house: the parents – 'Abd al-Karim and Huda – their four children, and the wife and 13-month-old baby boy of one of their sons. As the house was made of concrete and considered relatively safe, another nine people – the family of Na'im, 'Abd al-Karim's brother – had been sheltering there since the fighting began.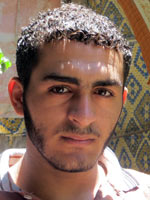 At the time of the bombing, some family members were watching television in the living room, and others were asleep or out of the house. One of Na'im's sons, 'Alaa Balata, 18, described what happened:
On Tuesday, we had lunch and sat down to watch TV. Then my father had coffee and went to sleep. We stayed in the living room and my uncle went to sleep. I stood on the staircase and asked my mother to get me some clothes, because I wanted to go over to our house and take a shower. My mother went in to get my clothes and then I heard a loud explosion a few dozen meters away from the house. I went up to the roof with my cousin Nazmi and my uncle's wife. We saw the smoke and came back down, and then we heard an explosion in the house and the sound of things collapsing.
Nazmi Balata, 24, one of 'Abd al-Karim's sons, described what happened next:
We heard another bombing and right then, debris fell on us. My father grabbed Muhammad and held him tight to protect him from the fallen wreckage. I was with my mother by the door. Then I saw my cousin Yihya, 8, and his mother lying on the floor at the entrance to the house. My father picked up Yihya. His head was bleeding. My mother was sobbing. My father told me there was smoke coming from my room. I went there to rescue my baby son, 'Abd al-Karim, who is 13 months old. I couldn't see anything through the smoke and dust, but I could hear him crying. I went to my sister Hadeel's room, which was also full of dust and smoke, and found 'Abd al-Karim there. I picked him up and went out through the window. Some of his fingers were missing and his leg was badly injured. I didn't see anyone else from my family in the room.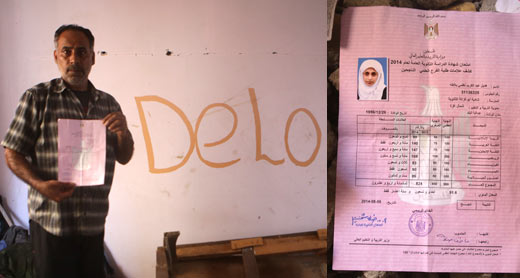 'Abd al-Karim Balata holding the matriculation certificate of his daughter Hadil in her room. The certificate was issued a few days after she was killed. Photo: Anne Paq, 14 Sept. 14
Nazmi took his son to hospital where, an hour later, the infant was pronounced dead. Nazmi was subsequently informed that his wife and sister had been killed, as were his uncle's entire family except for one son, 18-year-old 'Alaa. The funerals were held the next day. Nazmi described it:
I held my son's body and wouldn't hand him over to my relatives for burial. In the end, everyone went to the cemetery and I stayed put. I couldn't go with them, I was in shock. I didn't move and couldn't stop crying. I stayed like that for a few hours. Then I went to my uncle Jamil's house, where the rest of the family was. I sat with my mother and cried and said, "'Abd al-Karim is dead". I couldn't stop crying. She tried to comfort me but it didn't help. I pain was so intense.

*   He gave his testimony to Muhammad Sabah on 16 August 2014.
'Alaa Balata, 18, who lost his entire family and currently lives with his uncle, said:
I still can't believe my entire family was killed. I'm alone now and feel very sad. I can't describe what I'm going through. I can't concentrate, I'm anxious and tense. It's very hard to say goodbye.

* He gave his testimony to Muhammad Sabah on 17 August 2014.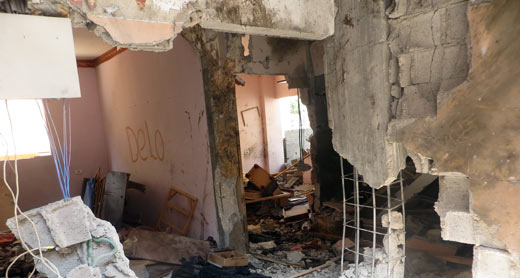 The ruins of the Balata family home. Photo: Muhammd Sabah, B'Tselem, 17 Aug. 14
The people killed in the incident:
The daughter of homeowner 'Abd al-Karim: Hadil 'Abd al-Karim Nazmi Balatah, 17
His daughter-in-law: Wafa Na'im 'Azmi Balatah, 21
Her son 'Abd al-Karim Nazmi 'Abd al-Karim Balatah, 1
His brother, who came with his family to shelter at 'Abd al-Karim's home:
Na'im Nazmi Muhammad Balatah, 45
His wife: Sahar Mutawe' Muhammad Balatah, 39
Their children: Maryam Na'im Nazmi Balatah, 24
Du'aa Na'im Nazmi Balatah, 22
Hanaa Na'im Nazmi Balatah, 19
Alaa Na'im Nazmi Balatah, 14
Israa Na'im Nazmi Balatah, 13
Yihya Na'im Nazmi Balatah, 8