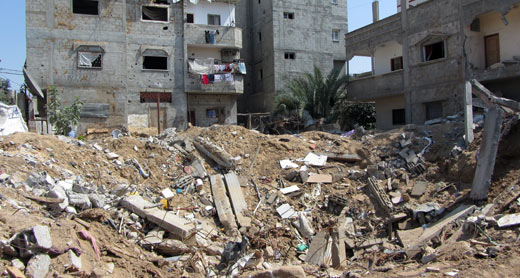 The ruins of the al-Far family home.  Photo: Khaled al-'Azayzeh,  B'Tselem, 28 Aug. 2014
At approximately 11:00 P.M. on 28 July 2014, the two-story house of the al-Far family in al-Maghazi Refugee Camp, central Gaza Strip, was bombed. Nine members of the family were killed.
The first floor was home to parents Salem and Zinat al-Far, six of their children, and two grandchildren. The second floor was home to their son Ahmad and his wife Riham. The couple had gotten married in February 2014. Riham's mother Fatmeh and her brother Ramzi were living with them, having come from Jordan to attend the wedding and been unable to return as Rafah Crossing had since been closed. In total, 14 persons were living in the house.
That night, the entire family, except the son Ahmad, were on the first floor, which was considered safer,. One of them, Mahmoud al-Far, 23, told B'Tselem's field researcher: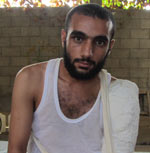 It was a rough night with prolonged bombing of various parts of the refugee. It was terrifying and the power was out. Suddenly, we heard a huge explosion with no prior warning. It was so strong that I couldn't hear a thing and didn't understand exactly what was going on. I woke up five days later to find myself in hospital. I had a head injury, fractures in my left hand and shrapnel lodged in my body.
Iman al-Far, 33, survived the attack. She, too, told B'Tselem that the family had gathered on the first floor, adding:
We sat around after dinner talking about the war, about being afraid, and about things that had happened. Suddenly there was a huge explosion and I felt the living room split in half. I couldn't see anything after that – not my sister Hanan, who had been right next to me, and not anyone else. I heard my brother Mahmoud's voice. He was calling out to my brother Ahmad and to Ramzi, calling for help. After that, I crawled under a pillar that was on a slant, so I was protected from the debris. I put one hand out before me, because I couldn't see anything with all the dust, in the dark. I started feeling my way through the rubble debris until I reached the house of our neighbor, Yusef Musa. His house is across from ours, on the other side of a road that's about five meters wide. I reached them and they sat me down. I was wounded and one of their family members started giving me first aid. I washed the dirt and dust and blood off my face.

They called an ambulance, which took me to Shuhadaa al-Aqsa Hospital in Deir al-Balah. I didn't know what had happened to the rest of my family. I was examined in hospital. I had shrapnel in my legs and was very bruised. At hospital I met my brother Ahmad, who brought in my sister Jihan's sons, Sundus and Saleh. They were lightly injured.

* He gave his testimony to Khaled al-'Azayzeh on 28 August 2014.
Iman al-Far told B'Tselem that she learned only later that other family members had been killed:
I was physically and mentally injured. Because of the shrapnel in my legs, I couldn't walk for three weeks. Since then, my physical condition has improved, but I'm still in shock and cry every time I remember my family.

I miss everyone in my family but more than anything, I miss my sisters Hanan and Nivin. We used to share a bedroom. We had a very strong bond and I was closest to them. Nivin hoped to go to university to study religious law. Hanan was going into the 10th grade and she was the spoilt one of the household. She told me she wanted to switch from night school to day school so she could study under my sister Sabreen, who is a teacher.

* She gave her testimony to Khaled al-'Azayzeh on 31 August 2014.
The people killed in the incident:
The parents: Salem Muhammad Badawi al-Far, 58
Zinat Hassan Ahmad al-Far, 58
Their daughters: Amal Salem Muhammad al-Far, 35
Jihan Salem Muhammad al-Far, 28
Nivin Salem Muhammad al-Far, 18
Hanan Salem Muhammad al-Far, 15
Their daughter-in-law: Riham Hussein Ahmad al-Far, 26
Her brother: Ramzi Hussein Ahmad al-Far, 23
Her mother: Fatmeh Hassan Ahmad al-Far, 55