At approximately 9:00 P.M. on 3 August 2014 the military bombed the home of the Abu Nijem family in Jabalya Refugee Camp, in the northern Gaza Strip. The bombing destroyed the house and a neighboring house, killing two Islamic Jihad operatives who were in the house and eight other people: five people in the Abu Nijem house and a woman and two girls next door.
Husband and wife Muhammad and Fawziyeh Abu Nijem lived on the ground floor with two of their children – Muhammad, 20, and Ahmad, 17. Their son Bilal, his wife Maryam, and their two children lived on the first floor. Muhammad's father, 'Abd al-Karim, 92, lived on the second floor.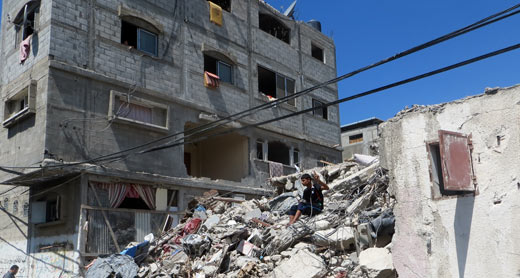 The ruins of the Abu Nijem family home. Photo: Muhammad Sabah, B'Tselem, 2 Sept. 2014
On the evening of 3 August 2014, Danyal Kamel Mansur, an Islamic Jihad operative, was visiting 'Abd al-Karim on the second floor. At approximately 9:00 P.M. another man, 'Abd a-Naser al-'Ajuri, joined them. Shortly afterwards, the military bombed the house. After the attack, the ISA announced that the military had bombed a building where Mansur, "the commander of Islamic Jihad's northern sector", was present and that he had been killed. The ISA added that Mansur was "in charge of the organization's intelligence in Gaza and responsible for rocket fire during Israel's 2012 air offensive".
Maryam Abu Nijem, 23, who lived on the first floor, told B'Tselem what happened that night:
That day, we were fasting. At around 7:30 P.M., the Israeli military fired light flares. They lit up the whole area. We ate the al-Iftar meal (to break the fast) and washed the dishes. After prayers, we sat together for a bit and then I took my children into the bedroom. My husband sat with his mother and his brother Ahmad. My father-in-law took a cup of tea up to his father, Haj 'Abd al-Karim, who was in his home on the second floor. I put my children to bed next to me.

The power was out at the time. Suddenly, I heard and saw our house come crumbling down around us. I cried out to my husband. I turned on a flashlight and heard my daughter Raw'ah screaming. I looked for her and found her under the blankets. I grabbed her and my son and ran out of the room. I saw Ahmad, my husband's brother, lying dead next to the bedroom door. I saw rocks and everything in shambles. The house was completely destroyed. I heard someone groaning and looked around with my flashlight, but there was debris everywhere and I didn't know where the sound was coming from.

I held the flashlight and carried the children over the rubble to get out of the house. I left through the next door house, which had also been destroyed. Neighbors came and took me over to one of their houses. I sat with them.
Only later was Maryam Abu Nijem told that her husband, his two brothers, his father and his grandfather had been killed:
I wanted to see my husband one last time, but we couldn't seem them because their bodies were disfigured. They had been hit in the head. I only saw my father-in-law. They were buried the next morning. I was in a really bad way. I couldn't believe they had been killed. The house collapsed on top of us, with no warning. I just suddenly heard wreckage falling on us.

She gave her testimony to Muhammad Sabah on 17 December 2014.
The bombing also damaged the home of neighbors Muhammad and Suha al-Masri, who were sheltering relatives of Muhammad's – Wael and May Qassem and their five children. The Qassems had fled Jabalya Refugee Camp after the military announced its intention to bomb the mosque near their home. The bombing killed Suha al-Masri and her four-year-old daughter, Raghad. Shaymaa, Wael and May Qassem's 15-year-old daughter, was killed as well. Muhammad al-Masri, 38, described how his house was destroyed:
Wael and I were sitting in the living room listening to the news on the radio, because the power was out. Suddenly, we saw and heard parts of the house falling on us. Everything went dark and there was dust everywhere. We couldn't see each other.

I jumped up and went out of the room. I made my way through the debris and the dust to the front door. I couldn't see a thing. My left leg hurt. I heard some people come into the house and realized they were carrying out the people who were inside. I thought that my house had been the one bombed because of all the wreckage and how powerful the blast was. I was taken to Kamal 'Udwan Hospital. The next morning, I had surgery on my left leg.

It was only two days after the bombing, on 5 August, that friends and relatives told me my wife and daughter Raghad had been killed when Muhammad 'Abd al-Karim's house was bombed. I felt immense anguish that they were dead and wept for them both. I blacked out and came to several hours later. I still couldn't grasp what had happened to my wife and daughter.

* He gave his testimony to Muhammad Sabah on 23 December 2014.
The people killed in the incident:
Home of Abu Nijem family:
Muhammad 'Abd al-Karim Muhammad Abu Nijem, 54
His sons: Bilal Muhammad 'Abd al-Karim Abu Nijem, 26
Muhammad Muhammad 'Abd al-Karim Abu Nijem, 20
Ahmad Muhammad 'Abd al-Karim Abu Nijem, 17
His father: 'Abd al-Karim Muhammad 'Awad Abu Nijem, 92
Home of Al-Masri family:
Suha Hamed 'Abd al-Karim Nijem al-Masri, 29
Her daughter: Raghad Muhammad Sa'di Nijem al-Masri, 3
Shayma' Wael Mahmoud Qassem, 14 (of Jabalya R.C.)
Danyal Kamel Muhammad Mansur, 41
Abd a-Naser 'Abd al-Khaleq Ibrahim al-'Ajuri, 26