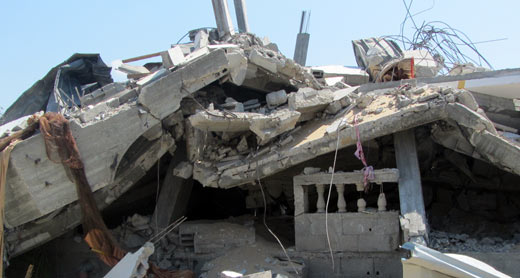 The ruins of the al-Madi family home. Photo: Khaled al-'Azayzeh, B'Tselem, 8 Aug. 2014
On 2 August 2014, around midday, the military attacked the home of the Abu Madi family in a-Nuseirat Refugee Camp, in the central Gaza Strip. The house collapsed on its occupants, killing six members of the family.
The three-story house was home to the extended Abu Madi family. Parents Yusef and Ra'isa Abu Madi lived with four of their children, aged 10 to 23, in an apartment on the second floor. Their four married sons and their respective families lives in the other apartments. In total, 21 people lived in the house.
Shadi Abu Madi, 32, lived on the third floor. That day, he got home around 2:00 P.M. He described to B'Tselem what happened then:
I took a carafe of coffee and went down to talk to my mother under the awning on the first floor. My brothers 'Abdallah and Suliman and my son Yusef were with me. Suddenly, with no warning, the house toppled down on us. My mother and I were sitting next to the staircase at the edge of the house, and that's what saved us.

The house crashed down around us in a few brief moments, and after that I couldn't see anything. Everything was full of dust and black smoke. I started feeling around in the dark, looking for my mother, my son and my brothers, but I could only feel debris all around me. I saw a weak light and moved towards it. I went out into the yard and saw that the southern part of the house had completely caved in. Some parts of the northern side were still standing.

When I got outside, I found my mother and brothers Suliman and 'Abdallah lying on the ground. My mother's legs were injured and my brothers had been hit by falling blocks of concrete. My mother asked me about Yusef and I said I didn't know.
Neighbors, civil defense teams and paramedics arrived on the scene and started searching for the rest of the family. They took Shadi away to spare him the sight of the bodies being evacuated and took him to hospital. About two hours later, Shadi Abu Madi went back to his ruined home to help search for his children – Yusef, 6, and Hala, a two-week-old baby girl. But the military had resumed bombing and the search was called off as it was too dangerous to continue. Once the bombing ceased, it was discovered that Yusef and Hala had been killed in the bombing of the house, as were Shadi's father and three of his brothers.
Other members of the family sustained varying degrees of injury. Myasarah, Shadi's sister-in-law, who was seven-months pregnant, suffered a miscarriage due to the bombing. Shadi continued:
My wife and I couldn't find any peace because we didn't find the bodies of our children, Yusef and Hala. My wife kept crying all the time and we were in a very bad mental state. After about ten days, I used the 'hudna' temporary ceasefire to go to the a-Nuseirat municipality and ask them to bring a crane to look for my children again. They said they had only one crane and that it was in use in southern Gaza, but the mayor promised to send it to me as soon as it would be available. Yesterday, 7 September 2014, the crane was brought over and we searched again for about four hours. We didn't find them.

My wife, our two sons and I are now living in a rented apartment. My three brothers – 'Abdallah, Suliman, and Ibrahim – are renting too. My mother is currently staying with my brother Ibrahim and caring for his sons because their mother, who was injured, is being treated in Germany […].

My sons Mahmoud, 4, and Muhammad, 3, ask every day about their brother Yusef and their sister Hala. I tell Mahmoud they went to heaven. He asks when we'll get to where they are and when Yusef and Hala will come visit us. Hala was our only daughter. Since the bombing, my wife has deeply changed. She's withdrawn now. Sometimes she cries, and sometimes she's irritable. She doesn't eat the way she used to, and sometimes she's delusional and thinks that Hala is hungry and is asking to be nursed.

* He gave his testimony to Khaled al-'Azayzeh on 8 September 2014.
The people killed in the incident:
Yusef Da'ud 'Abd al-Mun'im Abu Madi, 68
His sons: 'Abd al-Karim Yusef Da'ud Abu Madi, 23
Hassan Yusef Da'ud Abu Madi, 17
Amin Yusef Da'ud Abu Madi, 10
His grandchildren:
Yusef Shadi Yusef Abu Madi, 6
Hala Shadi Yusef Abu Madi, two weeks old