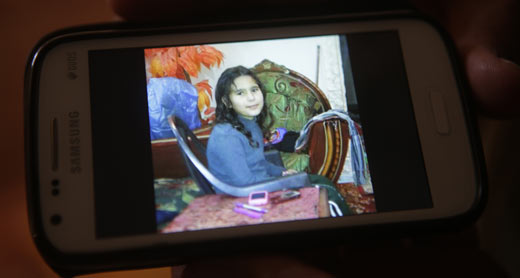 Family cellphone photo of Hifaa, daughter of Tawfiq Abu Jame'. Photo: Anne Paq, Activestills.org, 15 Nov. 2014
At around 7:30 P.M on 20 July 2014, the Israeli air force bombed the Abu Jame' apartment building in Bani Suheila near Khan Yunis. The three-story building had six apartments. One apartment was occupied by Fatmeh Abu Jame', 64, and one of her grandchildren. Fatmeh's five sons lived in the other five apartments with their wives and children. A total of 37 people lived in the house.
Twenty-four members of the family perished in the bombing: The mother Fatmeh, her son Yasser, four of her daughters-in-law, and 18 of her grandchildren. Ahmad Sahmoud, a Hamas operative who is not a member of the family, was also killed.
Tawfiq Abu Jame', 36, who lost his wife and six of his seven children in the bombing, told B'Tselem's field researcher that there had been heavy artillery fighting in their area, but that they had stayed in their home because they had nowhere else to go. He spoke of what happened on the day of the bombing:
Sunday 20 July 2014, the 22nd day of the month of Ramadan, was a tough day. Areas around us were being constantly bombed, and the streets were empty. There were many observation planes in the sky. We stayed home. Only my brother 'Abdallah, and his wife and children went to her parents to have iftar [break fast], and my brother Taysir went to pray at 'Omar Ibn al-Khatab Mosque, about 100 meters away from our house.

At about 7:30 P.M., I sat down to eat with my wife and children. I'd hardly managed to eat a date and drink some water before the house suddenly collapsed on us and I lost consciousness. I didn't hear the actual explosion.

I woke up in the hospital about two hours later. I was slightly injured. I asked relatives who were in the hospital what had happened and they told me the Israeli military had bombed our house from airplanes. When I asked who had been killed, they only told me about my mother and one of my nephews at first. I had a feeling they were keeping the truth from me and that many more had been killed. I kept asking, doggedly, and I questioned every person who walked into my room.

At around 4:00 A.M. I found out that my wife, who was pregnant, nearly full term, and six of my children had been killed. My 4-year-old son, Nur a-Din, was rescued from the rubble with head injuries. I also found out that one of my brothers, and my brothers' wives and all their children had been killed.

We were bombed without any warning. We didn't receive a telephone call and a missile wasn't fired at our house, like sometimes happened in other houses.

I'd worked with my brothers on building this house, building our lives, since I was eleven, and suddenly we'd lost everything. The house and the family obliterated in a matter of seconds. I only have my son Nur a-Din left. All I have left of them is a few photos of my children I took on my cell phone at a wedding a week before Ramadan. I keep turning on my phone, looking at the pictures, and remembering my kids and the various stages in their lives.

* He gave his  testimony to Khaled al-'Azayzeh on 16 September 2014.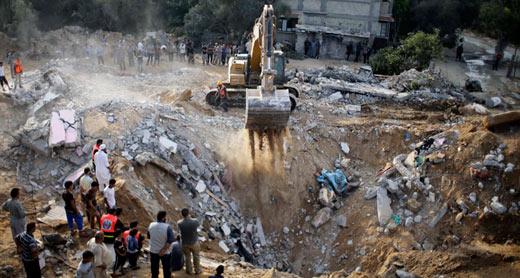 Search for victims amongst the rubble of the Abu Jame' home. Photo: Ibrahim Abu Mustafa, Reuters, 21 July 2014
The people killed in the incident:
The grandmother: Fatmeh Mahmoud Ahmad Abu Jame', 64
Her grandson: Husam Husam Muhammad Abu Qeins, 6
Her daughter-in-law: Shahinaz Walid Muhammad Abu Jame', 28 Her children: Fatmeh Taysir Ahmad Abu Jame', 7
Ayub Taysir Ahmad Abu Jame', 6
Rayan Taysir Ahmad Abu Jame', 4
Rinad Taysir Ahmad Abu Jame', 1
Nujud Taysir Ahmad Abu Jame', 5 months old
Her daughter-in-law: Yasmin Ahmad Salameh Abu Jame', 25 Her children: Batul Bassam Ahmad Abu Jame', 3
Suheila Bassam Ahmad Abu Jame', 2
Bisan Bassam Ahmad Abu Jame', 1
Her daughter-in-law: Sabah Tawfiq Mahmoud Abu Jame', 39 Her children: Razan Tawfiq Ahmad Abu Jame', 14
Jawdat Tawfiq Ahmad Abu Jame', 13
Aya Tawfiq Ahmad Abu Jame', 10
Haifaa Tawfiq Ahmad Abu Jame', 9
Ahmad Tawfiq Ahmad Abu Jame', 7
Tawfiq Tawfiq Ahmad Abu Jame', 5
Her son: Yasser Ahmad Muhammad Abu Jame', 27
His wife: Fatmeh Riad 'Abd a-Rahman Abu Jame', 25
Their children: Sajed Yasser Ahmad Abu Jame', 5
Siraj Yasser Ahmad Abu Jame', 4
Siraa Yasser Ahmad Abu Jame', 2
Ahmad Suliman Mahmoud Sahmoud, 34