At around 1:30 A.M. on 24 July 2014, the air force attacked a house in Jabaliya R.C. in the northern Gaza Strip. One of the sons of the man who owned the targeted building is a member of Hamas' military branch. This may have been the reason for the attack. Testimonies collected by B'Tselem indicate that the military fired a warning missile, but local residents could not tell which home it was fired at and who was meant to leave.
The house, which was vacant, was completely destroyed and dozens of other nearby homes were damaged. One of them was the Abu 'Aytah home. Five members of the family were killed, including a four-year-old, and 12 were injured.
The Abu 'Aytah family lived in a three-story building. Ibrahim and Jamileh Abu 'Aytah lived on the first floor with four of their children. Their three married sons lived with their families on the ground and second floors. A total of 20 people lived in the house.
Mahmoud Abu 'Aytah, 30, who lived on the ground floor, told B'Tselem's researcher that the family had been living in that house for 15 years. He said the area where the house was located had been relatively quiet and that the family had managed to lead an almost normal life during the fighting, including shopping at the market. He said they had even invited a relative who lives near Gaza's eastern border, in an area that was exposed to artillery fire, to take refuge in their house. Mahmoud described what happened before the house was hit:
We were all at my parents' place on the first floor. We were sitting and talking with them, and we were happy. At about 11:30 P.M., my wife, my sisters Alaa and Manal and I went down to my apartment on the ground floor. I watched the news and I was happy when they said there might be a cease-fire in the next few days.

At around 1:30 A.M., we heard a very loud, very close, explosion. My brother Ahmad, his wife and his children came down to my apartment because the ground floor is safer. Then my parents, my brother Isma'il and my brother Muhammad and his family came downstairs too. We sat on mattresses and on the couches, and the children were playing by our side. Then we heard the sound of one missile, which sounded like a warning missile shot from a drone. We wanted to go outside to see which house had been warned, but my father refused and wouldn't let us go. So we sat back down.

Less than two minutes later, I suddenly couldn't feel anything. I woke up the next day and saw I was at a-Shifaa Hospital. I was in pain. The doctors told me a house close to ours had been bombed and that I and the rest of my family were injured to various degrees. I saw my brother Isma'il, and he told me my wife was in the ICU.

I was released from the hospital a few hours later. I went back to my father-in-law's house in the Tel a-Za'tar area in Jabaliya R.C. It was only a few hours after that I was told that some of my family had been killed. I was in shock when I heard that. I had a nervous breakdown. The moments when I heard that members of my family had been killed were extremely difficult.

* He gave his  testimony to Muhammad Sabah on 9 November 2014.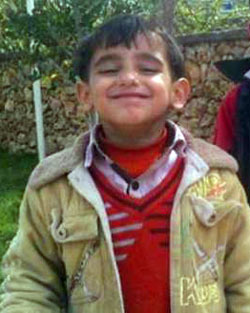 Adham Abu 'Aytah, 4. Photo courtesy of the family
The people killed in the incident:
The parents: Ibrahim 'Abdallah Ibrahim Abu 'Aytah, 66
Jamileh Salim 'Eid Abu 'Aytah, 55
Their children: Muhammad Ibrahim 'Abdallah Abu 'Aytah, 32
Ahmad Ibrahim 'Abdallah Abu 'Aytah, 31
Ahmad's son: Adham Ahmad Ibrahim Abu 'Aytah, 4