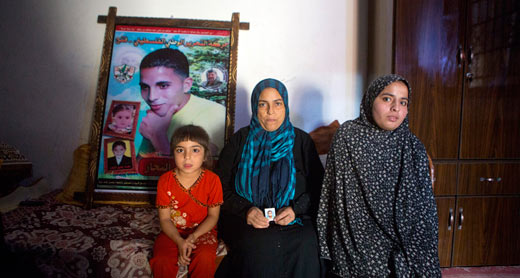 Hanaa a-Najar and her daughters Alaa and Nur. Photo: Anne Paq, Activestills.org, 15 Nov. 2014
On 29 July 2014, at about 8:00 A.M., the air force bombed the three-story a-Dali building in Khan Yunis. There was a kindergarten on the ground floor, and the second and third floors held a total of apartments, three of which were rented out. Ordinarily, 21 people lived in the building. They were joined by another 23 people, all members of the Abu 'Amer family from 'Abasan al-Kbireh, had been sheltering in the kindergarten since the fighting began.
The bombing reduced the building to rubble and damaged houses nearby. Thirty-three people were killed in the a-Dali building, 18 of them minors. A little girl was killed in a neighboring house.
Hanaa a-Najar, 46, lived in a rented apartment in the a-Dali building with her husband, her eight children, and her only granddaughter. She told B'Tselem's field researcher about the morning she lost most of her family:
Tuesday, 29 July 2014, was the second day of the 'Id al-Fitr holiday. We all went to sleep in the living room, because we felt it was the safest part of the house. When I woke up, I was buried under wreckage and sand. Only my head was sticking out. My legs and back hurt badly and I could barely breathe. There were several young men around me trying to get me out from under the ruins. They dug around me and removed debris that was on top of me. I tried to look around and find my children, but I couldn't see any of them. I told the young men: "Leave me, go and find my children", but they kept digging around me.

A few minutes later, I saw a man carrying my daughter Nur. He put her down next to me. Her face and hair were covered in dust and she was screaming and crying. I saw another group of men trying to get my daughter Alaa out. She was buried under debris. I heard them say that she was breathing and still alive. At that point, people were still digging around me, trying to get me out. I think I lost consciousness after that, because the next thing I remember is waking up in a hospital bed.
The ruins of the a-Dali Building. Photo: Anne Paq, Activestills.org, 15 Nov. 2014
After she came to, relatives told Hanaa that her husband, five of her children, and her granddaughter had all been killed. She told B'Tselem:
That morning, at around 10:00 A.M., I was taken to my brother Muhammad 'Atiya a-Dali's house. I screamed and cried the whole way. I asked to see my children one last time, but they wouldn't let me because of the condition the bodies were in. Now, two months after the bombing, I'm still living in my brother's house with my three children who survived. I still can't believe this really happened to us. I feel like I'm in a nightmare and trying to wake up.

My daughter Alaa, 20, can't move her hands. She can't eat by herself and has to be fed. My son Karim, 10, is in a bad mental state. He's constantly afraid, especially in the dark, and he's cross and full of anger.

* She gave her testimony to Muhammad Sa'id on 29 September 2014.
Hamza a-Rimlawi, 54, a father of four, lives with his family in an adjacent building. He told B'Tselem:
On Tuesday morning, 29 July 2014, it was relatively quiet. I could hear only distant sounds of bombing. Some of my children were still asleep, and some were already up. A bit before 8:00 A.M., I heard a loud explosion. I felt our asbestos roof fly up in the air and fall back down. Stones fell on us. I thought the explosion had been in our house. A few moments later, I heard another explosion and the ceiling collapsed. Big blocks of debris and stones fell on us. I heard my wife and children screaming but I couldn't see anything. Everything was full of dust.

It took about three minutes for the dust and smoke to begin to clear a bit. I saw my son Muhammad, 25, lying on the floor with blood trickling from his head. I also saw my sons Rami, 16, and Ahmad, 22, covered in blood and dust. My wife Butheina and my daughter Maha, 18, were screaming. The western walls of the house had collapsed. I didn't know what to do. A few moments later, neighbors came to help us. They carried us out into the street so they could take us to hospital.

In the street, I saw a lot of people running over to my neighbor Iyad a-Dali's house. That's when I understood that the attack had been aimed at his house. It was a three-story building where families rented apartments. They were also sheltering relatives who had escaped from the eastern parts of Khan Yunis.

His building was a pile of rubble. While we were waiting for the ambulance, I realized I had a head wound and saw blood on my clothes. I walked around a bit and saw the bodies of three women lying in the street that runs parallel to the bombed building. One of them was covered with a piece of cloth. I also saw the massive damage caused to other houses nearby, and neighbors carrying wounded people out of my brother's house.

* He gave his testimony to Muhammad Sa'id on 22 September 2014.
The people killed in the incident:
The A-Najar family:
Jamil Ahmad Hamed a-Najar, 47
His children:
Wael Jamil Ahmad a-Najar, 25
Wael's daughter: Layali Wael Jamil a-Najar, 3
Walaa Jamil Ahmad a-Najar, 22
Aya Jamil Ahmad a-Najar, 19
Du'aa Jamil Ahmad a-Najar, 17
Muhammad Jamil Ahmad a-Najar, 12
The M'amer family:
Ahmad Marzuq Nadi M'amer, 32, and his children:
Yazan Ahmad Marzuq M'amer, 3
Hala Ahmad Marzuq M'amer, 2
His sister: Hend Marzuq Nadi M'amer, 30
The Breikah family:
Subhiya Muanis Mahmoud Breikah, 58
Her son: Ahmad Faiz Ahmad Breikah, 31
His wife: Basemah Salem Salim Breikah, 35
Their daughters:
Jana Ahmad Faiz Breikah, 2
Lama Ahmad Faiz Breikah, 1
Her son: Ousamah Faiz Ahmad Breikah, 16
The family of Ahmad Suliman Ahmad Abu 'Amer:
Ahmad Suliman Ahmad Abu 'Amer, 40
His wife Muna Hajjaj Ibrahim Abu 'Amer, 40
Their children:
Muhammad Ahmad Suliman Abu 'Amer, 11
Marah Ahmad Suliman Abu 'Amer, 10
Yasser Ahmad Suliman Abu 'Amer, 8
Marwah Ahmad Suliman Abu 'Amer, 5
Suliman Ahmad Suliman Abu 'Amer, 3
The family of Wadah Hassan Ahmad Abu 'Amer:
Wadah Hassan Ahmad Abu 'Amer, 39
His wife: 'Orubah Suliman Ahmad Abu 'Amer, 41
Their children: 'Omar Wadah Hassan Abu 'Amer, 12
'Abd al-Ghani Wadah Hassan Abu 'Amer, 10
'Imad Wadah Hassan Abu 'Amer, 9
'Issa Wadah Hassan Abu 'Amer, 7
'Iz a-Din Wadah Hassan Abu 'Amer, 5
His brothers:
Ahmad Hassan Ahmad Abu 'Amer, 35
Muhammad Hassan Ahmad Abu 'Amer, 19
A neighbor: Aya Sami Anwar a-Ramlawi, 9