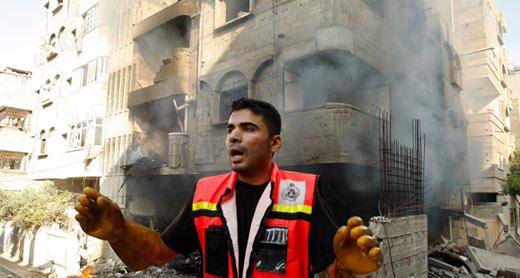 Member of emergency services crew in Gaza; background: house bombed on 10 July 2014. Photo: Ahmad Zakut, Reuters
According to B'Tselem's initial figures, at least 1,767 Palestinians have been killed in the Gaza Strip and Israel from the time the fighting began through 10 Aug. 2014. The fatalities include:
431 minors (one minor participated in the hostilities);
200 women (under age 60);
85 persons aged 60 and over.
During the same period two Israeli civilians, one foreign national and 64 Israeli soldiers have been killed in Israel and the Gaza Strip.
* * *
The figures B'Tselem collected regarding the number of Palestinians killed in the course of the fighting in the Gaza Strip are very preliminary and incomplete, and are still being cross-referenced and checked. In addition, we have not included certain incidents in these figures because neither the precise number of people killed nor their identity is yet known to B'Tselem. This situation is partly because not all bodies have been extricated from the rubble and identified. In the months ahead, B'Tselem plans to further investigate the incidents, including confirming the identity of the individuals killed and whether or not they took part in the hostilities. According to the spokesperson for Gaza's Ministry of Health, 1,939 Palestinians have been killed from the launching of the Israeli offensive through 10 August 2014.