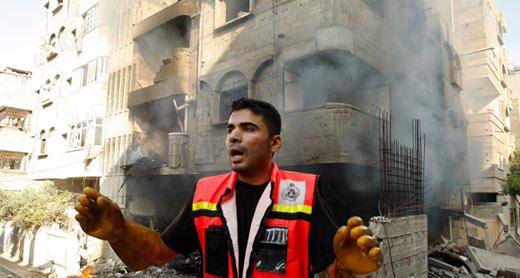 Member of emergency services crew in Gaza; background: house bombed on 10 July 2014. Photo: Ahmad Zakut, Reuters.
According to B'Tselem's initial figures, at least 1,262 Palestinians have been killed in the Gaza Strip and Israel in the time between early Tuesday, 8 July 2014, when Operation Protective Edge airstrikes on Gaza began until the morning of 30 July.*
The fatalities include:
314 minors (one minor participated in the hostilities)
148 women (under age 60)
62 senior citizens (aged 60 and over)
Initial findings indicate that 172 of the people killed participated in the hostilities.
Since the operation began and untill the evening of 31 July 2014 two Israeli civilians, one foreign national and 56 Israeli soldiers have been killed in Israel and the Gaza Strip.
* There are incidents that took place by this time with respect to which B'Tselem has not yet received information. We continue to investigate and figures will be updated according to information received.