Mazen Aslan, 52, lives in al-Bureij refugee camp in the central Gaza Strip and works for the local municipality. When Operation Protective Edge began, the mayor appointed him head of a team charged with inspecting homes damaged by bombing.
On Friday, 11 July 2014, at around 7:00 A.M., Aslan went out on his daily mission. Two days later, his son Khaled described what happened then in a phone conversation with B'Tselem field researcher Musa Abu Hashhash: "My father told us he was going out to inspect houses in al-Bureij that had been hit by Israel's bombs and rockets. We were all against it and begged him to stay home because it was dangerous outside, but he insisted on going". Mazen Aslan went on the inspection with another municipal employee, Shahraman Abu al-Kas, 40. The two drove around the refugee camp and visited several damaged houses.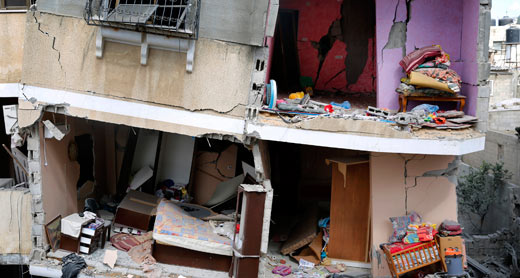 House in Khan Younis damaged by an Israeli air strike, Finbarr O'Reilly, Reuters, 17 July 2014
During the inspection tour, Aslan called his wife and told her he was on his way home because he'd forgotten to take the municipal permit authorizing him to inspect bombed sites. Khaled Aslan described what happened:
At around 12:00 noon, my father called us and said he was on his way home to pick up his permit. But he never came back. On his way home, the jeep he was driving was bombed. As far as we know, a missile entered the jeep through the window. It killed my father and Shahraman al-Kas on the spot.
According to information HRW published based on examination of the scene by its members, they found no evidence of armed group activity within the jeep or close to it at the time of the missile strike.
The missile also injured two young sisters who live close by. One of the girls sustained severe injuries, and rumors of her death spread throughout the camp and media reports. The girls' mother, Fawziyeh al-Qrenawi, 47, a mother of five, related the incident to B'Tselem on 13 July 2014:
I was at home. My two daughters – Shahd, 7, and Salwa, 9 – were playing in their room, which has a wall facing the street. Things were quiet outside at the time. I was watching TV, following the news on what was happening in Gaza.

Suddenly, I heard a really loud explosion. A bomb landed very close to us. The house filled with dust and smoke. I ran to the girls' room and found them both lying on the floor. Shahd was bleeding. Salwa was lying next to her, screaming. I was stunned and couldn't understand what I was seeing. Through the window, I saw a car on fire, right next to our house. I started treating the girls. Shahd wasn't moving. I was terrified she was dead. I called for help and some people came in from the street. They helped me take my girls to hospital.
Salwa was lightly wounded. She was treated in hospital and discharged. Shahd was badly injured." According to Fawziyeh al-Qrenawi, the medical examination found Shahd to be suffering from several fractures to her pelvis and limbs, as well as internal hemorrhaging. The hospital decided to send her to Jordan for further treatment. Shahd's aunt took her through Erez Crossing to Allenby Bridge and from there to Jordan. Her transfer was coordinated with the Israeli authorities.
* * * 
Note concerning testimonies about the "Protective Edge" campaign:
The information in this post is based on testimonies taken by phone. With the current military campaign ongoing, B'Tselem is taking testimony from Gaza residents, mainly by telephone. B'Tselem verifies, to the best of its ability, the reliability and precision of the information reported; nevertheless, in these circumstances, reports may be incomplete or contain errors. Given the urgency of informing the public about events in Gaza, B'Tselem has decided to publish the information now available. When the military campaign ends, B'Tselem will supplement these reports as needed.