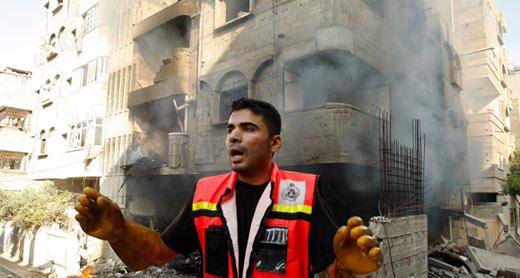 Member of emergency services crew in Gaza; background: house bombed on 10 July 2014. Photo: Ahmad Zakut, Reuters.
According to B'Tselem's initial figures, 203 Palestinians have been killed in the Gaza Strip in the time between early Tuesday, 8 July 2014, when Operation Protective Edge airstrikes on Gaza began until the 17 July at 7PM.
The fatalities include:
41 minors
21 women (under age 60)
14 senior citizens
Initial findings indicate that 48 of the people killed were involved in combat.
One Israeli civilian, Dror Khanin, was killed within Israel by mortar bomb fired by Palestinians from Gaza.