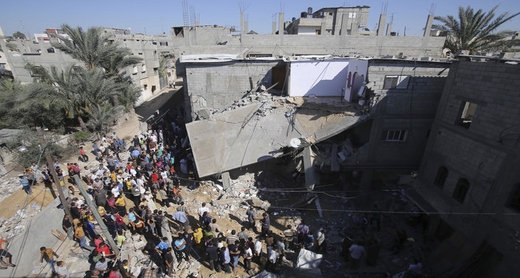 A house bombed in Gaza. Photo: Ibrahim Abu Mustafa, Reuters, 8 July 2014
Shortly after midnight today, 8 July 2014, the Israeli military launched Operation Protective Edge in the Gaza Strip. According to media reports, Prime Minister Binyamin Netanyahu instructed the defense establishment "to conduct a continuous, long and forceful operation in Gaza. We have to be prepared to go all the way, and even a ground offensive is currently on the table." The media further reported that the military was preparing to call up reservists.
Since last night, the military has continuously bombed various parts of the Gaza Strip. According to the IDF Spokesperson, by the afternoon, the military has attacked some 100 targets, including the homes of senior Hamas activists, launching infrastructure, tunnels used for mounting attacks, and training bases.
The media also reported that by this afternoon (8 July), armed Palestinian organizations in the Gaza Strip had fired some 50 rockets and mortar shells at southern Israel.
B'Tselem's initial investigation found that since the operation began, approximately 10 people were killed in several attacks throughout the Gaza Strip. Of these, to the best of B'Tselem's knowledge at this point, seven persons – most of them minors – were killed when the home of alleged Hamas activist 'Odeh al-Kaware' was bombed. Another 25 persons were reportedly injured in the incident, some of them severely so. The initial investigation indicates that as the homes of other Hamas activists had been bombed (as the IDF Spokesperson reported this morning), many area residents gathered around al-Kaware's home to prevent its bombing. It is unclear as yet whether the house was still surrounded by people at the time of the bombing. According to Israeli daily Ha'aretz, defense establishment officials stated that the bombed family home was the target of the aerial attack. B'Tselem is currently investigating the circumstances of the attack and whether the military was aware of civilian presence close by.
This morning, the IDF Spokesperson stated that the military had deliberately bombed four homes of persons defined as senior Hamas activists, without mentioning whether the homes were legitimate military objectives, such as, for example, ammunition storages. International humanitarian law permits attacks only against targets that effectively assist military efforts, when attacking them can gain a military advantage. The homes of Hamas activists are not, in themselves, legitimate targets, especially when family members reside in them. Defining them as targets is neither reasonable nor legal and permits harm to civilians who are supposed to be protected by international law.
B'Tselem reiterates its demand that all parties to the hostilities take all possible measures to prevent harm to civilians. The rules of war obligate all parties to a conflict to do their utmost to defend the civilian population. Deliberate targeting of civilians is expressly prohibited.