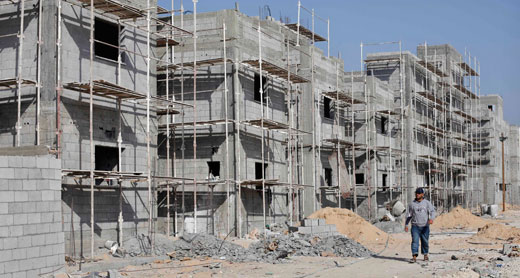 Gazan construction project on hold due to shortage in supplies. Photo: Ibrahim Abu Mustafa, Reuters, 6 Nov. 2013
Since Israel imposed a siege on the Gaza Strip in 2007, it has allowed almost no construction supplies into Gaza, with the exception of limited quantities earmarked for use in international projects. Consequently, the construction sector has had to rely on materials brought in from Egypt via tunnels. This reliance is particularly so for private contractors. On 10 August 2013, a month after Egyptian president Morsi was overthrown by the military, Egyptian security forces began demolishing these tunnels with bulldozers and explosives. They demolished some seventy of approximately 150 tunnels that had been used to bring a variety of goods into Gaza, ranging from food to construction supplies to explosives. Since then, most of the tunnels have been closed down by their owners, out of concern that the tunnels would be demolished. Only three tunnels – used primarily to bring in negligible amounts of construction materials, and particularly cement – are operating at present. The fact that use of the tunnels has practically ceased has almost entirely paralyzed construction in Gaza, leaving thousands of workers jobless.
Background
June 2007: Israel imposes siege on Gaza Strip and limits import of construction materials
In June 2007, after Hamas seized control of the Gaza Strip, Israel imposed a siege on Gaza. Among other things, Israel prohibited the import of construction supplies into Gaza, on the grounds that they could be used for warfare. At the same time Egypt closed Rafah Crossing that, in any case, had not been used to transport goods. On 20 June 2010, due to international pressure on Israel following the Israeli takeover of the flotilla that tried to sail from Turkey to Gaza, Israel's security cabinet decided on a partial lifting of the siege. Among other things, the security cabinet decided to allow a limited amount of construction supplies into Gaza to be used in public projects or residential projects under international supervision. However, the complex bureaucracy involved caused delays and raised the price of much-need projects for reconstruction and development of infrastructure in Gaza. Meanwhile, the prohibition on importing construction supplies for private projects remained in force.
In December 2012, as part of an understanding reached between Israel and Hamas after Operation Pillar of Defense, media reports stated that Israel had agreed to allow twenty trucks of gravel a day into Gaza for use in the private sector. That year, Egypt also authorized bringing in certain, limited amounts of construction supplies into Gaza through Rafah Crossing for projects funded by the Qatar government.
According to figures for 2010 provided by Israeli NGO Gisha – Legal Center for Freedom of Movement, Israel allowed a monthly average of 8,886 tons of construction supplies into Gaza for internationally-supervised projects. After partially lifting the siege in 2012, Israel allowed a significantly higher amount of construction supplies into Gaza via land crossings. That year, it allowed in a monthly average of 82,776 tons of constructions supplies for international organizations. In December 2012, Israel also decided to allow 1,820 tons of gravel a month to be brought in to Gaza for use in the private sector. In view of these eased restrictions, the first six months of 2013 saw a monthly average of 70,612 tons of construction supplies brought in via Israeli-controlled crossings for projects by international organizations. In addition, every month an average of 17,244 tons of gravel were brought in for the private sector.
However, these quantities are still a far cry from market needs: according to Gisha, in the first half of 2007 – before the siege was imposed – on average, 174,211 tons of construction supplies were brought into Gaza through Israel every month.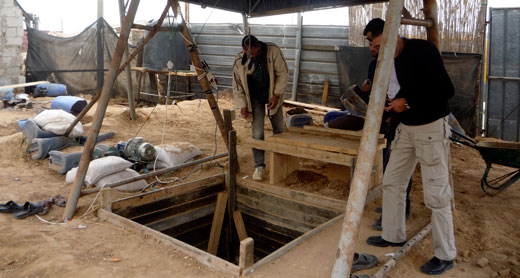 Gaza side of tunnel for bringing in goods. Photo: B'Tselem, December 2009
Transporting construction supplies through tunnels from Egypt
Following restrictions Israel imposed as part of its siege policy, a "tunnel economy" began to flourish in the Gaza Strip, based on transporting goods into Gaza through tunnels dug under the border with Egypt. Over the years – and as Egypt did not allow Gaza residents to import goods through Rafah Crossing – the tunnels became the main avenue for bringing various goods into Gaza, especially construction materials, gasoline and diesel fuel. Until July 2013, more than 150 tunnels operated along the Egyptian border, providing thousands of young men with a livelihood. The Hamas government oversaw the operation of the tunnels and levied an import tax on goods transported through them. Construction supplies were brought in unimpeded, and at much lower cost than those brought in through Israel.
In recent years, the quantity of construction supplies brought into Gaza through the Egyptian-border tunnels was much greater than that allowed in by Israel after it eased some of the restrictions of the siege: in 2012, a monthly average of 211,699 of construction supplies was brought in via the tunnels; in January to June 2013, the monthly average was 309,121 tons.
Accounts given by contractors and construction workers to B'Tselem field researchers indicate that recent years have seen a significant improvement in the construction market in the Gaza Strip, as can be seen by the employment of 20,000-30,000 workers in construction projects. They also indicate steady five-day work weeks, that allowed workers and their families to make a decent living.
August 2013: Egypt destroys tunnels
After the Egyptian military overthrew President Morsi, Egypt changed its policy regarding the Gaza Strip. One result was its decision to destroy the border tunnels. On 10 August 2013, Egyptian security forces began to demolish the tunnels, using bulldozers and explosives. Since then, most tunnel-owners have kept their tunnels closed, for fear of having them destroyed, and only three tunnels are currently operating, used mostly for transporting negligible amounts of construction materials, particularly cement.
After Egypt demolished the tunnels, Israel increase the amount of construction supplies permitted to be brought in to Gaza via Israeli land crossing. Since then, a monthly average of 57,683 tons of gravel has been brought in for the use of international organizations, as well as a monthly average of 22,593 tons for the private sector. On 22 September 2013, Israel allowed a one-time entry of 70 truckloads of cement, gravel and iron for the private sector – more than three times the amount previously allowed. Yet these amounts do not equal even half of those previously brought in through the tunnels, when the tunnels were operation.
Samir Mahana, 25, a contractor, is married and the father of two children. He lives in al-Qarara in the Khan Yunis region. He described the impact of the lack of construction supplies to B'Tselem field researcher Khaled al-'Azayzah: 
About two years ago, work in construction was very good. People were building houses, because construction supplies weren't expensive. Construction supplies were brought in through the tunnels, and their prices were reasonable. A ton of concrete cost 400-450 shekels, a ton of iron cost about 3,100 shekels, and a ton of gravel cost about 80 shekels. Many merchants sold construction supplies and accepted payment in installments, in cash, or through a standing bank order. People were building all year round. As a result, my financial situation improved. At first, I had a small tractor for carrying construction materials, and then I bought a jeep. I renovated my house and helped pay for my brother Fadi's wedding. I also paid three years of tuition for my brother Salem at al-Azhar University.

Last July, things started deteriorating, because of what was going on in Egypt and the tunnels closing down. There weren't enough construction supplies available, and the price of those in stock went up. Now, a ton of concrete costs 900 shekels, a ton of iron costs 4,700 shekels, and a ton of gravel costs 150 shekels. The price hike caused substantial losses to some of the contractors, who had to finish building by a deadline, even though the prices of materials had suddenly gone up.
On 13 October 2013, the media reported that the Israeli military had discovered a tunnel on the Israel-Gaza border, stating it was intended for use in attacks on Israeli civilians or soldiers. Consequently, the head of COGAT, Major General Eitan Dangot, ordered a complete halt to all transport of construction supplies into Gaza. On 16 December 2013, Israel decided to renew its policy of allowing in limited construction supplies for UNRWA projects. From then until 8 January 2014, a total of 19,075 tons of construction materials for UNRWA projects were brought into Gaza as well as 69 tons for UNDP projects and 26 tons for the Turkish Hospital in Gaza.
The shortage of construction supplies and high prices of such supplies brought in through Israel have led to a significant price hike in Gaza: a ton of cement, which cost roughly 400 shekels (approx. 115 USD) before June 2013, cost about 850 shekels (approx. 245 USD) in August 2013, and as much as 1,100 shekels (approx. 315 USD) in October 2013.
Testimonies given to B'Tselem by contractors and construction laborers in the Gaza Strip depicted a harsh reality in which projects are put on hold due to lack of materials. They related that contractors were forced to dismiss employees, so that thousands of people, most of whom support large families, lost their livelihood.
Muhammad al-'Asar, 37, lives in Deir al-Balah. His father owns A-Ta'awun, a shipping and construction-materials supplier . He told B'Tselem field researcher Khaled al-'Azayzeh:
"[…] In June 2013, work at the factory began to deteriorate, because of what was going on in Egypt and the closing of the tunnels. In previous years, we bought gravel and cement from the tunnel merchants. A ton of gravel cost me about 90 shekels and a ton of cement cost about 400 shekels. The price wasn't constant: sometimes it went up and sometimes it went down, based the situation in the tunnels, which would sometimes be closed for several days for security reasons.

For the last three years, we bought about 2,000-2,500 tons of cement a month and about 10,000 tons of gravel. The whole field of construction was doing really well, after a long period of when there was no work because of the siege.  There were also many more construction projects in Gaza. 

But this last July and August, we began having trouble because the tunnels were closed. I had no cement or gravel left in stock. When Israel allowed limited amounts of cement, gravel and iron in through Kerem Shalom Crossing, we started working again, but it's very slow going.

We've run out of materials so the factory is at a standstill. It's like how it was in 2007, at the height of the siege. We fired some workers and others stayed on at the factory, and I pay them about half their wage. Construction work has stopped both because of there aren't any construction supplies and also because of the great difference in price between construction supplies that came in through the tunnels and the ones that came in through the crossings.
Sami Sa'udi, 23, a house-painter, lies in a-Shuja'iya neighborhood in Gaza City. He also told B'Tselem field researcher Muhammad Sabah about the impact the situation has on his work: 
The current situation is even worse and we can't take on any new painting jobs. We're working at four apartments in Gaza City and, in another three weeks, we'll finish the jobs. After that, we'll be unemployed, because the shortage of construction materials means no one is building any more apartments or buildings.

I support my parents because my father is sick and can't work. I also want to save money so I can build a house and get married. But for that, I have to make a decent living. I need to work, and it's also important to me to feel that my job makes a difference. We're worried and tense all the time. We keep hoping that Israel will let construction supplies into Gaza, so that we can work normally and make a living.
Israel's responsibility: Control entails responsibility
In September 2005, Israel completed implementation of its Disengagement Plan from the Gaza Strip, which included dismantling all the settlements there, withdrawing its military forces, and declaring an end of its military rule there. Israel argues that once it has taken these measures, its position as an occupying power in Gaza has ended. In September 2007, after Hamas took control of Gaza, Israel declared the area a "hostile entity", the same classification given to enemy countries. Israel claims that, apart from some fundamental humanitarian obligations to prevent a severe crisis in Gaza, it bears no other responsibility for the population in Gaza.
Yet Israel's policy towards the Gaza Strip and its residents since 2005 makes this position untenable. Despite the declared end of military rule, Israel still controls many aspects of life in Gaza. In particular, Israel has full control crossings on the Israel-Gaza border as well as control of air- and sea-space and does not allow Palestinians to establishing an airport or seaport. Although the opening of Rafah Crossing depends on Egypt, not on Israel, ever since the Disengagement Plan was implemented in 2005, the crossing has been closed for long periods of time. Regardless, there is no regular transport of goods through the crossing. Consequently, Israel has virtually complete control of all movement of people and goods in and out of Gaza and administers it in consideration of Israeli interests. This is true also in cases when residents of Gaza request entry to Israel only as a throughway to the West Bank or to other countries.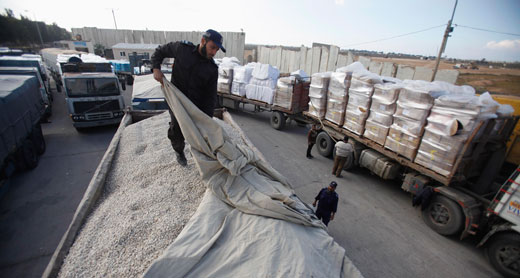 Truckload of gravel Israel allowed into Gaza at Kerem Shalom Crossing. Photo: Ibrahim Abu Mustafa, Reuters, 30 Dec. 2013
Israel used its control of the border crossings to impose a prolonged siege on the Gaza Strip since 2007, which resulted in a severe economic crisis in Gaza. As the years went by, the impact of the siege was somewhat alleviated by the "tunnel economy". However, as the tunnels are no longer in use, the effects of the siege are patently obvious, and there is no doubt as to the impact this policy has on the daily lives of Gaza residents. 
The way in which Israel ended its occupation of the Gaza Strip has no precedent anywhere in the world. It is, therefore, not surprising that Israel's legal obligations towards Gaza since 2005 are unclear. Israel's High Court of Justice rejected a petition by human rights organizations that appealed the restriction of electricity supplied to Gaza. The court ruled that Israel is clearly no longer responsible for maintaining public order in the Gaza Strip, nor is it responsible for the well-being of Gaza residents under the laws of occupation. Nevertheless, the court ruled that Israel does have certain obligations: 
Under the circumstances created, the main obligations of the State of Israel regarding the residents of the Gaza Strip are a result of the state of warfare between Israel and the Hamas organization, which controls the Gaza Strip; these obligations also derive from the scope of Israel's control over crossings on its border with the Gaza Strip; and also from the situation created between Israel and the Gaza Strip after years of Israeli military rule in the area, the result of which is, at present, an almost absolute dependence of the Gaza Strip on the supply of electricity from Israel. 
These statements make it clear that Israel's obligations towards the residents of Gaza cannot be treated in the same as its obligations towards the residents of an enemy country, and that Israel – unlike Egypt – bears additional duties towards them. The precise extent of Israel's responsibility towards the residents of Gaza will change according to the scope of its control. In cases in which Israel's policy affects Gazan residents, directly or indirectly, it may not consider only how it will benefit in terms of its own security. It is obligated to consider also the implications of the policy for Gazan residents. 
For years, Israel has prohibited almost entirely the import of construction supplies into the Gaza Strip. The impact of this prohibition has been relieved by the use of tunnels to bring to Gaza hundreds of thousands of tons of construction supplies every month. Now, when land crossings with Israel are the only avenue for importing construction materials, the construction needs of the 1.7 million residents of Gaza are unmet. The construction sector is not functioning and construction workers cannot make a living. 
This reality increases Israel's obligations. The Israeli security establishment must replace the policy that has been in effect since 2007 with a new policy that takes into account the needs of Gazan residents and does not consider only Israel's security needs. 
The extent of Israel's control over the Gaza Strip entails clear responsibilities. Any other interpretation, based on formalistic arguments that do not accord with the spirit of international law, is unreasonable.