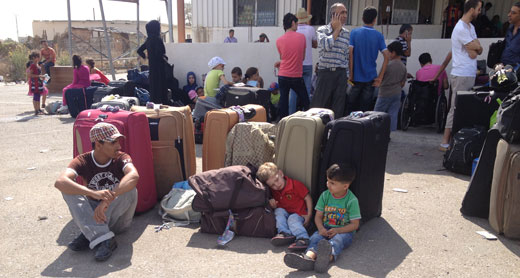 Passengers waiting at Rafah Crossing. Photo: Muhammad Sabah, B'Tselem, 24 August 2013
In September 2005, Israel completed its Disengagement Plan from the Gaza Strip. Notwithstanding, Israel has retained control over all entry and exit points to and from Gaza, with the exception of Rafah Crossing. Israel controls Gaza's sea- and air-space and prohibits the movement of aircraft or sea vessels there. With very rare exceptions, Israel also prohibits travel abroad from the Gaza Strip through Allenby Crossing in the West Bank, and never allows Palestinians to fly abroad from Israel's Ben Gurion International Airport.
Consequently, Rafah Crossing is currently the only possible way to travel between the Gaza Strip and other countries. After Hamas seized power in the Gaza Strip in 2007, the crossing was closed nearly continuously for several years. In late May 2011, Egypt announced the official and permanent opening of Rafah Crossing to Palestinians. Since then, travel into and out of the Gaza Strip became virtually unrestricted, and Gazans went abroad for medical treatment, studies, work, family visits and vacations. Passing through the crossing required prior registration with the Ministry of the Interior in the Gaza Strip, which informed applicants if, and on what date, they would be allowed through.
However, in early July 2013, with the onset of the events that led to the overthrowing of Muhammad Morsi, Egyptian authorities limited passage through Rafah Crossing, and the number of persons using it dropped radically. From July to September 2013, the crossing was open only intermittently. When open, Egyptian authorities only permitted the passage of limited groups, such as foreign nationals, the gravely ill, and students (the latter excepting those studying in Egypt, most of whom were allowed through only at the end of September). To date, people who had planned to travel abroad for meetings, family-related matters, professional courses or vacations, have been unable to do so.
Even people who did manage to pass through the Rafah Crossing had to do so at personal risk, travelling to the Cairo airport via northern Sinai, where fighting is underway between the Egyptian army and armed groups. B'Tselem's field researchers interviewed people who voiced great concern over taking that route with their families, but had no other choice.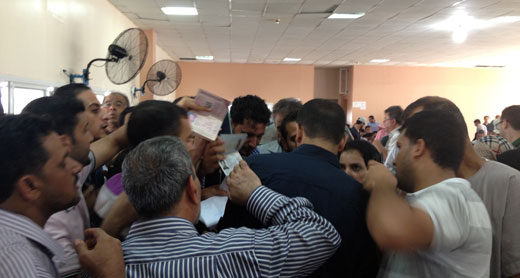 Trying to get through Rafah Crossing. Photo: Muhammad Sabah, B'Tselem, 24 August 2013
According to figures collected by Israeli Human Rights organization Gisha – Legal Center for Freedom of Movement, during the first six months of 2013 a daily average of 1,353 persons passed through Rafah Crossing in both directions. Since then, the numbers have steadily dropped to a daily average of 526 people in July, 363 in August, and only 217 in September 2013.
Data published by the World Health Organization indicate that, during the same period, Israel doubled the number of patients allowed to pass through Erez Crossing for medical treatment in the West Bank (including East Jerusalem) and in Israel. The objective was to grant access to medical treatment to patients who were to have been treated in Egypt. For example, in August, requests for passage through the Erez Crossing were submitted for 1,023 patients; 932 were granted permission. In contrast, only 585 such requests were made in August 2012, of which 543 were approved.
However many other Gazans scheduled to travel abroad for other purposes have been left with no recourse. Students studying outside of Gaza have had great difficulty getting through Rafah Crossing over the last three months. Some even missed the beginning of the school year due to the delays. Nineteen-year-old Sarah a-Sharif, of a-Sheikh Radwan neighborhood, Gaza City, is a third-year student of biotechnology and genetic engineering studies at the Jordan University of Science and Technology. Over the course of three weeks she tried continuously to get out of Gaza through Rafah Crossing, finally succeeding on 1 October 2013. Before a-Sharif was granted permission to cross, she told a B'Tselem field researcher:
On 30 May 2013, my second year of university studies in Jordan ended. The next day, I travelled to al-'Arish Port and from there to the Gaza Strip to visit my family. I wanted to visit my mother, brothers, relatives, friends, neighbors, and also to spend some time in Gaza City, having been away for two years. [...] I was supposed to return to Jordan on 18 September. University studies resume on 22 September.

After I heard that Rafah Crossing isn't open every day, I registered with the Ministry of the Interior to cross on 12 September. I also registered with the Office of Civilian Affairs, to request to travel through Erez Crossing. [...] Since Rafah Crossing was closed, I've regretted my visit to Gaza. I'm in bad shape emotionally. I was planning to get to Jordan a few days before the school year starts so I could put my room and belongings – which I'd left in storage – in order. I also planned to use the time to buy books and other things that I need for my studies.

I hope Rafah Crossing will be opened so that I can go back to Jordan and finish my studies, even though I'm really afraid of the eight-hour trip from Rafah to the airport in Cairo. There are lots of problems along that route now – violence and terrorist attacks – and I'll be travelling alone. But I have to do it so I can get back to my studies.
The closure of Rafah Crossing has had financial repercussions for merchants in the Gaza Strip. At present, only a limited number of merchants are permitted into Israel and the West Bank via the Erez Crossing, whereas many merchants had been traveling abroad through Rafah Crossing to buy goods for sale in Gaza. However, since July the Egyptians have not been permitting merchants through Rafah Crossing. Adib al-Mukhlalati, 49, of a-Rimal neighborhood, Gaza City, and owner of a clothing shop, recounted the following to B'Tselem:
I have a shop for women's and children's clothes. I buy children's clothes that are made in Gaza and I import women's clothes from Turkey. I go there about once every three months, through Rafah Crossing. In the past, from 1990 to 2008, I used to travel through Erez Crossing, and sometimes I bought merchandise in Israel. I had an entry permit that was valid for one or three months at a time, and I could renew the permit through the Ministry of Trade in Gaza. Since 2008, crossing Erez has been forbidden, and I haven't entered Israel since.

[...] In 2010, getting through Rafah Crossing became easier, and so did bringing goods through Kerem Shalom Crossing. So I started going to Turkey to buy women's clothes there. The clothing was sent to Ashdod Port, and from there I received it via Kerem Shalom Crossing. In the last two years, the passage of goods improved significantly and I didn't have any problems with work. The last time I left Gaza was in May 2013.

In the summer, disruptions began at Rafah Crossing, and it was being opened and closed irregularly. Egypt restricted the number of people allowed through the crossing to certain groups, which didn't include merchants. This has caused us a lot of trouble and hurt us financially. We merchants are worried it will be a long time before we can go abroad, and that this will mean going back to the tough situation we used to be in, before Rafah was opened and restrictions on imports were eased. Those were very tough years and we lost a lot of money.
According to the Palestinian Bureau of Statistics, 27.9 percent of Gazans were unemployed in the second quarter of 2013. In view of these figures and the harsh reality of life in Gaza, the prospect of finding work in another country is extremely appealing. Ahmad a-Laham, 26, of the city of Deir al-Balah works in a cafeteria. He told B'Tselem how he lost a job opportunity abroad due to the restrictions at Rafah Crossing:
I work in a cafeteria in Gaza City and make 1,200 shekels (about 350 USD) a month. I have a bachelor's degree in Arabic Studies from al-Aqsa University. [...] My brother Muhammad is a construction engineer and has been working in 'Oman for the past four years. [...] Two years ago, I asked him to find me a job there, too, so I could work in education and also earn better wages. Since I got my degree two years ago, I've been trying to find work in schools in Gaza, with no luck. There are more and more university graduates, but because of the siege, there are no construction materials, so new schools can't be built. I thought of working at study centers, but even that didn't work out. I'm frustrated with my job, and I can't save enough money to get married and live like everyone else.

About three months ago, my brother told me that he'd found me a job in a school in 'Oman. He started the process for getting me a travel visa to 'Oman. At the beginning of June 2013, he got me a one-month entry visa. When I tried to travel, too many people had registered, making the crossing packed and impossible to get through. Then the crossing was closed because of the trouble in Egypt. My brother got me two more time-limited visas, but both expired before I could get through Rafah Crossing.

[...] Because the crossing was closed, I couldn't make my dream come true, and I lost both the job and the opportunity I'd been hoping for for so long. It was an amazing opportunity to get work in my field, and I may not get one again. I follow the news and movement at Rafah, and I keep in touch with my brother. I keep thinking about the fastest way possible to get to my brother in 'Oman, so I can live there and leave life in Gaza behind, because there is no chance of a better life here.
At present, people who must travel abroad for professional seminars and work-related meetings are not allowed through Rafah Crossing. Muhammad Srur, 32, of Tal al-Hawa, Gaza City, is a researcher at the Independent Bureau for Human Rights in Gaza. In his testimony to B'Tselem he related how he had been unable to travel to a human rights seminar which he was to attend on behalf of his employers:
Since 1997, my organization has sent one employee every year to Tunisia, to attend the ten-day "Anabtawi" human rights course there. Employees from other human rights organizations in Gaza and the West Bank also attend. [...] I registered for the course a few months ago and did part of it on-line. Once a week, over the course of a month, the instructors send a question to the students, who then analyze the issue from a human rights perspective and send in their answer.

I received a one-month entry visa to Tunisia, valid from 27 August. I was scheduled to travel on 29 August, but couldn't, because only foreign nationals and patients were allowed through Rafah Crossing at that time. I tried to register with the Ministry of the Interior to travel on another day, but they refused to register me because I wouldn't be allowed through in any case. I missed my trip and the course. It was very frustrating and meant that I missed an opportunity for meeting colleagues and developing professionally. I don't know if travelling to attend the course next year there will be an option.
Israel keeps the residents of the Gaza Strip from operating an airport and sea port, bars them from traveling abroad via either the Allenby Crossing that connects the West Bank and Jordan or Israeli airports. These actions render Rafah Crossing the only exit route from the Gaza Strip. However, even when Rafah Crossing is functioning regularly, going through it is subject to arbitrary restrictions imposed by the Egyptian authorities, and travel abroad requires a long, dangerous journey through the Sinai desert. Therefore, the passage into Egypt cannot be considered an absolute solution for travel for Gaza residents to other countries.
Israel's policy prevents Gazans from fulfilling their right to freedom of movement. Even now, eight years after Israel completed its Disengagement Plan from the Gaza Strip, the extent of its control over access to Gaza means Israel is responsible for enabling residents to fulfill their right to freedom of movement and its attendant rights, including the right to earn a living, the right to an education and the right to sustain family ties.
Israel cites security concerns as justification for some of the restrictions imposed on the residents of Gaza. Such security concerns can be addressed by means of specific restrictions on travel and by conducting individualized inspections. Yet security considerations cannot justify the comprehensive restrictions Israel imposes on all residents of the Gaza Strip.*