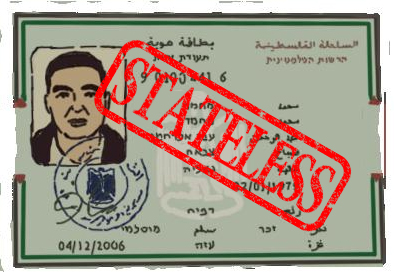 There are 40,000 to 50,000 individuals currently living in the Gaza Strip without ID cards recognized by Israel, and they have no official status anywhere else in the world. Some of them were born in the Gaza Strip but were never recognized as residents by Israel; some fled the Gaza Strip during the 1967 war, or left Gaza for various reasons after 1967 and returned later. A small number of these individuals were born in the Gaza Strip and have never left it, but do not have ID cards for various reasons. Other stateless individuals in the Gaza Strip are Palestinians from abroad who married Gaza residents, entered Gaza with visitor permits and remained after their permits expired.
Individuals who live in the Gaza Strip without status and without an ID card or a passport of any country find it difficult to lead normal lives. They cannot leave the Gaza Strip for any reason, including studies, work, visiting family or pilgrimage to Mecca (al-Hajj). They cannot hold down jobs that require travel outside the Gaza Strip. Any stateless individuals in need of medical treatment not available in the Gaza Strip cannot go to Egypt to receive treatment and very rarely do they receive permission to enter Israel for this purpose. All of this is compounded by the constant overall sense of insecurity experienced by people who have no official status. This feeling is linked, among other things, to fear of an Israeli incursion into Gaza which may result in their deportation.
Walid Judah, 26, was born in Kuwait to parents who left the Gaza Strip in 1965 to work abroad. In 1999, he arrived in the Gaza Strip along with his parents on visitor permits requested for them by relatives. Judah's parents applied for family reunification for the entire family. Yet shortly after, in 2000, Israel froze all family unification procedures. Judah finished high school with honors in 2004 and received scholarships to study abroad, but could not travel because he has no ID card. Following is what he told B'Tselem:
In 2004, I finished high school with a 95.5% average. I got two scholarships from the Palestinian Ministry of Education, one to study engineering in Turkey and the other to study medicine in Tunisia. Because I don't have an ID card, I couldn't go. I stayed in Gaza and studied information technology at al-Azhar University, even though I wasn't interested in this profession. I wanted to study dentistry abroad, but I couldn't. I stayed in Gaza and finished my studies.

After I finished my studies, I was unemployed for two years. Then I got a job with the welfare agency, as head of their information department. I'd like to study for a Master's degree outside of Gaza, but I can't, because I don't have an ID card. I got married two years ago. My wife does have an ID so our two children were registered on her card.
Rafiq Masah, 78, came to Khan Yunis in the Gaza Strip as a young refugee from Majdal, present-day Ashkelon in 1948. He got married in the Gaza Strip and had four children. According to Masah, in 1967, after Israel occupied the Gaza Strip, he was deported to Egypt along with other men from Khan Yunis. He was later joined by his family. The family then moved to Kuwait, where he found a job. In 1995, one of his sons returned to the Gaza Strip on a visitor permit and received official status through the family reunification procedure. In 2000, Rafiq Masah returned to the Gaza Strip with his wife and one of their daughters on visitor permits their son had obtained. They filed for family reunification, but the application was not processed because of the Israeli freeze on these procedures. In his testimony to B'Tselem, Masah describes the difficulties he has had as a stateless person in the Gaza Strip:
Before the Israeli military withdrew from Gaza, I couldn't visit my relatives in Khan Yunis, in the southern Gaza Strip, because of the many checkpoints the military had established. There was a checkpoint at [the settlement of] Netzarim that separated Gaza City from the central Gaza Strip and one near [the settlement of] Kfar Darom, which separated the central part of the Gaza Strip from northern Gaza. I was afraid to go through the checkpoints because the soldiers ask to see IDs, and if they'd realized I didn't have one, I could have been deported from Gaza. I was only able to visit relatives after the Israeli withdrawal.

I have a heart condition and arthritis, and I need medical care that I can't get in Gaza. The doctors in Gaza only give me drugs and pain killers, but that doesn't solve the problem. I also really want to go visit my children who live in Saudi Arabia. I haven't seen them since 2000.
Israel still retains control of the Population Registry of the West Bank and the Gaza Strip. Although the Oslo Accords imparted much relevant authority in this sphere to the Palestinian Authority, Israel stopped updating its copy of the population registry in 2000 and no longer recognizes changes made to it by the PA ever since. Israel now only allows the PA to register births and deaths and to issue replacements for worn documents. As a result, the PA and the Hamas government have no possibility of issuing recognized ID cards to residents of the Occupied Territories.
In an attempt to resolve the plight of stateless individuals in the Gaza Strip, in January 2008, the Hamas government began issuing temporary internal ID cards to Gaza residents who are not listed in the Population Registry. This measure was implemented in order to help these individuals in leading their daily life within the Gaza Strip and enable them to do things like open a bank account, enroll children in school or acquire medical insurance. According to figures collected by the Ministry of Civil Affairs in Gaza, there are currently about 20,000 Palestinians in Gaza who hold these temporary ID cards. However, these cards are not valid at the crossings into Israel or at the Rafah border crossing to Egypt, currently managed by Hamas and Egypt. Egypt does not allow individuals who have these cards to cross the border, unless they also hold Jordanian passports. Individuals who have expired Jordanian passports are permitted to leave, but cannot return without renewing their passports.
Najah Tawil, of Gaza City, recounted her existence as a stateless individual:
In 1967, before the war, my father went to Egypt to study at the university. He wasn't present in the Gaza Strip when the census was conducted, so he wasn't registered. In 1970 he traveled to Saudi Arabia where he married my mother, who is also a native of Gaza… My mother got an ID as far back as 1998 in a family reunification procedure. My brothers came to Gaza on a visitors permit in 1999, and my father and I joined them in 2000… We all had Jordanian passports valid for two years, but now they can no longer be renewed. I have an ID card issued by Hamas. I used it to open a bank account, but it's not good for anything else… I stopped thinking about school or work outside of Gaza… Our lives depend on having an ID card and a passport.
Citizenship status is what facilitates the existence of civil structures, allowing citizens to communicate with the ruling authorities. It is crucial to leading a normal life and necessary in order to exercise the right to enter a country, achieve equality before the law, have access to health services and employment options and more. Because of its great importance, the right to nationality has been enshrined in Article 15 of the Universal Declaration of Human Rights, and states are prohibited from arbitrarily revoking this right. Since the Declaration, attempts have been made to enshrine the right to nationality in international conventions. Among others, in 1954 the UN accepted the Convention Relating to the Status of Stateless Persons and in 1961, the Convention on the Reduction of Statelessness. These conventions reflect the concept that this status is essential for every person.
Israel, which still controls the Palestinian Population Registry, must allow all stateless individuals in Gaza to obtain official status, so that they may lead normal lives. As a first step in this direction, Israel must complete the process of regulating the status of 10,000 stateless individuals whose applications for family unification were approved as part of the goodwill gestures offered to the PA in 2007, but were not granted the official status once the process was frozen in 2008.
Click here for more information on stateless residents of the Gaza Strip.
* Testimonies were given to B'Tselem field researcher Muhmmad Sabah.