Update: In its response to B'Tselem's report, the MAG Corps stated it would not launch an investigation of the circumstances due to the absence of suspicion of a criminal offense or a well-founded suspicion of a breach of the laws of armed conflict.
On 20 November 2012, a delegation composed of Arab foreign ministers and the foreign minister of Turkey visited Gaza City. Many people lined the streets of a-Shuja'iyeh neighborhood, waiting to see the convoy.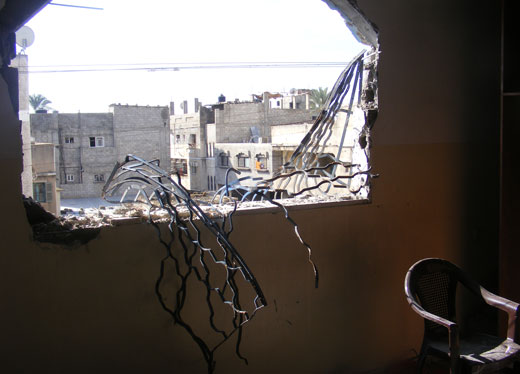 Missile struck a-Shawas' apt. through this window. Photo: Muhammad Sabah, B'Tselem, 26 Nov. 2012
Around 4:30 PM, a few minutes after the convoy had passed and while the street was still filled with crowds, two missiles were fired into the apartment of the a-Shawa family, located on that street. Four people were killed in the bombing, including Yusra a-Shawa, 18, who was inside the apartment. Three other people were killed on the street: Mahmoud a-Zuhri, 21, Saqer Bulbul, 57, and Tareq Hajilah, 40. More than twenty other people were injured in this incident. According to B'Tselem's investigation, none of the Palestinians killed had taken part in the hostilities, nor did any of the residents of the house that had been bombed. In her testimony to B'Tselem, Muna a-Shawa, Yusra's mother, recounted the bombing:
From the time the war began we stayed at home and followed the news. We also watched the visit by the Arab foreign ministers to Gaza on television. They visited the a-Shuja'iyeh neighborhood and several homes where bereaved families were receiving condolence visits. Things were quiet as the Arab foreign ministers' convoy went by. Three of my children also went down to see the convoy go through the neighborhood. The street was full of people. My daughter Yusra, 18, was sitting watching television in our western room. I was standing by the window of the eastern room, next to Yusra's room, and was about to call my children – Mustafa, Muhammad, and Mahmoud – to come upstairs.

At about 4:30 PM, before I had a chance to call them, I heard an explosion inside my apartment. I saw dust and debris flying everywhere. I felt pain. I took a few steps and took hold of Yusra's hand. She took half a step together with me and then fell down. I tried to find her but couldn't because of all the dust and debris. I called out to her but she didn't answer. I got to the front door. My son Muhammad came to the door, grabbed me and took me down to the street. I said to him, "Go find Yusra." He told me she had been killed. People tried to give me first aid, but I told them to leave me alone and that I wanted to see my daughter. But my children, along with other people, forced me to get into an ambulance because my left leg had been wounded and I was bleeding. When I got to the hospital, they began giving me first aid, but I wouldn't talk with anyone and said that I wanted Yusra. I wanted to see her and make sure that she was okay, but I could feel that she wasn't all right.

Amin al-Ghalban, 41, gave B'Tselem his account of what happened when the people on the street were hit:

,I have a shop called al-Haitham Mobile Phones Center. We sell and repair cell phones. The shop is located on Baghdad Street in a-Shuja'iyeh neighborhood, near the a-Shawas' home. Tareq 'Awni Hajilah is my partner in the shop. Since the war began, we've been opening the shop at 10:00 or 11:00 in the morning and closing at 4:00 in the afternoon, because of the fear and the bombings from the airplanes circling over Gaza.

At around 4:15 on Tuesday afternoon, 20 November 2012, we closed the shop as usual. My partner Tareq Hajilah and I stood for a little while next to the shop door and then Tareq left. He had walked about ten meters when I heard an explosion and saw smoke and dust coming from Basel a-Shawa's apartment. The whole street was enveloped in dust.

I took out my mobile phone and called Tareq to make sure he was okay, but I couldn't reach him. I stayed where I was for another two minutes or so, and then Tareq's brother answered the phone and told me that Tareq had been killed.

The document that the MAG Corps issued provided an identical answer to the one about the investigation of the a-Dalu family (see above). Similarly, no information was provided to explain the discrepancy between the efforts reportedly undertaken to minimize harm to civilians and the actual devastation.