On 19 November 2012, the Hejazi family – the father Foua'd, the mother Amneh, and their eight children, aged two to twenty – were in their home in Jabalya Refugee Camp. Their tin-roofed house has three rooms, a kitchen and a shower, and is located in the heart of a densely populated residential area of the camp. Testimony collected by B'Tselem shows that none of the family members had taken part in hostilities.
At around 7:00 PM, the family sat down to supper. Some twenty minutes later, six of the children and their mother Amneh went to watch television. Their father Foua'd remained in the living room to recite the evening prayer. Two of the children – Suhaib, 2, and Muhammad, 4, remained with him and played with a bicycle.
About ten minutes later, at around 7:30 PM, their house was bombed and collapsed. A neighbor, Nassim Hiju, 50, described the moment the missile hit:
On Monday, 19 November 2012, at around 7:30 in the evening, I was in my apartment and heard the noise of bombing and the sounds of airplanes flying overhead. My wife was in the kitchen baking bread in an electric cooker. I was watching cartoons on television with my children, so they wouldn't be frightened by the bombings and the sound of the airplanes. I have four children under the age of 13. Suddenly we heard a very powerful explosion. The apartment shook and I heard glass shatter. The children screamed and cried. I was alarmed and got up right away. Everyone in the house was shouting; we didn't know what had happened. We went downstairs and found that Foua'd Hejazi's house had been bombed.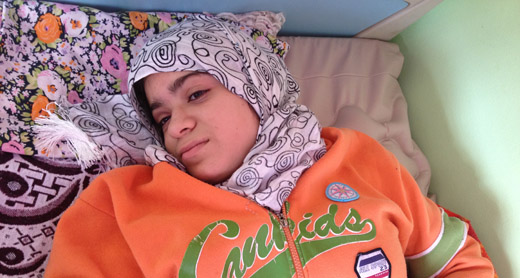 Nur Hijazi at her home. Photo: Muhammad Sabah, B'Tselem, 29 Nov. 2012
Foua'd and two of his children, Suhaib and Muhammad, were killed in the bombing. The mother was wounded and taken to Egypt for medical treatment; a daughter, Nur, 19, sustained serious back injuries – her spine had been fractured. As of the writing of this report, she is confined to a wheelchair. The other children sustained light injuries. Following is Nur Hejazi's account of what transpired:
On Monday evening, 19 November 2012, we were watching television. At around 7:30, I saw the flash of a bomb and then the house fell down on top of us. I heard the walls breaking and cracking. I was hurled through the air and landed in the house of our neighbor 'Ayed Abu Salaha. Then I fainted.

I regained consciousness about two hours later and found myself at Kamal 'Adwan Hospital. I felt terrible pain in my back and was told that my spine had been fractured. I was discharged four days later. I am still in pain and lying on my back. I can't sit or walk, and must use a wheelchair. The doctors said this will be the situation for over two months. I can't go to school, even though this school year is crucial to determining my future.

I lost my father and my brothers Suhaib and Muhammad. I was very close to my father, who always showered me with warmth. It wasn't just the bond between a daughter and her father, but a bond of real friendship. I lost a good and dear person. I also lost two little brothers who I always played with. When I'd come home from school, they'd run to me and hug me. My mother was also injured, suffering a concussion and lacerations all over her body. I pray that she comes back safely from Egypt. She's all I have left.
On 11 April 2013 the Office of the Military Advocate for Operational Matters informed B'Tselem that the investigation of the complaint has not yet been completed.