Update: In its response to B'Tselem's report, the MAG Corps stated it would not launch an investigation of the circumstances due to the absence of suspicion of a criminal offense or a well-founded suspicion of a breach of the laws of armed conflict.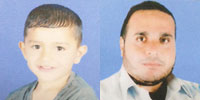 On 18 November 2012, at around 10:00 PM, there was an Israeli air-strike on Jabalya Refugee Camp in the northern Gaza Strip. Jalal Naser, 36, and his 6-year-old son Hussein who were on the roof of their house at the time of the strike, were injured when the roof received a direct hit. Hussein was killed on the spot. His father died of his wounds a few hours later, in hospital.
According to testimonies and additional information about the incident compiled by B'Tselem, no rockets had been fired from the vicinity of the Nasers' house prior to the strike. According to B'Tselem's information, Jalal Naser was not a member of any Palestinian armed group. He worked as a car dealer, buying and selling motor vehicles.
In her testimony to B'Tselem, Maryam Naser, 32-year-old mother of seven, recounted the bombing that killed her husband and son:
On Sunday evening, 18 November 2012, the whole family was home. Now and then we heard explosions and airplanes flying overhead, above the refugee camp. Just before 10:00 o'clock, we heard a powerful explosion that shook our house. My husband, Jalal, went up to the roof to see where the bomb had hit.

About ten minutes later, my son Hussein, who is six years old, went up to the roof to get his father. He was afraid that something would happen to him. A few minutes later, I heard a powerful explosion from the direction of the roof. The house filled with dust and smoke. I went outside. I was hysterical. I was crying and screaming. I asked Jalal's brothers to come over and they came to the house. I told them that Jalal and Hussein had been on the roof. We went up to the roof and called Jalal but he didn't answer. Then I saw Jalal and Hussein. They were covered in blood. I began screaming hysterically. Jalal's brothers took me out of the house and brought me to one of their houses. A few minutes later, they told me that Hussein had been killed and that Jalal was seriously wounded and on his way to the hospital. A few hours later, at around two o'clock in the morning, I was told that Jalal had died too. I was in shock and couldn't stop crying.
B'Tselem applied to the IDF Spokesperson for further information about the circumstances of the incident. In response, the Military Advocate for Operational Matters informed B'Tselem on 11 April 2013 that the case-file had been closed once "no suspicion of a criminal offense or a well-founded suspicion of violation of laws of war by any military entity had been found". The response was given without any accompanying information to support this conclusion.