The extended Abu Khusah family lives in an isolated three-story house with a wall-enclosed inner-courtyard. The house, located in al-Bureij Refugee Camp about 1.5 km from the border with Israel, is surrounded by agricultural land which was bombed by Israeli planes during Operation Pillar of Defense. Therefore, the Abu Khusah children did not leave their home's courtyard. B'Tselem's investigation found that no member of the Abu Khusah family belonged to a Palestinian armed group. It was also found that no armed Palestinians had operated in the vicinity of the family's home.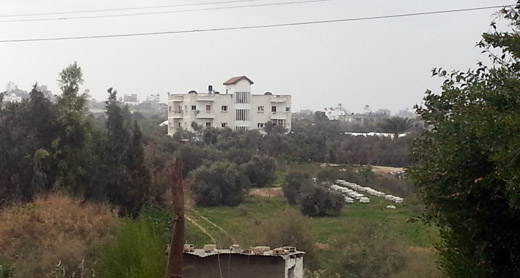 The Abu Khusah family home. photo: Muhammad Sabah, B'Tselem, 16 Dec. 2012
On the morning of 18 November 2012, at around 8:00 AM, an Israeli plane fired into the courtyard. One-and-a-half-year-old Iyad Abu Khusah was killed by shrapnel that hit him in the head. Shrapnel hit his six-year-old brother Suhaib in the face and neck. His four-year-old cousin Sarah was hit by shrapnel in the abdomen and the lower torso. Following is an account of the incident as related by Sarah Abu Khusah, 65, the children's grandmother:
At about 8:00 o'clock in the morning, three of my grandchildren were playing in front of the house, which is part of the house's compound… Suddenly we heard a huge explosion nearby. We all ran outside to see what happened. I was in shock when I saw that the point that was hit was right next to the wall that encloses the house, and that it had actually destroyed the wall. I saw my grandson Iyad lying dead on the ground. He had been hit directly by shrapnel. Another of my grandsons, Suhaib, was lying on the ground beside him but he was moving. Sarah was also lying on the ground. I called for an ambulance right away and picked up Iyad.
The three children were taken to hospital. Due to the severity of their injuries, Suhaib and Sarah were transferred to the intensive care unit. Two days later Sarah was transferred to a hospital in Egypt, where she underwent surgery on her legs. She returned to Gaza about two weeks later.
On 11 April 2013 the Office of the Military Advocate for Operational Matters informed B'Tselem that despite extensive efforts, they had found "no strike by IDF forces that matches the particulars of the complaint."