Yesterday, 14.11.2012, the Israeli military launched Operation Pillar of Defense in the Gaza Strip. In a press conference, Minister of Defense Ehud Barak stated that the "goals of the operation are strengthening Israel's deterrence, crippling the rocket-firing capacity, striking a painful blow to Hamas and the terrorist organizations and minimizing harm to the home-front.
According to statements by the IDF Spokesperson, the military had thus far attacked over 150 targets throughout the Gaza Strip, aiming to "disrupt the terrorist organizations' rocket-launching capacity and to curtail increase in their strength". According to B'Tselem's preliminary investigation, at least 11 Palestinians were killed in these attacks, of which four were civilians. Over 130 Palestinians were injured, many of them seriously. B'Tselem continues to receive and verify reports from the Gaza Strip on additional incidents, in which civilians were killed and wounded, and more information on these will be released in the coming days. Simultaneously, according to official Israeli sources, Palestinians had fired over 200 rockets towards civilian areas in Israel. As a result of this, three Israeli civilians were killed and dozens were injured or are suffering from panic attacks.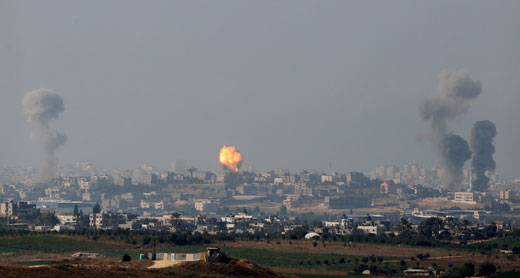 Israeli bombing in the Gaza Strip, 15 Nov. 2012
Almost four year ago, between 27.12.08 and 18.01.09, the Israeli military carried out Operation Cast Lead in the Gaza Strip. This operation caused unprecedented damage to the civilian population: over 700 civilians who did not take part in the fighting were killed – including entire families and over 300 minor. Thousands of civilians were injured and tens of thousands were left homeless. Investigations into this operation raised grave suspicions that Israeli forces committed war crimes. Israeli officials rejected all demands to investigate the conduct of the political and military echelon responsible for the operation. The military on its part only investigated individual incidents, and these investigations did not meet the standards of an independent and thorough investigation geared at uncovering the truth.
Hamas combatants, as well as other armed Palestinian groups operating against Israel, fire at civilian targets within Israel from within Palestinian civilian areas and do not distinguish themselves from the civilian populations. This conduct is a severe violation of International Humanitarian Law and as such, it constitutes a war crime.
As was the case four years ago, Israeli officials are now using the conduct of Palestinian organizations to justify harm to Palestinian civilians. The military has committed itself to doing its utmost to minimize harm to civilians. However it also emphasized that it is not responsible for harm inflicted to civilians.
However, this position is fundamentally flawed. The fact that Hamas combatants and other organizations operate contrary to the law does not automatically justify Israeli actions that harm civilians. The fact that one side violates the law does not give the other side the right to violate it as well. Israel is still bound by the duty – legal and moral – to use all the means at its disposal to minimize as much as possible harm to civilians, despite Hamas' illegal conduct.
During Operation Cast Lead, the Israeli military ignored this principle. B'Tselem cautions against the possibility that it will ignore it in the current operation as well, in order to justify harm to the civilian population. Therefore, and based on the lessons of the previous operation, B'Tselem wishes to emphasize some basic rules by which the military must operate, in keeping with commitments undertaken by the State of Israel:
It is absolutely forbidden to deliberately harm civilians, all the more so when they are carrying white flags or showing any other signs of surrender. To avoid such incidents the military must ensure that forces in the field inform one another when they have ordered civilians to move from one location to another or when they have ordered them to congregate in one area.
Prior to any attack where there is a concern that civilians will be harmed, the military must warn civilians who are in harm's way in a way that would allow them to protect themselves. The military claims it does this, by dispersing leaflets and making phone calls, but this is not sufficient: civilians must be given enough time to evacuate their houses and they are to be provided a safe evacuation route and a protected place.
Soldiers are forbidden to use Palestinian civilians as human shields to protect themselves from possible harm. Under the same principle, soldiers are not allowed to order civilians to check suspicious objects or structures, to mediate between soldiers and armed Palestinians or to walk in front of soldiers in the street.
It is strictly forbidden to deliberately harm civilian objects – including government buildings, power plants, food sources and water, electricity and sewage infrastructure. If infrastructure was damaged, it must be allowed to be fixed as soon as possible.
The military must appoint people whose job it is to address urgent problems, including evacuating the wounded or sick, rescuing people from under wreckage and transferring food and water to civilians. These people must be available to residents of Gaza and their contact information must be disseminated.
It must be made clear to soldiers that they are to allow free movement to medical teams and strictly refrain from firing at them. In exceptional cases, if the need arises, it is possible to perform security checks, but medical assistance must not be delayed in a way that will hurt the wounded and sick.
In densely populated areas, the military must not use imprecise weapons – such as mortar fire and flechette shells - as these are liable to harm civilians and civilian objects. The use of phosphorus shells is strictly prohibited.
Protection of civilians stands at the heart of international humanitarian law. They must never be targeted; all measures must be taken to protect them. B'Tselem demands that the Israeli government respect these principles at all times and under all circumstances.