For about a year, the Israel Police has been conducting a harassment operation in the East Jerusalem neighborhood al-'Esawiyah. As part of this campaign, many Border Police and Special Patrol Unit officers enter the neighborhood daily, for no apparent reason. Their very presence creates friction with the residents, including arguments and filming of police operations, and in some cases throwing of stones and shooting of fireworks at police officers. The police use these actions as justification for a violent response, which includes throwing stun grenades, firing sponge rounds, and physical assaults on residents.
According to U.N. data*, since April 2019 100 neighborhood residents have been injured by sponge rounds. Firing of sponge rounds in the middle of a residential neighborhood can lead to grave and even fatal consequences. In order to prevent such consequences, the regulations restrict the use of this ammunition, prohibit firing it towards the upper body or at minors, and limit the minimal open fire range. Nonetheless, in recent years, hundreds of Palestinians in East Jerusalem have been injured by sponge rounds. The extensive documentation of these incidents has proven that police officers are either unable or unwilling to use this ammunition properly. Yet the Israel Police refuses to change its open-fire regulations or ban the use of this ammunition. The police also refrain from taking any significant action against those in the chain of command who are responsible for these injuries. This conduct is indicative of police policy, which supports and encourages this widespread tactic of deliberate and illegal firing at civilians.
In three cases documented by B'Tselem in February and March 2020, three minors – 8, 9 and 16 – were injured by sponge rounds. One lost his eye as a result. All the testimonies were given to B'Tselem field researcher 'Amer 'Aruri.
* According to the database on the protection of civilians in the United Nations Office for the Coordination of Humanitarian Affairs (OCHA). 
The injury of Malek 'Issa (8), 15 February 2020: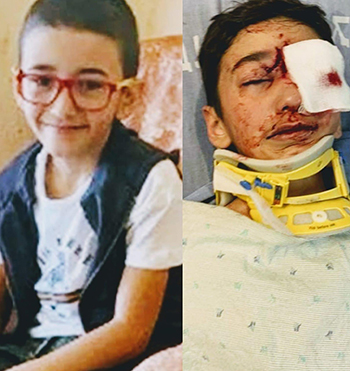 On Saturday afternoon, 15 February 2020, around 3:00 P.M., police vehicles carrying Border Police and Special Patrol Unit officers entered the East Jerusalem neighborhood of al-'Esawiyah. Several officers went to a house that lies near the local elementary schools to arrest a couple who live there. After a verbal exchange, they agreed the couple would come to the station independently for interrogation. The officers began to leave the neighborhood. Meanwhile, traffic jams built up in the area, mainly as a result of the police presence.
Around 3:45 P.M., eight-year-old Malek 'Issa left the grocery store near his home. He began running home but after crossing the street, was struck in the head by a sponge round fired by a Border Police officer standing about 15 meters away. 'Issa was rushed by car to a medical clinic in the neighborhood, then transferred to Hadassah Mt. Scopus Medical Center and from there to Hadassah Ein Kerem Hospital. He underwent surgery in his head and later in his left eye. Eight days later, he underwent surgery again and his eye was removed.
According to media reports, the officer who shot 'Issa claimed he had fired at a wall to "calibrate his sights". A report five days after the shooting stated that the MPIU had questioned under caution two officers who were present at the incident, on suspicion that one of them was the shooter.
Diaa' Nasser (19) from al-'Esawiyah was working in construction in his relative's house near the grocery store. He went out to get some air and stood near where Malek 'Issa was shot. In a testimony given on 16 February 2020, he recounted:
I was standing in front of the grocery store when I saw Malek go inside, and then I saw his sisters crossing the street towards me. A few minutes later, Malek went out of the store and ran across the street, and then I heard a gunshot. I think it was a sponge round. I saw Malek fall down. He was about 10 meters away from me. I saw a member of the occupation forces wearing a belt with sponge rounds, I think they were black, about 15-20 meters from Malek. I think he was the one who shot Malek.

Even though Malek was injured and people started screaming, and his brothers and sisters were crying, the occupation forces retreated without giving him any medical help.

Malek was lying on the ground, his face was bleeding, and he was crying and twisting in pain. A few guys picked him up and took him away in a private car.
Malek's mother, Sawsan 'Issa (42), a married mother of six, described her son's life since the injury in a testimony she gave a B'Tselem field researcher:
Sawsan 'Issa. Photo by 'Amer 'Aruri, B'Tselem, 4 March 2020

On Saturday afternoon, my 12-year-old daughter Tala called to tell me that she and her brothers would be getting off the bus soon, so I could pick them up as usual. I told her the weather was pleasant and they should walk home. Five minutes later, she called again. She was screaming and crying and told me Malek had been hit by a sponge round. I felt my world collapse. My husband and I hurried to the place where Malek was shot. When we got there, I was told he had been taken to Hadassah Mt. Scopus Medical Center.

I arrived at the hospital crying. When I saw Malek, his face was covered in blood, his eyes were swollen and he was screaming in pain. I told him, "Malek, Mama's here". He replied: "Mama, I can't see from my eye. My head is exploding with pain. Something is stabbing me in the eye."

Malek was taken for an X-ray. When he came out, he started vomiting blood. The doctors treated him and immediately transferred him to Hadassah Ein Kerem Hospital for urgent surgery.

We rode with him in the ambulance. I held his hand the whole time, trying to cheer him up and keep him calm. I cried silently and hoped he wouldn't hear me. The paramedic advised me to keep talking to Malek so he wouldn't lose consciousness.

At Hadassah Ein Kerem, Malek was X-rayed again and underwent two operations, one for the fracture in his head and another for his eye. After the second operation, the doctor informed me they hadn't been able to save his injured left eye and that we had to authorize eye removal surgery. I begged the doctor to find a different solution, because Malek's a sensitive child and removing his eye would be very bad for his mental health. The doctor understood but said there was no choice and gave us two days to decide.

It was the hardest decision my husband and I ever made. We approved the surgery. When it was over, I told Malek he had only one eye left and that they would replace the other with a glass eye. He started screaming and crying: "I want my eye back! Who took my eye!?". He was crying hysterically.

He still cries a lot. He has mood swings and complains a lot. He also started sleeping beside me. He's going through a mental health crisis and I need to pay a lot of attention to him, at the expense of my other children. He's become very dependent and only feels safe when I'm around. If I leave the house, he follows me out the door and asks: "Where are you going? Are you leaving me alone?". He has nightmares and talks in his sleep about what happened, groaning in pain and saying: "Ow, my eye, I want my eye back".

Malek 'Issa looking at a photo of himself before the injury. Photo by 'Amer 'Aruri, B'Tselem, 4 March 2020

We're waiting for Malek to be fitted with a prosthetic eye. He keeps asking when it will happen. It's very important to him. Maybe he thinks it will bring back his eyesight. I'm concerned that if he realizes its only cosmetic surgery that will not affect his eyesight, his mental state will get worse.

Life in the neighborhood has become unbearable over the last year because of the daily police raids, the stun grenades and the firing of sponge rounds at residents on the street. The constant presence of police officers, on the way to school and back, makes the children anxious and worried all the time. It's bad for their concentration and we're worried it will damage their academic achievements. I've also lost my sense of security. Because my husband and I feared for the safety of the kids every time they left for school, we transferred them to a school outside the neighborhood. We thought we could protect them from the occupation forces that way, but it didn't work, and Malek got injured on his way home from the bus.
The injury of Muhammad Atiyyah (16), 3 March 2020
On Tuesday morning, 3 March 2020, around 11:00 A.M., residents hurled stones and shot fireworks at a van carrying several Special Patrol Unit officers, as it passed by the local boys' school. The van stopped and about five officers got out, near an entrance to the school. Video footage posted on social media shows the officers forcefully removing a sandwich seller by the school gate, and one of the officers firing a sponge round into the school's courtyard. Muhammad Atiyyah (16), a tenth-grade student who was standing with his cousin a few meters from the gate, was hit in the hand.
In a testimony he gave on 5 March 2020, 'Atiyyah related:
Muhammad 'Atiyyah at home. Photo by 'Amer 'Aruri, B'Tselem, 5 March 2020

I was standing in the courtyard, by the gate, when I saw a white patrol car stop in front of the school and stones being thrown at it.

Several Special Patrol Unit officers got out and some students started yelling at them. One of the officers went up to the gate and fired one shot, which hit me in the palm of my hand. I was about seven meters from the gate, inside the courtyard.

I felt dizzy. My cousin helped me and ran with me to the principal's office. The principal called my parents and asked them to come to the school. A few minutes later, the police called the school and asked the principal to let them in so they could drive me to get treatment in an ambulance. The principal told them my parents were on the way and would take me to a clinic.

About ten minutes later, my two older brothers arrived and took me to the Clalit HMO clinic in al-'Esawiyah. The doctor said I had to get to Hadassah Mt. Scopus Medical Center immediately. We drove there and I waited for four hours in the ER. Then I was X-rayed and given some painkillers. Two days later, my hand was bandaged in a medical clinic in the neighborhood.

My little finger is sprained and I can't hold a pen to write.
Muhammad's mother, Hajar 'Atiyyah (51), a married mother of seven, recounted in a testimony she gave on 5 March 2020:
On Tuesday, around 11:15 A.M., I got a call from my son's school. The principal told me Muhammad had been hit in the hand by a sponge round and said one of his parents had to take him to a medical clinic.

I started screaming and crying. I made the principal swear to tell me the truth – whether Muhammad was really injured in the hand and not in in the head. I wanted to make sure, after Malek 'Issa was injured here in the neighborhood and lost an eye. The principal assured me that Muhammad was only injured in his hand, that it was only a minor injury and that we had nothing to worry about.

That day I was ill, so my sons went to take Muhammad instead. Muhammad spent four hours in the ER, and I was nervous and worried the whole time. I called my sons every half hour to see how he was doing. When Muhammad came home, he was very tired and his hand hurt. Thank God he was only injured in his hand.

Life in al-'Esawiyah has become unbearable. The police raid the neighborhood on a daily basis with Border Police officers and special units. They deliberately spread out in the streets and alleys when students are on their way to school or back home. I don't understand what purpose it's supposed to serve.

At the beginning of the school year, I bought Muhammad a mobile phone so he could call me on his way to school and back, and I would know he was safe and sound. I also asked the principal for special permission to allow Muhammad to keep his phone on during class, so I could contact him. I'm constantly afraid the occupation forces will harm or arrest him.

Muhammad is a quiet boy. He likes to study, play ball and ride his bike. But the daily presence of the occupation forces has taken a toll on him, as well.
The injury of Fawzi 'Abeid (9), 4 March 2020:
On Wednesday evening, 4 March 2020, around 6:30 P.M., nine-year-old Fawzi 'Abeid was sitting with his grandparents on the balcony of their home, two stories below his parent's house in al-'Esawiyah. At the same time, several Special Patrol Unit officers entered the neighborhood and confronted a resident about 15 meters from the family home.
The resident fled up the street and one of the officers fired a black sponge round that hit Fawzi 'Abeid's in the right hand.
Fawzi's grandmother, Rabihah 'Abeid (59), recounted in a testimony she gave on 9 March 2020:
Fawzi 'Abeid with the sponge round fired at him. Photo by 'Amer 'Aruri, B'Tselem, 4 March 2020

On Wednesday, around 6:30 P.M., I was sitting on the balcony with my husband Fawzi (62). My grandson, who is also called Fawzi, was standing next to us holding a can of Coke. Just then, the occupation forces entered our street. I didn't see any clashes at that point. Three military jeeps drove along our street, and I suddenly heard stun grenades and sponge rounds being fired. I have no idea why. I saw the can of Coke fall from my grandson's hand. He started crying and screaming: "My hand!... my hand!". I also saw a black sponge round that landed on our balcony. My husband picked Fawzi up and we took him down to the car. We drove to the local Clalit HMO clinic and then to the French Hospital in Sheikh Jarrah. We stayed in the hospital for about two hours and they X-rayed Fawzi. It turned out the bullet had hit his index finger.

Since they killed Muhammad 'Abeid in June 2019, they've fired stun grenades and sponge rounds at our house two or three times!

I decided to stop sitting on the balcony or allow my grandchildren to sit there. It's become too dangerous. This time it didn't end in disaster and the child was only hit in the hand, but only God knows who will be injured next, or where. I don't want anyone from my family to lose their eye, like what happened to Malek 'Issa a few days ago.
On 3 December 2020, the media reported that the investigation file regarding the injury of Malek 'Issa had been closed for lack of evidence.