The Palestinian village of al-Mazra'ah al-Qibliyah lies northwest of Ramallah and has a population of about 5,000. Khirbet Na'alan, an archeological site, is located north of the village, and the residents use it for recreation. Settlers began taking over village lands in 2007. They started by cultivating land that belongs to the village about a kilometer west of Khirbet Na'alan. In 2012, they also put up pre-fab homes nearby. The site became the settlement outpost of Kerem Re'im, and later part of the settlement of Talmon. In July 2018, the Palestinian residents restored Khirbet Na'alan, installed lighting and brought in benches and chairs. Around the same time, settlers began arriving there to pray on Fridays, escorted by Israeli security forces.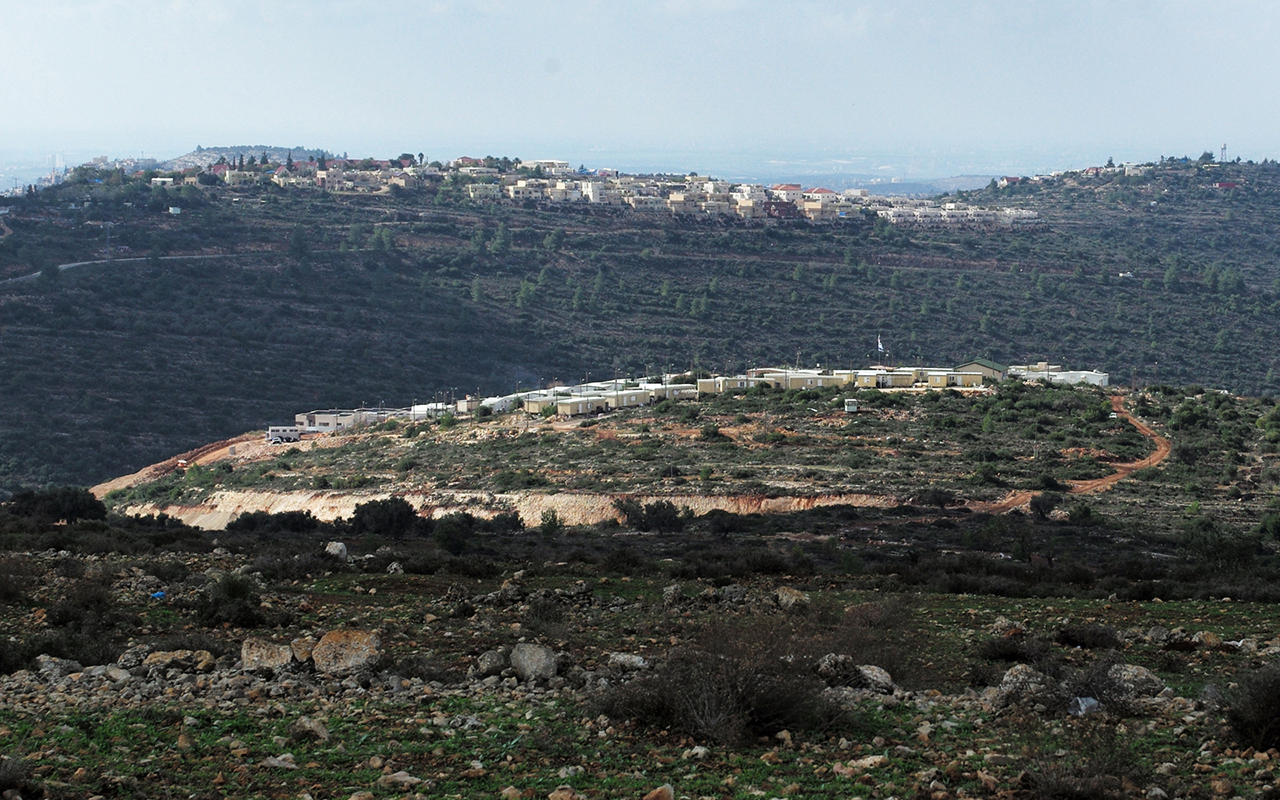 Clashes sometimes erupted between village residents and security forces. In some cases, residents were wounded by live fire. Additionally, since last July, B'Tselem has documented three cases in which settlers vandalized some of the facilities installed by Palestinian residents at the site. Settlers also entered the village and vandalized 28 cars. This situation is not unique to al-Mazra'ah al-Qibliyah. Settlers attack Palestinians and their property throughout the West Bank, with the protection or even active participation of the military and encouragement from state authorities.The objective is to drive Palestinians out of their land and help the state take it over for its own purposes.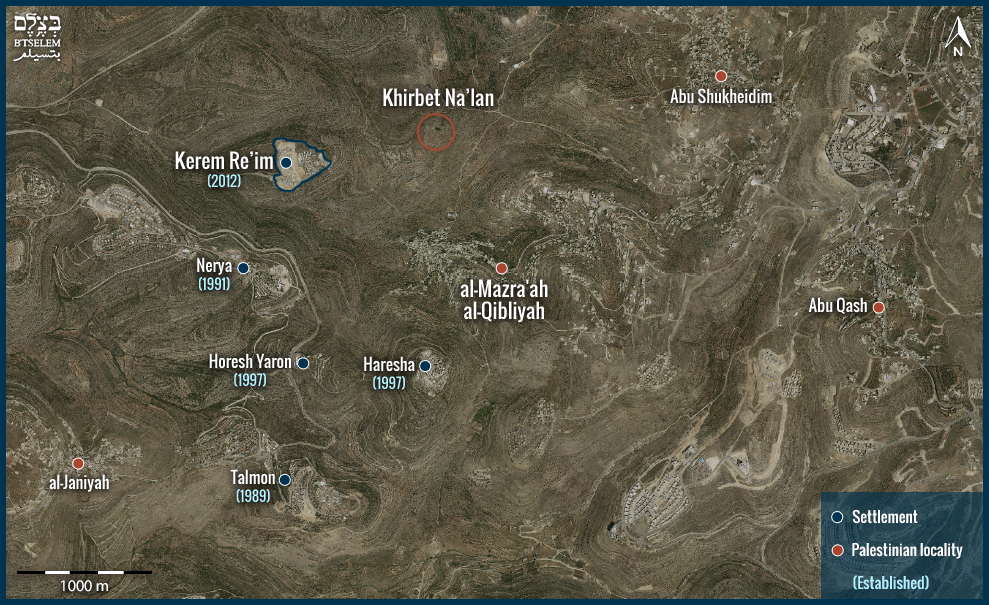 On Friday, 26 October 2018, settlers prepared to set out to Khirbet Na'alan, as they have been doing for about four months, as part of the joint endeavor with the state to continue taking over land in the area and drive Palestinians out. Beginning at ten o'clock in the morning, some fifty settlers gathered at Kerem Re'im to set out for "prayers" at Khirbet Na'alan. They had some fifty soldiers and Border Police officers with them, and several military vehicles. Across from them, in the area of Khirbet Na'alan, a group of village residents began to gather. At around 2:00 P.M., after more than 200 village residents had come to the site, the settlers began advancing toward it, escorted by the forces. A few dozen village residents set out toward them, some throwing stones from a distance of several dozen meters. The security forces fired rubber-coated metal bullets and tear gas canisters at the residents. They also sprayed tear gas from a system mounted on military jeeps. Some residents were wounded by the "rubber" bullets, and others from inhaling tear gas. At that point, most of the settlers turned back. After about an hour of clashes, the Palestinian residents retreated toward Khirbet Na'alan. They were followed by about ten Border Police officers and soldiers, and the clashes continued around the site and to the east of it until 5:00 P.M. More village residents were wounded by "rubber" bullets during this time.
At around 5:00 P.M., the security forces began making their way back towards Kerem Re'im. Several dozen village residents ran after them and continued throwing stones. The security forces fired tear gas canisters at them. At that point, at least one Border Police officer fired live rounds at the residents. Within one minute, about twenty live bullets were fired at the residents from short range. Nine residents were injured, two critically. The security forces left immediately after that.
Two of the men injured died of their wounds. 'Othman Ladawdah, 33, was survived by his wife, who is in the late stages of pregnancy, and four children. He was standing about twenty meters away from the officer who shot him. He was injured in the back of the left thigh. Shrapnel entered his abdomen and he succumbed to his wounds shortly after. Muhammad Shreiteh, 28, was survived by his wife and two children. He was standng about five meters away from the officer who shot him and was wounded in the head. He arrived unconscious at al-Istishari Hospital in Ramallah and died of his wounds about two weeks later, on 10 November 2018. One of the wounded people, who was hit by a live bullet in the leg, is still in hospital. During the incident, five residents were injured by "rubber" bullets fired by security forces, and another was directly hit by a tear gas canister. According to the police, three Border Police officers were injured in the incident.
This outcome is relatively unusual: lethal fire from short range, in which at least one Border Police officer released about twenty bullets, some in bursts, at Palestinians throwing stones, is not commonplace. Such use of fire is clearly unlawful, unjustifiable, and defies every letter of the open fire regulations.
What is not unusual, however, is the response of the security establishment which did not even bother to address the incident until it was contacted, and then proceeded to calmly back the security forces by claiming that the clash had constituted "a violent public disturbance". The response continued by paying the standard lip service, stating that "an MPIU investigation has been opened in collaboration with the Israel Police". Past experience shows that this so-called investigation will not result in meaningful action against any of the forces involved, be it the officer who fired the shots, the team leader or the higher command. This type of conduct not only exemplifies the extent of Israel's disrespect for Palestinians and their lives, but also allows such incidents to recur.
Below are testimonies collected by B'Tselem field researcher Iyad Hadad from village residents who were present at the scene:
Wasim Ladawdah, 40, who runs the village youth center and heads the volunteer paramedic team, described what happened in a testimony he gave on 28 October 18:
Wasim Ladawdah. Photo by Iyad Hadad, B'Tselem, 28 Oct. 2018

At around five o'clock on the afternoon, the protestors were at the top of the hill near Khirbet Na'alan and the military force was on lower ground, retreating towards the outpost. About four guys ran after the force. I was worried that things would escalate and told the four paramedics who were with me to split up into pairs and stand at either end of the area where the guys were. Suddenly, one of the Border Police officers started shooting live rounds in bursts. He fired two or three bullets at a time, right at the guys. I was in the center, among the guys, no more than twenty or thirty meters away from him.

The guys started falling down one by one, injured. One of them was my brother 'Othman. At first, I didn't see he'd been hit. I walked over to one of the wounded guys, Hamzah Shreiteh, 24, a paramedic. He had been hit in the leg. I called the other paramedics to come and help me lift him. As soon as we got him off the ground, I heard yelling, "Another injury - to the chest!", and "Another injury - the head"! We left Hamzah to treat the other ones, whose condition seemed more serious. I froze for a few seconds and didn't know what to do, because I saw more than twenty guys lying on the ground. Some had been injured and some had dropped to the ground to take cover from the shooting.

After a minute or two, the shooting stopped and the guys started carrying the wounded to the ambulance. I pulled myself together and went over to the ambulance to treat them.It felt like utter chaos. There was crying and yelling everywhere: "There's a serious injury over here", "the one over there is doing worse" and on and on. I directed the paramedics and gave them instructions according to the severity of each case. The guys had brought over three or four wounded and the ambulance took them to al-Istishari Hospital. Four or five others were lying on the ground and the paramedics were treating them. It was only then that I saw my brother, 'Othman. He was lying on the ground with his mouth and eyes open. His body was completely limp. For a minute I thought he was dead. Judging by the initial symptoms, I thought he had swallowed his tongue. I turned him over to see if he was injured, but I didn't see any bleeding. Maybe the stress made me miss the wound. I thought he might have fallen down, banged his head on a stone and fainted. I started treating him, on the assumption that he'd swallowed his tongue. I lifted his head and torso and tilted him forward to release the tongue and help him breathe. I did that two or three times, but he didn't respond. I lay him back down and started giving him mouth to mouth resuscitation. He responded and started breathing, but with great difficulty. I didn't know what to do, maybe because I was so stressed.

The guys picked 'Othman up and took him to a private car that drove him to the village clinic. I arrived after them and saw that the doctor there was also treating him as if he had swallowed his tongue. I told the doctor I'd already checked and he hadn't swallowed his tongue. The doctor agreed with me. No one saw 'Othman had been hit by a bullet at that point. The doctor said he had to be taken directly to hospital. I got in the ambulance and rode with 'Othman and another doctor from the clinic. They gave him oxygen on the way, and I could see condensation on the oxygen mask. I monitored the oxygen level and his pulse and felt his body. When we were near Bir Zeit University, about two kilometers from the village, my brother's condition started deteriorating. He wasn't breathing anymore, and his pulse slowed down until it reached zero. I realized he was no longer alive and said so to the doctor who was with us. She yelled at the driver to go faster.

We got to al-Istishari Hospital within five to ten minutes. He was taken into the ER and they tried to resuscitate him and treat him. I waited outside. I asked the doctors if my brother was dead, but they didn't want to tell me at first. I guess they thought I'd collapse. I eased their minds and said that on the way to the hospital, I'd already realized he was dead and that nothing could be done. After five or ten minutes, they told me he was dead, but they didn't call it officially yet. We then took 'Othman into a CT scan to see how he had been hurt. It turned out the bullet had entered the top part of the thigh and caused internal bleeding that killed him.
Hamzah Shreiteh, 24, a paramedic, was present during the clashes and wearing his medical team uniform. At around 3:30 P.M., he was hit by a "rubber" bullet to the leg. After being evacuated and treated, Shreiteh returned to the area to care for the injured. In a testimony he gave B'Tselem on 29 October 2018, he said:
Hamzah Shreiteh. Photo by Iyad Hadad, B'Tselem, 29 Oct. 2018

At four o'clock in the afternoon, the forces started retreating gradually, but the clashes continued on and off. I heard people had been hurt by tear gas canisters and rubber bullets, so I decided to go back towhere the protest was taking place and help out. In the meantime, the guys brought a 16-year-old who had been hit by a rubber bullet that fractured his arm. As I was treating him, I started hearing live fire in bursts. It was about 5:00 P.M. I heard screaming and cries for help: "Ambulance, ambulance"!

I ran to where the screaming was coming from, about 50-70 meters away. I got to the protestors within seconds. The shooting continued, indiscriminately and from short range. I saw that one guy had been injured in the leg. As I ran towards him, Muhammad Shreiteh, a photojournalist from the village, also headed towards him. Suddenly, Muhammad was hit by a bullet in the thigh. He stayed on his feet and started walking away.

I managed to get to the injured guy and started lifting him to get him out of there. There were some other guys near me who were going to help me, and then I was hit by a bullet myself. I felt like the bone in my left leg had been hit by an electrical current. I couldn't stand and fell over. I called Wasim Ladawdah over, and he came and checked my leg. He thought it was a serious injury and asked the other paramedics for help. He evacuated me with three of them.
Hamzah Shreiteh was taken to al-Istishari Hospital by private car. He was X-rayed and underwent leg surgery the next day. He was released from hospital two days later.
Muhammad Hassan Shreiteh, a 22-year-old media student, described what he saw in a testimony given on 29 October 2018.
At five o'clock in the afternoon, the military force that was dispersing the protest was 70-100 meters away from Khirbet Na'alan, in an area lower down from where the guys were. Some of the guys, about thirty to fifty of them, got very close to the officers and soldiers, up to about twenty to thirty meters from them. The clashes got worse. I was standing on the side, no more than fifteen meters away from them. I was wearing a special vest clearly marking me as a journalist. One of the members of the security forces fired live bullets in the air, and soon after that fired again. But that didn't stop the guys and they continued clashing with them.

The guys advanced further, until they were almost face to face with the officers, no more than five meters away from them. I had gotten closer in the meantime, too, and was standing about five meters away from there. One or two officers started firing bursts of live fire one after the other. One of the guys was injured in the leg about five meters away from me. Before the guys went over to evacuate him, I went towards him. When I was two meters away from them, the officer suddenly fired three or four bullets at me one after the other. He was shooting everyone in front of him with no distinction.

Muhammad Hassan Shreiteh's phone

I felt an injury in the front of the right thigh. Thank God, the bullet hit my cellphone first in my pants pocket, and then went into the thigh. I felt that I was bleeding, but I hung on and limped away from there, on my own, about ten meters. Then the guys picked me up and took me to an ambulance that was parked up top, near Khirbet Na'alan.

I saw other guys hit and dropping like flies, one after the other. One of them was the paramedic Hamzah Shreiteh, 24, who had gone over to treat the guy I'd tried to reach before - they fired a burst at him too. He was hit in the leg.

Three others were transported in the ambulance with me. They'd been injured in the head, neck and arm. While the paramedics treated the other wounded people, I treated myself. I cut my pants to expose the wound in my thigh. The paramedics gave me a bandage and I bandaged my thigh to stop the bleeding. I also applied pressure to the wound with pads. The paramedics treated the guy with the head injury, Muhammad Shreiteh, trying to keep him conscious. I heard them say now and then: "He's still alive. He's breathing". I heard him groaning in pain. We got to al-Istishari Hospital within about ten minutes. They took us into the ER and the medical staff started treating us. More than ten injured guys arrived while we were in the ER.
Update:
On 30 November 2018, media reports stated that an MPIU investigation in collaboration with Israel Police had been launched. On 26 August 2019, B'Tselem found out that the investigation into the death of 'Othman Ladadwah, who was killed in the same incident, had been forwarded to the police. B'Tselem is not aware of changes affecting the investigation of Shreiteh's death.