In February 2018 B'Tselem documented two instances in the Ramallah area in which soldiers, in contravention of open-fire regulations, fired crowd control weapons at the heads of children, injuring them. The soldiers fired during protests and other stone-throwing incidents, and in both cases, neither the soldiers nor anyone else was facing mortal danger.
- Muhammad Nubani, 14 years old, lives in al-Birah. He was injured on 9 February 2018 by a rubber-coated metal bullet that lodged in his eye.
- Saleh Yihya, 10 years old, lives in Deir Nizam. He was injured by a teargas canister fired directly at his head.
The firing of teargas canisters in a direct trajectory is contrary to the law and to the military's own open-fire regulations, which also prohibit firing rubber-coated metal bullets at children and teenagers or at the upper body. In both these cases, as in hundreds of others, soldiers violated the regulations and inflicted serious harm on the children, who will bear the consequences for the rest of their lives. According to figures by the UN Office for the Coordination of Humanitarian Affairs (OCHA), from December 2017 through March 2018 approximately 180 Palestinians – including some 55 minors – were injured by live gunfire during protests and clashes with Israeli security forces in the West Bank. In addition, over 1,000 Palestinians – including some 230 minors – were injured by rubber-coated metal bullets, and about 50 – including 10 minors – were injured when they directly hit by teargas canisters
Muhammad Nubani, 14, injured in al-Birah on 9 February 2018
At about 2:00 P.M. on 9 February 2018, there were clashes near the City Inn traffic circle in the north of the Palestinian town of al-Birah. A few dozen Palestinians teenagers and youths were clashing with some 20 to 30 soldiers. The Palestinian youths were blocking the road and throwing stones; the soldiers, who were a few dozen meters away from the youths, were firing live ammunition, rubber-coated metal bullets and teargas canisters. At about 2:30 P.M., two soldiers walked up a hill that is in the northeast corner of a playground located southeast of the traffic circle. They then fired rubber-coated metal bullets at a group of teenagers who were in the playground, about 30 meters away from them, and had been involved shortly before in the stone throwing. One of the bullets hit 14-year-old Muhammad Nubani, a resident of al-Birah, in the eye.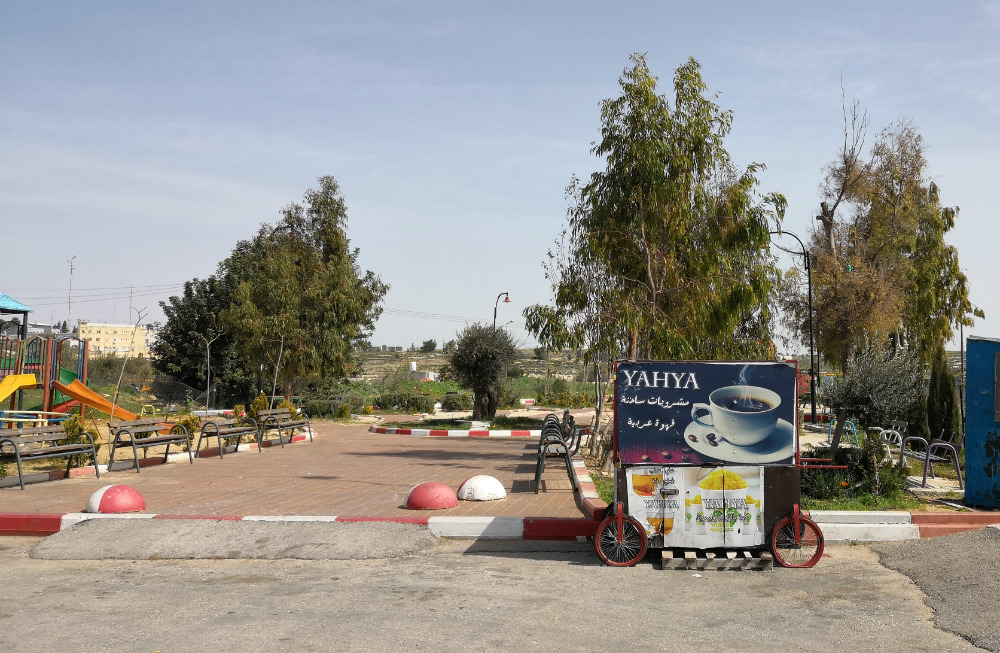 Muhammad Nubani spoke with B'Tselem field researcher Iyad Hadad on 1 March 2018 and related what happened that day:
Muhammad Nubani. Photo by Iyad Hadad, B'Tselem, 1 March 2018

All of a sudden two soldiers climbed the hill in the northeast corner of the playground and opened fire. I felt something hit me in the right eye. I didn't notice which one of them shot me. Then I felt nauseous. I put my hand on the spot I'd been hit and felt that it was bleeding a lot. I was real scared. The kids who were next to me noticed straight away and helped me to walk. I couldn't see in the eye that had been hit. I felt dizzy and everything went blurry. They took me to a Red Crescent ambulance that was parked nearby. On the way to hospital the paramedics cleaned and bandaged the wound.
Nubani was taken to a hospital in Ramallah and from there to a hospital in Nablus, where he underwent surgery to remove the rubber-coated metal bullet lodged in his head. He was discharged after five days in hospital, but had no vision in his right eye. He was later referred for further medical treatment at a hospital in East Jerusalem, where he underwent another operation on his eye and was hospitalized for a week.
On 5 March 2018 Nivin Nubani (40), Muhammad's mother, spoke with B'Tselem field researcher Iyad Hadad. She has four other children. She told him about coping with her son's injury:
Since Muhammad was discharged from hospital, apart from the pain in his right eye, in which he's lost vision, he's also been having headaches and pain in his left eye, which wasn't hit. He has a plastic patch over his right eye to protect it, and he has to take medication and keep the wound clean. He stayed home all the time. He was in shock and in a bad way emotionally. He kept asking what would happen to his eye and when the plastic covering would be taken off, when he'd be able to see again and when he could go back to school. I'm beside myself and I didn't know how to answer him. I just kept on repeating the same things over and over again to calm him down, telling him that he'll get his vision back soon and also go back to school and be as good as new. Sometimes I managed to convince myself that Muhammad hadn't really lost his vision in that eye and that there's still hope.

Yesterday – Sunday, 4 March 2018 – I took him to a specialist eye doctor in Ramallah. We had such a disappointment. It broke my heart. He told us that there's no chance that Muhammad will see in his right eye and that we have to accept that this is the reality and prepare the boy for a normal life the way he is. Today we sent him to school after an absence of more than three weeks, hoping that he'll manage to adapt easily and that the other kids won't give him a hard time. When he got home, he told us that he had trouble following the lessons and that he had headaches and felt tired, but he stayed until the end of the day because he didn't want to miss more school. We gathered from the doctors that it's normal that he'll find it hard at first, and that over time he'll get used to the new reality.
Saleh Yihya, 10, injured in Deir Nizam on 22 February 2018
At about 1:00 o'clock on the afternoon of 22 February 2018, a group of 10-15 children and teenagers who were standing just outside a public park threw stones at three or four soldiers who were standing approximately 100 meters away. The soldiers fired live ammunition in the air, threw stun grenades at the group of boys and fired rubber-coated metal bullets and teargas canisters at them. There were also about ten children playing inside the park. About half an hour later, one of the soldiers fired a teargas canister directly at 10-year-old Saleh Yihya, one of the children playing in the park, and the canister hit him in the head.
Saleh Yihya, who lives in Deir Nizam, gave his testimony to B'Tselem field researcher Iyad Hadad on 27 February 2018:
Saleh Yihya after he was wounded. Photo by Iyad Hadad, B'Tselem, 27 February 2018

About ten minutes after I got to the park, while I was playing with my back to the soldiers, something hard hit me in the head, like a rocket, and fell beside me. I could smell gas and I felt dizzy and nauseous. I fell down. Then I got up and put my hand on my head. I was bleeding a lot and my hand was covered in blood.

My brother and other kids who were nearby immediately came over, picked me up and carried me over to the road. They called for an ambulance. A woman who lives in the town came and bandaged my head. Then my brother Qassam, who is 21, came in my dad's car and took me to al-Istishari Hospital in Ramallah. My brother 'Abdallah – who was the first one to notice I'd been hurt and who and held me until they took me away – and my uncle and cousin came with us. I kept pressing my hand on the bandage until we got to hospital after about 20 minutes.
Saleh's cousin Ousamah Yihya, 17, a resident of Deir Nizam, was standing at the time on higher ground behind the park.
In testimony taken on 27 February 2018 by B'Tselem field researcher Iyad Hadad, he described what he saw:
Ousamah Yihya points out the spot where his cousin was playing when he was hit. Photo by Iyad Hadad, B'Tselem, 27 Feb. 2018

At about 2:00 P.M., 10-15 minutes after I got there, I saw a soldier fire teargas canisters. He fired three or four of them in quick succession at the demonstrators, aiming at them directly. There were about 10-15 small children in the park nearby, and we all looked at the soldier who fired. One of the canisters hit Saleh, who was about 20 meters away from me on lower ground, close to the slides in the playground. I saw him put his hand on the wound on top of his head and fall down. I thought that he'd been badly injured.

His brother 'Abdallah and I and some other kids ran over to him and picked him up. He was bleeding badly and the wound was big and deep. We moved him away from there, because it was full of teargas and everyone was choking. We went about 30-40 meters and then a woman came by and helped us bandage his wound with a piece of cloth. Then Yihya and 'Abdallah's brother Qassam drove up in the family car and we took Saleh to al-Istishari Hospital in Ramallah.
At the hospital, the physicians examined Yihya, stitched his wound, and discharged him after a few hours.