At about 8:30 A.M. on Thursday, 10 November 2016, a few dozen pupils set out for 'Atara Checkpoint to the north of Bir Zeit. They were holding a procession to commemorate the anniversary of the death of Yasser Arafat, which fell the following day. 'Atara Checkpoint includes inspection stations on either side of the road, which were unstaffed at the time, and a watchtower permanently staffed by soldiers. Most of the students went no further than a grove located a few dozen meters south of the checkpoint. A few, including 15-year-old A.Z. who lives in Ramallah, continued toward the checkpoint. A. threw a stone at the watchtower at the checkpoint and then approached the concrete blocks located some 20 meters from the watchtower. On 28 November 2016 A.Z. spoke with B'Tselem field researcher Iyad Hadad and described what happened next: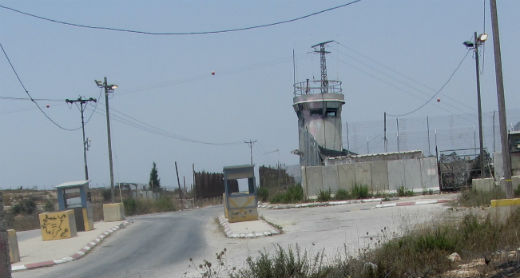 The fortified military tower at 'Atara Checkpoint from which soldiers fired at A.Z. Photo by Iyad Hadad, B'Tselem, 2 Aug. 2015
I began to take the sandbags placed on the concrete blocks to protect the soldiers and throw them on the ground. One of the soldiers shouted at me in Hebrew from the watchtower, and then a live bullet hit one of the fingers of my left hand. I felt that the finger was paralyzed. Straight after that two more bullets hit me in the right thigh, going in the back of the thigh and exiting from the front. I felt my leg fly up in the air and I fell to the ground, my leg twisted.
M.R. of al-Jalazun Refugee Camp, then 15, was standing nearby when the soldiers shot A. On 28 November 2016, he described to B'Tselem field researcher Iyad Hadad what happened next:
I tried to reach A.Z. to give him first aid, but three soldiers rushed out of the watchtower and started shouting at me and at anyone who tried to approach. I ran off with the other boys to a spot about 100 meters from the checkpoint area. The soldiers were standing close to A.'s head. I was scared. I saw the soldiers drag him along the road toward the watchtower, and there they gave him first aid. About half an hour later I went home.
Shortly after the shooting, several jeeps arrived at the checkpoint, as did an Israeli (Magen David Adom) ambulance, and a medical team began to treat A.Z. About an hour later he was transferred to Shaare Zedek Hospital in Jerusalem. At hospital he underwent surgery, the fracture in his thigh was set with a platinum rod. His fractured finger was also set. Two soldiers were stationed in his hospital room and his legs were placed in metal cuffs which were kept on for three days.
A.Z.'s father, M.Z., 45, arrived at the checkpoint shortly after the shooting, once he learned that his son had been injured. He attempted to find out where A. had been taken. Only at 9:00 P.M., after many hours of inquiries, did he receive a telephone call from a physician at Shaare Zedek Hospital in Jerusalem informing him that his son had been admitted there.
On Sunday, 13 November 2016, a hearing was held in the military court at the Ofer base in the application by the MAG Corps to extend A.Z.'s detention. A.Z. was not present and was represented by an attorney from the Palestinian Prisoners' Society. The court ordered that A.Z. be released on a bail of NIS 6,000 [approx. USD 1,600] and granted the prosecution a 20-hour stay to appeal. The prosecution did not appeal the court's decision. A.Z.'s attorney appealed the amount set as bail. Subsequent to the decision, the soldiers unshackled A.Z.'s legs and left the hospital.
A.'s father spoke with B'Tselem field researcher Iyad Hadad on 28 December 2016 and told him of the bureaucratic maze that he and his wife had to endure before she was permitted to visit their son in hospital:
The DCO doesn't work on weekends so you can't apply for permits to enter Israel. On Sunday morning we applied for a permit. In the evening they told me that my application had been denied on security grounds. They asked that my wife append a hospital medical report to the application. On Tuesday evening I received the medical report by fax, and we submitted it together with an application for a permit for my wife and two of our sons, aged 21 and 23. Because of the denial on security grounds I didn't submit an application for myself. On Wednesday evening we received a permit, but it was only for my wife. She went to the hospital that evening. When she got there she called me and said that he was okay, that he was talking, eating, and drinking, but that his leg and hand were bandaged and he was still undergoing treatment. She also told me that the soldiers who had been guarding my son left after the court decided to release him on bail.
On one afternoon that week, while A.Z. was alone in his hospital room, a police investigator from Binyamin station came and interrogated him without the presence of his parents or another adult on his behalf. The investigator accused A.Z. of throwing Molotov cocktails and stones at the watchtower, and claimed that the soldiers had witnessed him doing so and that his actions had been captured on video. A.Z. denied the charges. After questioning him for about half an hour, the investigator made A.Z. sign the statement form, which was taken down in Hebrew, and took his picture.
On 17 November 2016, while A.Z.'s mother was present in his hospital room, police officers arrived and informed them that on Sunday, 20 November 2016, another hearing in his case would be held at the military court in Ofer, and that he would be represented by an attorney. At court A.Z.'s parents received a voucher in the sum of NIS 6,000 for payment of bail, which they paid. The hearing itself was deferred pending the examination of the indictment. That day, A.Z. was released from Shaare Zedek Hospital, accompanied by his mother, and transferred to hospital in Ramallah, where he underwent tests and further treatment. On 24 November 2016 he went to the hospital in Ramallah for a check-up. The stitches in his leg were removed and the physicians noted that his condition had improved. A further court hearing was scheduled for 6 February 2017.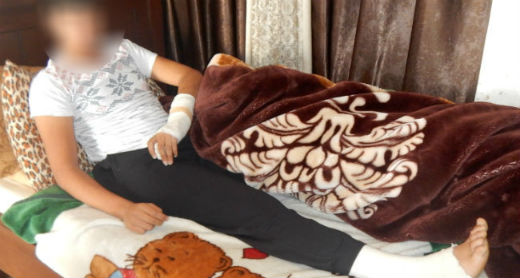 A.Z. at home after being discharged from hospital. Photo by Iyad Hadad, B'Tselem, 28 Nov. 2016
In his testimony, A.Z. described his time in hospital and his current feelings:
In hospital I was scared and worried. I didn't know where I was, and I only found out thanks to the Arab physicians, who treated me nicely. Now I have platinum plates in my thigh and my hand is in plaster, so I'm confined to home. I can only walk using crutches or if I lean on one of the members of my family. I don't know how long I'll be like this. The doctor told me that it'll be 30 to 45 days before I can stand on my leg. I'm in the 11th grade and I'm worried about missing classes and exams, because that could affect my future.
B'Tselem's inquiry shows that A.Z. did not pose any danger to anyone when the soldiers shot him from the watchtower, injuring him in the thigh and hand. There was no justification for the use of live ammunition. A.Z., a 15-year-old boy, was hospitalized for 10 days: for half of this time he was there without the company of any member of his family; for three days, soldiers kept his legs shackled. In hospital, he had to undergo medical treatment as well as questioning in his parents' absence. Subsequently he was left housebound for several weeks and missed school.
The military's treatment of this 15-year-old boy was appalling and shocking from start to finish. He was shot with live ammunition in circumstances in which he posed no danger to anyone; his legs were kept in restraints even though one was broken and set in a cast; two soldiers stayed in his hospital room for four days, as if he were a dangerous terrorist liable to escape; and throughout this time, the military did not even go to the trouble of informing his parents directly of his whereabouts. The plates in his body and the mental scars he sustained will accompany A.Z. for the rest of his life.
By law, common sense and basic moral values, minors deserve special protection due to their vulnerability. As long as the occupation persists and Israel controls the lives of millions of Palestinians - many of them minors - the State of Israel, the military and its soldiers must protect their rights. They must do so even in the case of a minor who broke the law or, as in this particular case, of a teenager who threw a stone at a fortified watchtower and threw to the ground sandbags placed at the checkpoint. In this case, as in countless others, these obligations were grossly violated.
Referring cases to the military law enforcement system with a view to promoting real accountability has proved ineffective. Past experience has shown this to be true of incidents in which soldiers killed Palestinian civilians, and all the more so in cases of "mere" injuries. In any event, even when a military investigation was actually launched, it nearly always wound up as a whitewash. Therefore, B'Tselem decided to cease sending cases to the MAG Corps with a demand to investigate. Nonetheless, B'Tselem carries on working in other ways to promote accountability. To that end we will continue to probe and make public this type of incident. That said, the obligation to investigate and bring to justice those responsible for such incidents remains squarely on the shoulders of the military system.