On Tuesday, 19 July 2016, at around 6:00 P.M.,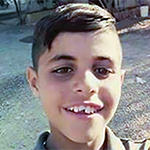 10-year-old Muhyi a-Din Muhammad Sudqi Sadeq a-Tabakhi was critically injured by a black sponge round fired by Israeli Border Police officers in the town of a-Ram, al-Quds District. The Palestinian boy, who lives in a-Ram, died shortly afterwards in hospital. B'Tselem's field research found that at the time of the incident, a small group of Palestinian youths were throwing stones at Border Police jeeps patrolling the area. The police officers fired tear gas and black sponge rounds at them, both considered crowd control measures. One of the rounds hit a-Tabakhi in the chest. He was rushed to a medical clinic in a-Ram and from there in an ambulance to hospital in Ramallah, where he died of his wounds. The official response given to Israeli media was that "a disturbance of the peace had developed at the site of the incident and Border Police combatants fired stun grenades and tear gas canisters. The Border Police has made it clear that no live fire was used."
The frequent clashes between Palestinian youths in the a-Ram area and Border Police are the result of construction work underway to replace the wire fence of the Separation Barrier near the town of a-Ram with a concrete wall, which began in July 2016. Border Police officers patrol the area frequently in jeeps to secure the construction work. A steep hill that overlooks one of the construction sites also serves as a playground for local Palestinian children. On the day of the incident, the youths threw stones at a Border Police jeep from there. The officers got out of the jeep and began chasing them. One of the officers fired a black sponge round that hit a-Tabakhi in the chest. According to Y. M., a 30-year-old resident of a-Ram who witnessed the incident, the officer was about 30 meters from the child. Y.M., who was close by, went over to assist the child and the officers fired a black sponge round at him, hitting him in the hand. Despite his injury, he managed, along with several other people who arrived on the scene, to take the boy to the a-Ram medical clinic.
Y. M. spoke with B'Tselem field researcher Iyad Hadad and told him what happened:
At about 4:00 P.M. I got back from work. Next to our house, I saw three or four boys or youths throwing stones at an Israeli Border Police patrol. The force was securing construction work on part of the [Separation] Barrier, which is about 30-40 meters down the hill from our house.

There were three Border Police jeeps there, and they were trying to get the kids to stop by firing tear gas at them. At about 6:00 P.M., I saw two officers go through a gap in the fence to chase the kids, who were then standing near a different house and throwing stones from there too. As soon as the officers got through the fence, one of them fired a black sponge round. I don't know which one of them it was. Then I saw a boy who was about thirty meters away from them fall down. I assumed he had been hit and ran down to help him. Other neighbors came too.

We got to him very quickly and I waved to the police not to shoot at us. I yelled towards them in Arabic: "Waqet, waqet" (time, time), but an officer who was about twenty meters away fired a sponge round at me and hit my right hand. I wasn't badly injured and didn't pay it much attention. Then the officers fired several live bullets in the air.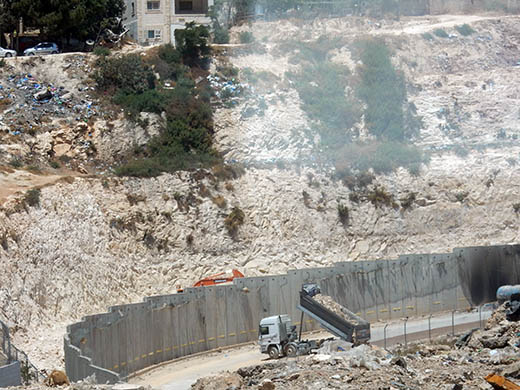 The area in a-Ram where Muhyi a-Din a-Tabakhi was shot. Photo by Iyad Hadad, B'Tselem
The Israel Police started using black sponge rounds two years ago. These are bullets made of heavy, hard sponge that can be dangerous. They are used in addition to blue sponge rounds, which the police has been using as a crowd control measure in Israel and in East Jerusalem since 2006, after the Or Commission stated that rubber-coated metal bullets should not be used in these areas other than in very exceptional circumstances. Blue sponge rounds are a relatively precise measure that can be aimed at less vulnerable body parts. If used according to regulation, they are less likely to cause severe injury than rubber-coated metal bullets. However, they can be dangerous to sensitive areas such as the head or the eyes.
In recent years, B'Tselem and the Association for Civil Rights in Israel (ACRI) have documented a great many instances in which police officers breached regulations for the use of blue and black sponge rounds. Despite the clear prohibition on firing these bullets from short range, at children and passersby, or at vulnerable body parts such as the head or the chest, in recent years ACRI has documented 32 instances in which police officers fired sponge rounds unlawfully, in blatant breach of regulations, injuring Palestinians and an Israeli journalist in East Jerusalem. One of the victims was 10-year-old Yihya al-'Amudi, who lost an eye. On 31 August 2014, an Israeli police officer fired a black sponge round at Muhammad Sunuqrut, 15, in East Jerusalem. The Palestinian teenager was injured and died of his wounds on 4 September 2014.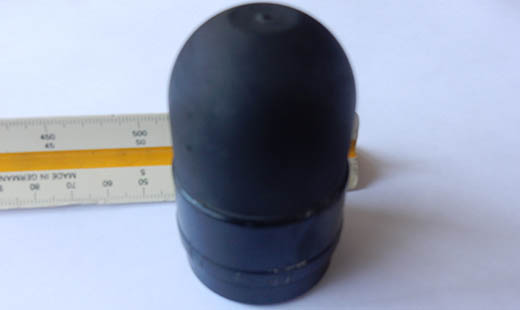 A black sponge round found near where Muyhi a-Din a-Tabakhi was shot. Photo by Iyad Hadad, B'Tselem
The police switched from using blue sponge rounds to using black ones, which are more dangerous, despite the fact that even before that, police officers were documented firing sponge rounds unlawfully, with no effective enforcement of regulations. Therefore, the lethal consequences of the switch to black sponge rounds were predictable – in fact, they are part of a policy.
As there is no apparent intention to restrict police use of black sponge rounds, this measure must be prohibited from use except in situations of mortal risk and must certainly not be considered a non-lethal weapon.