In the early afternoon of Thursday, 21 May 2015, an Israeli Border Police officer fired a black sponge round at 10-year-old Yihya al-'Amudi in Shu'fat Refugee Camp in East Jerusalem, hitting the boy in the eye. As a result, the Palestinian boy lost his left eye and suffered a broken jaw.
B'Tselem's field research found that at the time of the incident, a group of Palestinian children was throwing stones at a Border Police force that had taken up position in a construction site in Shu'fat Refugee Camp, some 150 meters from the checkpoint stationed at the entrance to the R.C. Although the camp lies within the jurisdiction of the Jerusalem Municipality, it is completely cut off from the city by the Separation Barrier – an eight-meter high wall in that area. Yihya al-'Amudi's father told B'Tselem that his son had been on his way to pick up his little sister from kindergarten.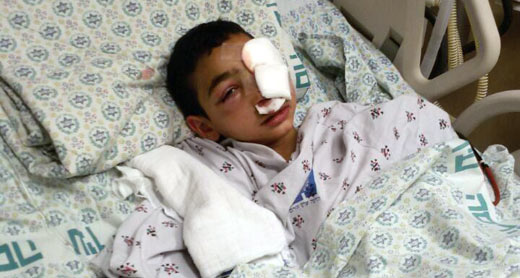 Yihya al-'Amudi at Hadassah Ein Kerem Hospital, West Jerusalem, 21 May 2015. Photograph courtesy of the family.
G. N., a 17-year-old Palestinian who witnessed the incident, told B'Tselem field researcher 'Amer 'Aruri what he saw:
On Thursday, 21 May 2015, at around 2:00 P.M., I was standing eating a sandwich opposite the al-Hadithi Bakery, which is on the road leading to the entrance to Shu'fat Refugee Camp. I saw children in the street, and saw them running towards the a-Shweiki building. They were holding stones and trying to throw them at Border Police officers who were on the second floor of the building, I think. As far as I could see, the stones did not reach the policemen.

At that point I saw Yihya al-'Amudi, a boy I know. He was standing at the entrance to the gym, which is about ten meters away from where I was. I said to him: "Go home, don't stand here in front of the police." Yihya said: "Okay, I'm going." I turned to look at the children running through the street with stones. A couple of minutes later, I heard a single shot and a child screaming. I saw a boy lying on the ground. At that moment, I didn't realize it was Yihya. I simply ran away, because I was afraid the police would keep on shooting and I'd be hit too.
Al-'Amudi was taken by a passerby to a medical center in the camp, and then transported by Palestinian ambulance to Hadassah Ein Kerem Hospital in West Jerusalem. The boy lost his left eye and underwent reconstructive surgery on his jaw, which fractured from the impact of the sponge round.
S.T., a 17-year-old Palestinian who was also nearby at the time of the shooting, told B'Tselem researcher 'Amer 'Aruri what he saw:
On 21 May 2015, at around 2:00 P.M., I was in the store I work in, on the road leading to the entrance to Shu'fat Refugee Camp. Yihya al-'Amudi, a relative of mine, came by the shop and stopped in to say hello. He told me he was on his way to pick his sister up from kindergarten.

I went out to the street and stood by the shop door. I saw several children standing on the road. They looked young, less than ten years old, and some of them were holding stones. Several children tried to get closer to the a-Shweiki building, which is opposite the store. There were Border Police officers inside the building – they come there whenever there is construction work on the checkpoint or the [Separation] Barrier. The children tried to throw stones at the building but the stones couldn't reach the police, because they were on the second floor. It wasn't really a confrontation. Yihya wasn't one of the boys throwing stones.

I heard a shot and then I saw someone pick up a child and run towards the center of the camp. I didn't know he was carrying Yihya. Later, when I heard people say that the child injured was Yihya, I left the store and went to the medical center in Ras Khamis neighborhood. I saw Yihya there. His face and clothes were covered in blood.

A video clip posted online as documentation of the shooting at al-'Amudi. B'Tselem was unable to obtain the original footage.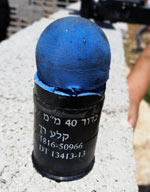 Sponge rounds have been used by Israel Police for crowd control within Israel and in East Jerusalem since 2006, if not earlier. They came into use following the events of October 2000 and the report of the consequent Orr Commission which resulted in the 2002 prohibition on using rubber-coated metal bullets in Israel and East Jerusalem, except in exigent circumstances. Sponge rounds can be dangerous to vulnerable organs such as the head or the eyes. Until last year, the police used only blue sponge rounds. About a year ago, they began to use black sponge rounds, which are heavier and harder and therefore cause greater injury. Sponge rounds are a relatively precise type of ammunition that can be aimed at less vulnerable body parts. Therefore, if used according to regulations, they should not result in severe injury.
Nevertheless, in recent years the Association for Civil Rights in Israel (ACRI) has documented 17 instances in which police officers fired sponge rounds unlawfully, in blatant breach of regulations, injuring Palestinians in East Jerusalem. On 31 August 2014, an Israeli police officer fired a black sponge round at Muhammad Sunuqrut, 15, in East Jerusalem. The Palestinian teenager was injured and died of his wounds on 4 September 2014. Last week, ACRI reported that yet another Palestinian in East Jerusalem lost his eye after being hit by a sponge round fired by a police officer, while sheltering from clashes taking places in Shu'fat R.C.
In 2011 B'Tselem wrote to the DIP regarding an incident that took place on 6 July 2011, in which a Border Police officer fired a blue sponge round at Ahmad al-Masri, who was standing outside his shop filming Border Police on a main street in al-'Esawiyah, East Jerusalem. Al-Masri was hit in the eye. The unjustified shooting was captured on al-Masri's cell phone camera. An investigation was launched in this case, but on 27 November 2011, the DIP informed B'Tselem the case was closed, citing "lack of evidence."

Video record of firing at al-Mari, filmed by himself, 6 July 2011.
Regulations for police use of black and blue sponge rounds notwithstanding, documentation in recent years by both B'Tselem and ACRI indicates that officers frequently disregard the regulations. Since the black rounds came into use, these breaches have proven lethal. ACRI has written repeatedly to the Attorney General and the Chief of Police, demanding re-examination of the criteria set for permissible use of black sponge rounds, why these rounds are deemed necessary, and to what degree police officers have internalized the relevant regulations and are implementing them in practice. ACRI has not received any adequate response to its letters nor does the situation on the ground appear to have changed in any significant way. When measures are not taken against officers who act unlawfully, the result is lack of accountability, making the next lethal shot merely a matter of time.