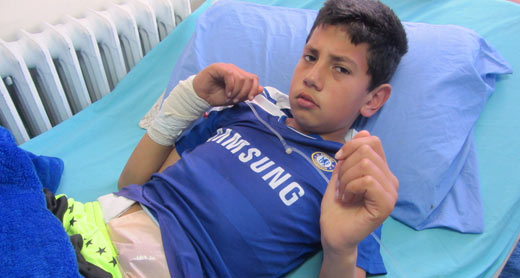 Muhammad Hamad, 11, in hospital in Ramallah. Photo by Iyad Hadad, B'Tselem, 19 March 2015
In the last few months, B'Tselem has documented dozens of cases in the Ramallah area of the West Bank in which Palestinians were injured, some severely, by live ammunition fired by Israeli security forces. In most cases, it appears that the ammunition used was 0.22 inch caliber bullets (Ruger rifle bullets, nicknamed Two-Two for their caliber). Two-Twos are live ammunition whose impact is less severe than that of "ordinary" bullets, yet even so they can be lethal and inflict serious injuries. It is hard to establish definitively whether a particular injury is caused by a Two-Two or by an ordinary bullet, as their caliber is almost identical. However, many activists recognize both the Ruger rifles used to fire Two-Two bullets as well as the distinctive sound they make when firing. In addition, some Ruger rifles are equipped with a suppressor. Therefore, when a sniper aims a rifle at demonstrators and a person then sustains a live-bullet injury although no gunshot was heard, it is clear the ammunition was Two-Two bullets.
Most of the injuries that B'Tselem documented recently were sustained during regular weekly demonstrations in which Palestinian youths threw stones at Israeli security forces, including in Jalazun Refugee Camp, in the villages of Silwad, a-Nabi Saleh, Bil'in and Na'alin, and in the town of Bitunya close to Ofer Prison. Medical reports collected from Palestinian hospitals by B'Tselem field researcher Iyad Hadad indicate that at least 47 Palestinians – including one woman and 24 minors – were injured by live fire in the West Bank since the beginning of February 2015 in demonstrations or clashes with Israeli security forces. Four of the 47 casualties – including three minors aged 12, 14 and 17– were hit in the torso, and 23 – including 14 minors – were hit in the thigh.
In July 2009, following repeated warnings by B'Tselem that Two-Twos were being used unlawfully to disperse protests and may lead to the death of demonstrators, the then MAG Maj. General Avihai Mandelblit – wrote to B'Tselem that "the Ruger and similar means are not classified by the IDF as means for dispersing demonstrations or public disturbances. The rules for use of these means in Judea and Samaria are stringent, and comparable to the rules for opening fire with 'live' ammunition."
B'Tselem repeatedly cautioned, most recently five months ago, that Israeli security forces were using Two-Twos to disperse demonstrations. Since then, at least two Palestinians have been killed by this ammunition during clashes – one in Jalazun Refugee Camp and the other in the town of Beit Ummar in the southern West Bank. B'Tselem's investigation into some of these incidents, compounded by the large number of persons injured and the types of injury, indicates that live ammunition was used against demonstrators even when security forces were not in mortal danger: live bullets were fired in routine situations in which young Palestinians threw stones at the security forces, who were prepared and had protective covering.
The frequent use of live ammunition at demonstrations, in breach of open-fire regulations, shows that it is a not a matter of exceptional incidents but rather the implementation of an unlawful policy. B'Tselem calls on the security forces to discontinue the use of any and all live gunfire – with any type of ammunition – aimed at unarmed civilians, with the exception of extreme situations of immediate mortal danger.
Following are several examples of unlawful use of live fire during demonstrations and clashes in the Ramallah area:
'Ali Mahmoud 'Abd a-Rahman Safi, 20, was killed by 0.22 bullets in Jalazun Refugee Camp, Ramallah District
At around 3:00 P.M on Wednesday 18 March 2015, over 100 people took part in a protest held in Jalazun Refugee Camp, near the settlement of Beit El. Shortly after a military force arrived at the refugee camp, clashes ensued between the troops and the demonstrators. The latter threw stones at the soldiers, who responded by firing tear-gas canisters and rubber-coated metal bullets. At some point they also began firing live bullets, apparently Two-Twos. Eyewitnesses reported the troops included two masked snipers armed with weapons different from those used by the other soldiers. According to eyewitness accounts, one of the snipers shot 'Ali Safi in the chest as Safi got up from behind a low wall where he had been concealed. The bullet injured Safi's internal organs and spine, exiting from his back. Safi was taken to hospital in Ramallah, where he died from his wounds a week later, on 25 March 2015.
Muhammad al-Masri, a Red Crescent volunteer, described the circumstances of the lethal shooting to B'Tselem researcher Iyad Hadad:
The clashes continued until 5:30 P.M. I was standing on the pavement across the road, facing the settlement of Beit El. Opposite me, a group of young men gathered and waited for a chance to throw stones at the soldiers, who were about fifty meters south of them. I saw two soldiers concealed behind an electric utility box. Right then, 'Ali Safi, who was hiding behind a low wall, raised his head to try and see where the soldiers were standing. There were dozens of soldiers around there, and I think 'Ali didn't notice the snipers. Suddenly I saw him fall on his side and I assumed he had been hit. I didn't hear the sound of gunfire because Two-Two sniper fire makes no sound.
Muhammad Hamad, 11, was severely injured by live fire in Silwad, Ramallah District
On Friday, 13 March 2015, the weekly protest march in Silwad escalated into a confrontation with the security forces. During the clashes, which lasted several hours and took place in different parts of the village, Israeli security forces employed various crowd control weapons. In one incident, which occurred in the afternoon, a soldier fired a live bullet that struck 11-year-old Muhammad Hamad in the stomach. Hamad related what happened to B'Tselem field researcher Iyad Hadad:
At around 5:30 in the afternoon, I was standing in a field by the side of the road. I was about forty meters away from two soldiers who were standing behind the fence, south of the gas station. I think one of them was a sniper because he had a long telescope on his rifle. I think he's the one who shot me, but I didn't hear the shot. I only noticed him after I was hurt.
When I realized I'd been injured, I thought at first that a stone had hit me because I didn't hear a gunshot. I felt pain and looked down at the bottom part of my stomach. One of the demonstrators pointed out to me that I'd been hit. I was taken in a private car to the al-Amal emergency center in Silwad. Then they took me to the Palestine Medical Center in Ramallah. They ran tests and x-rays and it turned out that I'd been hit by a bullet that entered my stomach and came out through the upper part of my left thigh. I was in bad shape. They operated on me for three hours. I'm still being treated and I don't know when I'll get out of hospital. I also don't know how much school I'll miss.
Manal Tamimi, 41, was injured by 0.22 bullets in village of a-Nabi Saleh, Ramallah District:
On 3 April 2015, during the weekly demonstration at the village of a-Nabi Saleh, protesters clashed with security forces and some threw stones at them. A sniper hiding behind a stone fence fired a Two-Two bullet that hit Manal Tamimi in the leg. Tamimi, 41, was not throwing stones and posed no danger whatsoever to anyone. In any case, it is doubtful that the stone-throwing, which was taking place not far from her, was a real threat to the forces – certainly not to an extent that justified firing live ammunition.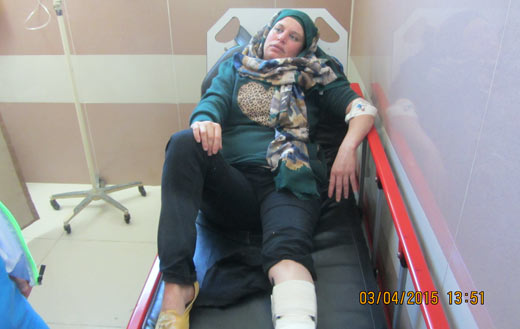 Manal Tamimi, who was hit in the leg by live fire, in hospital in Ramallah. Photo by Iyad Hadad, B'Tselem, 3 April 2015 
S.A., 16, was injured by live fire in el-Bireh, Ramallah District:
On Monday morning, 11 May 2015, a group of young Palestinians clashed with soldiers near a major square in el-Bireh. At around 9:30 A.M., S.A. came to the girls' school that is located several dozen meters from the square to collect his two cousins, 7 and 8 years old, who had finished early that day due to exams. Before S.A. managed to enter the school, he was shot by a soldier. He told B'Tselem researcher Iyad Hadad what happened:
When I got close to the school, I saw dozens of soldiers all around. Soldiers were running after seven to ten children who were throwing stones. They kept everyone from getting any closer. I decided to enter the girls' school through the back entrance so I could pick up my little cousins.

When I reached the back entrance, I saw about ten soldiers who were more than fifty meters away, next to the square. They were just standing there, with their weapons just slung on them, and didn't seem to be involved in any confrontation. I didn't pay much attention to them. The stone-throwing was going on elsewhere, in an open area on a nearby hill, against another group of soldiers.

Suddenly I felt something hard hit my leg under my left knee, and I felt something in my leg crunch. I thought I'd been shot, even though I hadn't heard a shot. I don't know where it came from. I fell down but then I managed to get up and run away, because I was afraid the soldiers would arrest me. I wasn't taking part in anything violent. I was only there to pick up my cousins and take them home.
S.A. was taken to hospital in Ramallah, where he was found to have been shot by a live bullet in the upper part of his left calf.