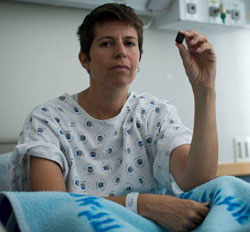 On Friday (19 July 2013) B'Tselem Spokesperson Sarit Michaeli was hit and injured by a rubber-coated metal bullet a Border Police officer fired at her while she was filming a demonstration at the village of a-Nabi Saleh.
The shooting contravenes military directives.The bullet was fired from fewer than 50 meters away, which is the minimum distance stipulated by the military. Moreover the person shot was a photographer who posed no threat to security personnel.
The bullet penetrated Michaeli's thigh and was surgically removed at Ichilov Hospital.
B'Tselem will convey documentation of the incident to the police.
For illegal use of rubber-coated metal bullets and other means of crowd control, see summary of B'Tselem's recent report from January 2013 (written by Michaeli): "Crowd Control". 

Video of the shooting, filmed by Bilal Tamimi (at 2 minutes 39 seconds)

Video of the shooting and injury, filmed by Sarit Michaeli