In January 2013, Israeli soldiers fatally shot four Palestinians in the West Bank and at least one in the Gaza Strip. In another case, a Palestinian was fatally shot near the Gaza military perimeter fence under circumstances as yet unclear. The military denies involvement in the latter incident.
According to B'Tselem's preliminary inquiries into the five cases in which the Israeli military has accepted responsibility for the firing, the people killed were unarmed and posed no danger to the soldiers.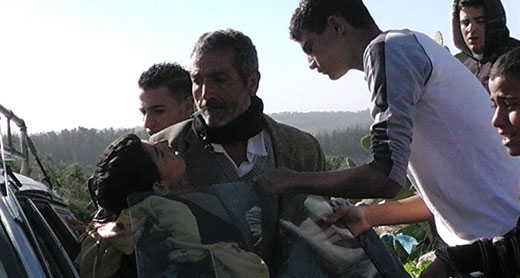 Samir 'Awad being taken to hospital. Photo: 'Abd a-Naser Murar, 15 January 2013.
Details of the five incidents:
11 January 2013: Anwar al-Mamluk, 20, of a-Shuja'iyeh neighborhood, Gaza City, fatally shot by soldiers near the Gaza military perimeter fence
12 January 2013: 'Udai Darwish, 21, of Dura, Hebron District, fatally shot by soldiers after crossing the Separation Barrier into Israel on his way to work
15 January 2013: Samir 'Awad, 17, of the village of Budrus, Ramallah District, fatally shot by soldiers beside the Separation Barrier near Budrus
18 January 2013: Saleh al-'Amarin, 15, of al-'Aza Refugee Camp, Bethlehem District, fatally shot by soldiers in al-A'yda Refugee Camp
23 January 2013: Lubna al-Hanash, 21, of Bethlehem, fatally shot by soldiers near Route 60, by al-'Arrub Refugee Camp
Open-fire regulations prohibit the firing of live ammunition at people throwing stones, except in circumstances of real and immediate mortal danger. In stone-throwing incidents, including large-scale incidents, the military has at its disposal crowd control measures that should not be lethal when used according to instructions. The military is trained in dealing with such incidents, and is capable of doing so without lethal fire.
As of April 2011, a Military Police Investigations Unit (MPIU) inquiry is opened immediately into every West Bank killing of a Palestinian not taking part in hostilities. Accordingly, MPIU investigations have been opened in all four of the above-mentioned cases in the West Bank. Insofar as is known to B'Tselem, an MPIU investigation has not yet been opened into the circumstances of the death of Anwar al-Mamluk in Gaza.
B'Tselem is monitoring the MPIU investigations and would emphasize that, in addition to investigating the circumstances of each incident, the investigators must also examine the written and oral directives conveyed to the soldiers involved. The investigators must confirm that the soldiers were clearly instructed that live fire is permissible only in exceptional cases of immediate and mortal danger, and that the use of live fire under any other circumstances is unacceptable and unlawful. If the soldiers are found to have been instructed otherwise, steps must be taken against those responsible.