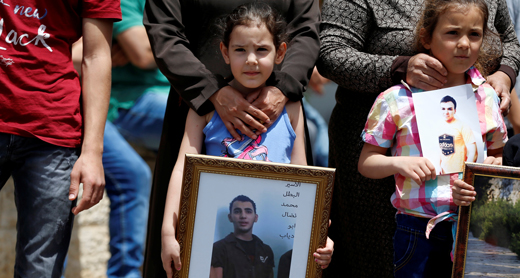 Prisoners' relatives demonstrating in Jerusalem in support of the prisoners' struggle. Photo by Ammar Awad, Reuters, 27 April 2017
Even if conditions are improved - Israel will still be holding in custody thousands of Palestinians who have had no fair trial, or no trial at all
The hunger strike launched by more than a thousand Palestinian prisoners and detainees on April 17 is a non-violent protest focusing on several valid, basic demands for improved prison conditions. Because the Palestinian inmates are held in facilities in Israel, in contravention of international law, Israel imposes severe restrictions on family visits, and many relatives are not permitted to visit at all. The Israel Prison Service (IPS) also enforces a complete ban on telephone communications for inmates held on "security grounds". The hunger-strikers are demanding, first and foremost, more family visits and access to telephone communication with their relatives. They are also demanding an adequate level of medical and educational services and the cessation of administrative detention and solitary confinement. 
Instead of addressing the strikers' actual demands, Israel - through the IPS -  has adopted unacceptable punitive measures designed to break the spirit of the striking prisoners, who have chosen a manner of protest that hurts no one but themselves. These measures include increasing the strikers' isolation from the outside world and banning meetings with lawyers. The IPS has also confiscated salt from the prisoners, jeopardizing their wellbeing. As measures to break the strike are stepped up, there is concern that the IPS might try to force-feed the strikers - a prohibited act considered torture.
The prisoners' strike cannot be seen in isolation from the broader context: in one month's time, the occupation will mark its 50th anniversary. As part of its longstanding control, Israel has incarcerated hundreds of thousands of Palestinians in its own territory - most without a fair trial, and some with no trial at all. The incarceration of thousands of Palestinians and the extreme restrictions imposed on them are part and parcel of the occupation.