In 2010 the Association for Civil Rights in Israel (ACRI), Yesh Din – Volunteers for Human Rights, and the Public Committee against Torture in Israel petitioned Israel's High Court of Justice against the inflated and discriminatory duration of detention applicable to Palestinian minors in the West Bank. Following this petition, the Israeli military has amended the relevant military law. The change is slated to take effect in April 2013.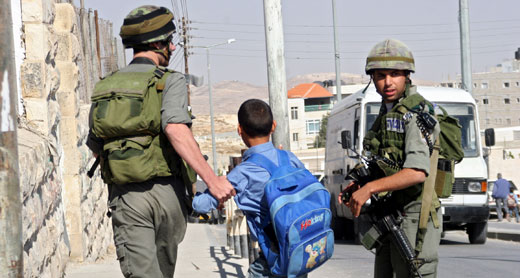 Border policeman detains youth in 'Anata, 29 October 2005. Photo: Anne Paq, Activestills.org
Prior to this petition, the Israeli military law in effect in the West Bank did not make a distinction between minors and adults, allowing minors to be held for up to 48 hours before being brought before a judge, and in cases of alleged security offenses, including stone throwing, for up to 96 hours. For interrogation purposes, military legislation permitted double this detention time.
The petition, submitted on 25 May 2010, argued that "the inflated periods of detention seriously infringe Palestinians' fundamental rights: their rights to liberty, due process, human dignity and equality. These infringements blatantly contradict international law and the principles of Israeli law, which apply to Israeli authorities wherever they function. Lengthy detentions, in conjunction with other restrictions imposed on many Palestinian detainees - e.g., denying legal counsel - allow a person to be held for a lengthy period of time, isolated from the rest of the world, with no monitoring of either detention or interrogation. This situation invites improper behavior by the investigating authorities as well as the use of unacceptable interrogation methods."
Following the petition, the Israeli military announced it would shorten the duration of detention for both adults and for minors. Amendments to the duration of adult detention went into effect in the course of 2012. The latest amendment applies only to minors and will go into effect in April 2013. The amendment stipulates that minors under 14 must be brought before a judge within 24 hours of detention, and minors aged 14-18, within 48. For interrogation purposes, this period may be doubled – to 48 hours and 96 hours, respectively.
These are welcome changes, although the maximum period of detention is still too long –twice that permissible under Israeli law (12 hours for minors up to age 14 and 24 hours for minors aged 14-18. The law in Israel also permits doubling these periods for interrogation purposes). In addition, Palestinian minors are often detained in the middle of the night and interrogated without the presence of either a parent or another adult on their behalf. Rather than being used as a last resort as stipulated in Israeli law, detention and incarceration continue to be used almost exclusively to handle offenses by Palestinian minors.