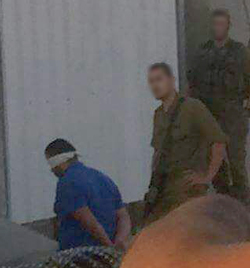 On Sunday, 4 June 2017, at around 5:15 P.M., Tamer Tamimi, a taxi driver from a-Nabi Saleh, arrived at the 'Atarah checkpoint with seven passengers en route from Ramallah to a-Nabi Saleh and Beit Rima. The 'Atarah checkpoint has a watchtower that is permanently staffed by soldiers, and guard booths on either side of the road, which are staffed only some of the time.
That day, three soldiers were stationed at the guard booth on the road leading to a-Nabi Saleh, and they were checking some of the vehicles passing through. The soldiers ordered Tamimi to pull over, then ordered him and two passengers to get out of the taxi and sit by the side of the road. They then took all of the passengers' phones and checked their IDs. The soldiers then proceeded to check the other vehicles that had arrived at the checkpoint.
In a testimony given to B'Tselem field researcher Iyad Hadad on 5 June 2017, Tamimi described what he saw while he was held up at the checkpoint. His description was backed up by another eyewitness account gathered by B'Tselem. Tamimi recalled:
After an hour or an hour and a half, there was a traffic jam near the checkpoint. I saw my cousin, Samih Tamimi, who is also a taxi driver, talking to the soldiers. I couldn't hear everything, because they were about 30 meters away from us, but I understood, from a few words I could hear and his gestures, that he was asking them to let me go. They must have ordered him to get back into his car.

One of the passengers in Samih's taxi wanted to go with his daughter, who looked about ten years old and needed to use the bathroom. The soldier apparently refused. He yelled at the father and ordered him to get back in the taxi. The man wouldn't and they started yelling at each other. Then, the soldier fired a shot in the air to scare the father, who got back in the taxi without his daughter relieving herself.

While we were waiting, one of the passengers in my taxi asked the same soldier for permission to answer her phone, which was on the taxi's dashboard. He refused. I heard her begging him, and explaining that her son was calling her on an urgent matter. I asked the solider to let her answer. He told me to shut up, and swore at me "Shut up you asshole, you son of a bitch," and he hit me with his rifle on the back of the head. I got mad at the soldier for cursing my mother, so I cursed him back. He shoved me with his rifle, and I shoved him back.
One of the soldiers told all of the passengers in the taxi to leave. He took Tamimi to the entrance to the watchtower, where he cuffed his hands behind his back with plastic cable ties and blindfolded him. According to Tamimi's testimony, the soldier then led him a few meters further into the watchtower yard, where he told him to sit on the ground. When he did, that soldier and two others began verbally abusing him and pulling his hair hard. This abuse went on for several minutes, during which time the soldiers pulled his hair so hard once that he was lifted off the ground. The soldiers then let him be for a few minutes. When they returned, they took off the cable ties and returned his ID card, keys and phone. Tamimi went back to his taxi, and found a cloud of teargas inside it. He opened the doors, waited for about ten minutes and left before the gas had completely cleared.
That same evening, at around 8:00 P.M., his uncle, Mahmoud Tamimi, arrived at the entrance to a-Nabi Saleh. A 52-year-old taxi driver and the married and father of five, he went there after hearing his twenty-year-old daughter was being detained at a temporary checkpoint soldiers had set up at the entrance to the village. When he arrived, he saw the soldiers were detaining three other Palestinians as well. One of the soldiers, who spoke Arabic, took Mahmoud Tamimi's and his passengers' ID cards. After he refused to leave without his daughter, the soldier ordered him to sit with the others who were being detained at the checkpoint, and his passengers to leave. Tamimi and the soldier got into an argument. In his testimony, given on 5 June 2017 to B'Tselem field researcher Iyad Hadad, Mahmoud Tamimi recounted:

'Atarah checkpoint. Photo by Iyad Hadad, B'Tselem, 2 August 2015. 
The soldier accused us: "You people from a-Nabi Saleh make trouble, and throw stones at us. We have to give you a lesson. I can shoot at your village right now and bring it down on your heads". I told him this land belongs to us, that we have full rights, and that neither he, nor anyone else could kill us or destroy our village. His expression and his behavior changed. He looked like someone out to hurt us, to take revenge. He became angry and started acting rudely toward us. The muezzin called for the first evening prayer that marks the breaking of the [Ramadan] fast. I had a bottle of water, and I drank from it to break the fast. So did the others who were detained.
A few minutes later, Tamer Tamimi arrived at the checkpoint at the entrance to the village after he was detained and beaten at the 'Atarah checkpoint. One of the soldiers ordered him to sit with the other people being detained, and took his ID. Several minutes later, Tamer Tamimi's phone, which was left in the taxi, rang. He asked one of the soldiers to let him answer it, but the soldier refused. Since the phone kept ringing, and Tamimi thought it was worried relatives calling, he went over to the taxi to answer. Mahmoud Tamimi described what happened next:
The three soldiers blocked Tamer's path. He was intent on answering the phone. I tried to intervene to calm things down, and asked Tamer to stay quiet. He was stressed and upset. He didn't listen to me. There were some words between them, and the soldiers shoved him.

One of the soldiers hit Tamer hard in the face with the barrel of his gun. Tamer fell to the ground, unconscious. I started shouting at them. I saw Tamer was foaming at the mouth, which could be a sign someone is dying. I was afraid something might happen to him and started shouting at the soldiers: You killed him! You killed him! Get an ambulance, quick! You're murderers! You have no mercy! You're racist! I felt myself cursing and swearing without really comprehending what was going on. They tried to calm me down.

Tamer Tamimi lying unconscious on the ground
Mahmoud Tamimi called for a Red Crescent ambulance, and a military medic came down from the nearby watchtower to examine Tamer. About 15 minutes later, military and Border Police vehicles arrived together with two Israeli ambulances. A Red Crescent ambulance also came. Apparently due to his condition, Tamer Tamimi was taken in an Israeli ambulance to Beilinson Hospital in Petah Tikva, inside Israel. He was kept there overnight. In his testimony, he said he woke up the next morning in the hospital to find two soldiers guarding him. He got an anti-tetanus shot and then the soldiers drove him in a civilian car to a junction near the Rantis checkpoint, where they dropped him off. Tamimi had to hitch two different rides to get to the entrance to a-Nabi Saleh. He said in his testimony:
At the entrance to the village, I saw the soldiers who had beaten me. One of them was up in the tower, and the other was down below. I heard the one up in the tower call to the soldier below: "Look who's here. Look who's here". The soldier who was below looked at me and swore at me: "Tamimi you asshole, you fucker". He laughed and made an obscene gesture. In the meantime, a cousin of mine was passing by. He stopped and took me home.

I got home exhausted. Because of the fast, and because I had lost consciousness, I had had nothing to eat or drink since the morning before, except for the water I got from my uncle Mahmoud when they detained us at the checkpoint at the entrance to a-Nabi Saleh. After I rested a little, I went to the hospital in Ramallah to have some tests done and see what my condition was.
At the hospital in Ramallah, doctors found the wound in Tamimi's cheek was infected, and his arms badly bruised. He was given anti-inflammatory medication and discharged.

Tamer Tamimi by his taxi. Photo by Iyad Hadad, B'Tselem, 5 June 2017
Tamer Tamimi underwent serious and prolonged abuse for no reason. He was detained by soldiers twice in one day, beaten and wounded to the point of needing hospitalization, and his car was filled with tear gas. The arbitrary fashion in which soldiers can detain Palestinians at checkpoints for no apparent reason, demand they obey their orders, humiliate them and use violence against them is part of daily life for Palestinians living in the West Bank. Over the years, B'Tselem has documented many similar incidents of violence and abuse which could not have taken place without the soldiers' knowing they would be backed up by senior government and military officials, including the Military Advocate General's Corps, and that they would never be held accountable for their actions.