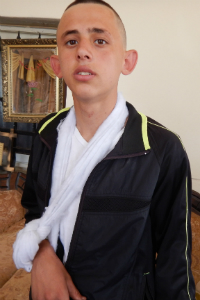 On 12 May 2017, at approximately 1:00 P.M., about one hundred demonstrators – Palestinians from the West Bank village of a-Nabi Saleh and other nearby villages, Israelis, and foreign nationals – set out towards the gate installed by the Israeli military at the eastern entrance to a-Nabi Saleh. A contingent of Border Police and soldiers blocked the non-violent procession before it reached the gate, and hurled stun grenades at the protesters. A small group of young men headed back into the built-up area of the village, about 150 meters from the heart of the demonstration, while most of the protesters remained on the road, chanting and waving flags at the security personnel barring their progress. During the demonstration, Israeli security forces shot and injured two Palestinian protesters – one was hit by a sponge-tipped round and the other by a rubber-coated metal bullet. Another demonstrator, Sabaa 'Obeid, was struck by a live bullet (a 0.22-inch caliber bullet, known as a Two-Two) and died of his wounds in hospital about half an hour later. 
At around 2:15 P.M., a Palestinian demonstrator was hit in the head by a stone thrown by another demonstrator. He was taken away by ambulance, accompanied by a relative: Baraa Kan'an, 19, from Beit Rima. Near the eastern entrance to the village, the ambulance was stopped by some ten soldiers, who searched the vehicle and photographed the wounded protester. The soldiers ordered Baraa Kan'an to get out of the ambulance and searched him, finding a sling in his pocket. They then bound his hands behind his back with plastic cable ties, led him to a spot about 100 meters away near a watchtower, blindfolded him, and put him into a military jeep. According to Baraa Kan'an's testimony, about ten minutes later he was taken out of the jeep and led into a room at an unknown location.
At approximately 2:30 P.M., relatives and friends told Baraa's father, 'Abed Kan'an, 52, that his son had been detained by soldiers. 'Abed Kan'an drove over to the spot where his son had been detained and approached Border Police who were standing by the watchtower. When he demanded to know where his son was being held, an officer replied that the young man had been arrested for throwing stones, and that the father must show them his own identity card. 'Abed Kan'an went home to get his ID, and after he showed it the police they allowed him a brief telephone conversation with his son. In testimony he gave to B'Tselem field researcher Iyad Hadad on 18 May 2017, the father related: 
The officer made a phone call. A few moments later, he allowed me to see Baraa - at wherever it was he was being held - on the phone's camera. They didn't tell me where he was being held. I could only see Baraa's face. I tried to reassure him and told him not to be scared and that I'd take care of everything. They let me see him for just a few seconds, to make sure that he was okay and to calm down. Then they said: "That's it, enough, your son is with the police" and ordered me to leave.
In a testimony he gave to B'Tselem field researcher Iyad Hadad on 14 May 2017, Baraa Kan'an reported that while he was detained, soldiers hit him in the face and chest, mocked him and spat at him. He was forced to sit on a chair with no backrest and every time his head dropped with tiredness, the soldiers forced him to keep it up. When Kan'an asked to drink, a soldier thrust a water bottle against his mouth until he felt he was choking from swallowing too much water.  
After a few hours, Kan'an was transferred to another room. There, too, he was made to sit on a chair and keep his head up - whenever he tried to lean his head against the wall, a soldier kicked his chair to make him sit up. When he asked to use the bathroom, the soldiers took him outside; while he was urinating, a soldier pushed him and his clothes were sprayed with urine. After being led back to the room, he was taken outside again. In his testimony, Kan'an recounted: 
A group of soldiers came in. I could make out that there were three of them from their voices. They took me outside - to an olive grove, I think, because the branches brushed against me. While they led me along, they swore at me and called my mother names. One of them tightened the blindfold on my eyes and ordered me to say, "I'm friends with the soldiers". I repeated what he said. Whenever I stopped, he ordered me again to say, "I'm friends with the soldiers".

They kept me walking for a long time. It felt like we were walking along a rough path with thorns. They knocked me down and then picked me up. They beat me and swore at me. They didn't let up. I was terrified that they were taking me to some lonely spot so that they could murder me and no one would find me. 

At some point, they stopped. One of the soldiers said to me: "You're a big-time terrorist. I'm going to shoot you." I heard him load his gun and felt it touch my head. I was sure he was going to kill me.
Kan'an described how, after that, the soldiers beat him again, then covered his legs with earth and then removed it. Then they took him to a tent, where they made him sit on the floor, took off his blindfold, forced him to say "Muhammad is pig" and "Muhammad is a dog", and snipped off bits of his hair with scissors. Eventually, the soldiers cut the plastic cables ties off his wrists, returned his identity card and telephone, and ordered him to go home. In his testimony, he related what happened next: 
They left me with one of the soldiers. He asked me: "Do you know the way to Nabi Saleh?" I said I didn't. He said: "I'll drive you there in my own private car, what do you say?" He shouted at me: "Go on, go home. But there are Jews out there. If you run into them on your way back, they'll beat you up even more. But you go to Nabi Saleh and tell them what happened to you." Then he kicked me twice in the rear.

I found myself alone on the road, in the dark. I couldn't walk, so I crawled over to the railing by the side of the road and leaned against it. The road was deserted because it was late, almost ten o'clock at night. I waited for a car to pass by and pick me up. Five or six cars went by, but they were all driven by settlers. I was afraid that one of them would get out and kill me. Arabs drove by, as well, but they didn't stop. About fifteen minutes later, a Palestinian pulled over. He asked me what happened and I told him. He called my family and drove me to a-Nabi Saleh, where my brother picked me up and took me home.
Baraa Kan'an's father and brother drove him to hospital in Salfit, where he was diagnosed with injuries to his upper torso, head, back, left knee and upper limbs. He remained in hospital for a day and half and was discharged on the morning of 14 May. 
Baraa Kan'an was badly abused for hours: he was beaten, humiliated and told he'd be killed, then ultimately left out on the road late at night. This abuse did not take place in a vacuum. It is part of a broader context. Over the years, B'Tselem has documented many similar incidents of violence and abuse, which could not have taken place had the abusive soldiers not been aware that they would have the full support of senior military and government officials, and would not be held accountable for their actions.