Update: On 21 March 2012 the Office of the Military Advocate for Operational Matters informed B'Tselem that it had ordered the Military Police Investigations Unit to investigate the allegations. In March 2014, the MAG Corps informed B'Tselem that the investigation of the case had not been completed.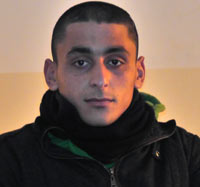 Akram Hanatsheh, 19, from the village of a-Tabaqa south-west of Hebron complained to B'Tselem that he was severely beaten by Israeli soldiers and attacked by an army dog. According to his testimony, on Friday afternoon, February 3, 2012, Hanatsheh, left his home in order to collect his car from a garage near the village. As he was walking near the village cemetery, he came across a clash between village youth and soldiers. The youth were throwing rocks at the soldiers, who reacted by firing riot control weapons at them.
In his testimony to B'Tselem, Hanatsheh stated that he attempted to leave the area, but an army dog chased him, bit his arm and wouldn't let go. Then, with the dog's teeth still in his arm, some soldiers came over to him. Hanatsheh recounted that two soldiers held him down and another began punching and kicking him.
At that point, a resident of the village alerted Akram Hanatsheh's father and he arrived at the scene within minutes. In his testimony to B'Tselem, the father described what he saw:
When I got there, I saw more than 20 soldiers. I stood in an elevated place, overlooking the area and followed what was happening to my son. Akram was lying on the ground and two soldiers were holding his arms. I saw an army dog biting his arm. Two other soldiers were kicking him and beating him with the butts of their rifles. Akram was screaming and trying to get away from the dog. One of the soldiers lifted his leg to kick Akram and he must have slipped and fallen on his back. I saw the soldier get up. He looked mad. He picked up a rock with two hands. The dog let go of Akram's hand. Then I saw the soldier dropping the rock on Akram's head.
At that point, Akram Hanatsheh lost consciousness, apparently as a result of the blow he sustained from the rock. According to the father's testimony, about 15 minutes later a military ambulance arrived. Some paramedics gave Akram initial treatment and shortly thereafter took him to Soroka Hospital in Be'er Sheva, inside Israel.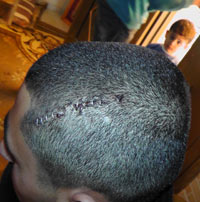 Akram Hanatsheh woke up only after he got to the hospital. A nurse who spoke Arabic told him he had a fractured skull and needed emergency surgery. The nurse called Hanatsheh's father and asked him to come to the hospital, but the father could not do so as he had no permit to enter Israel.
Hanatsheh had surgery and remained in hospital for a week. During this entire time, soldiers remained outside his room to guard him. His parents were ultimately able to obtain a special permit to enter Israel and arrived at the hospital on Hanatsheh's fourth day there. He was released from hospital on February 9, 2012. The discharge letter he received from the hospital notes: "According to the accompanying soldiers, on the day of admission, he was bitten by a dog in his right arm, fell and hit his head." After his release, border police officers took him and his father, who was with him, to the Meitar checkpoint on the border between Israel and the West Bank. There they ordered the father to get out of the car and drove off with Hanatsheh.
In his testimony, Akram Hanatsheh said that he was taken to an army base, where he was put in a room and questioned by a person wearing civilian clothing. Hanatsheh stated that the man asked him whether the soldiers caused his head injury. When he confirmed that they had, the man said it was not true and that the injury was the result of a fall. The soldiers then had Hanatsheh sit in a corridor, where he apparently waited for several hours, while the soldiers watched a sportscast on television. It was only when the game was over that the soldiers took Hanatsheh in a jeep and dropped him off some 500 meters from his home. Hanatsheh arrived home after midnight.
B'Tselem has contacted the MAG Corps demanding that a military police investigation be opened into the incident. No response has yet been received.