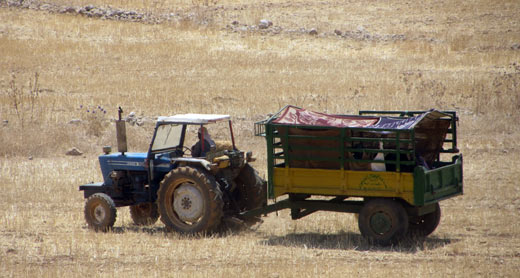 A family returns to their home in Humsah. Photo by 'Aref Daraghmeh, B'Tselem, 10 June 2015
Yesterday morning, 10 June 2015, ten Palestinian families were evacuated from the small shepherding community of Khirbet Humsah, in the northern Jordan Valley, so that the Israeli military could train on adjacent land owned by the residents. The families, numbering 69 persons – including 43 minors – had to leave their homes on military orders at 6:00 a.m. They took with them water, food, and their livestock and went to areas some distance away until they were allowed to return. When the families returned home, they found that some of their cultivated farmland and grazing areas had been burnt, apparently by fires started by military shooting. They also found the tanks in which they keep water for the livestock riddled with bullet holes. The residents also reported finding unexploded ammunition close to their homes.
A week earlier, on 3 June, Civil Administration (CA) officials came to the community and served residents with an order stating that they must evacuate their homes on 10 June 2015 and 16 June 2015 for seven hours at a time, as of 6:00 a.m. Over the past two years, the military has forced residents of Khirbet Humsah to evacuate their homes more than 40 times for various periods, in order to facilitate training there. The last time that occurred, in early May 2015, the families were particularly hard hit as they were required to leave their homes for several hours every day, over the course of an entire week. Among them were eight of the ten families forced to evacuate yesterday, too.

Cultivated farmland burnt as a result of the maneuvers. Photo by 'Aref Daraghmeh, B'Tselem, 10 June 2015
On 8 June 2015, the CA also served residents of Khirbet al-Malih, 'Ein al-Meyteh, and al-Burj with temporary orders requiring that they evacuate their homes on 11 June and 17 June from 6:30 a.m. until 12:30 noon. These three communities, located close to each other, consist of 29 families numbering some 180 persons in total, including more than 100 minors.
It is extremely difficult for whole families, including children, to be evacuated on such short notice. With no properly arranged place to stay, they must find a way to ensure shelter, food and drink away from home in the intense, grueling heat of the Jordan Valley. The minutes of a meeting of the Subcommittee for Judea and Samaria of the Knesset's Foreign Affairs and Defense Committee, held on 27 April 2014 and published by Israeli daily Haaretz, clearly show that one goal of the military maneuvers held in the area is to remove Palestinians from land there. Israel must immediately stop the temporary evacuation of Palestinian communities in the West Bank for the purpose of military training, and must cease all other actions taken in an attempt to force Palestinians out of the area.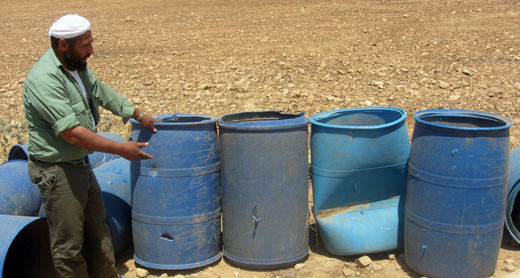 The residents discovered bullet holes in their water cisterns. Photo by 'Aref Daraghmeh, B'Tselem, 10 June 2015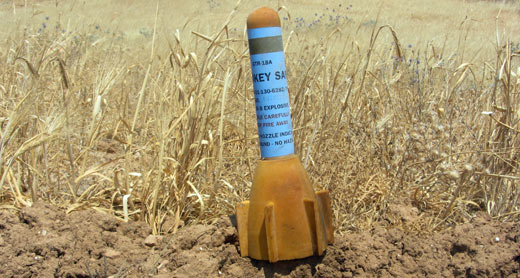 Ammunition remnants left by the military close to Humsah. Photo by 'Aref Daraghmeh, B'Tselem, 10 June 20155